Outside The Sandwich – Beyond Bread
For many people, a sandwich isn't a sandwich unless it's encased in two pieces of bread, most often one of only a few standard varieties – white, wheat, or rye. Some people don't even know that dozens of flat, sweet, and corn breads, like broa, lavash, papadum, and zwieback, even exist.
Thus, you can literally reinvent your sandwiches simply by substituting other breads filled with your favorite ingredients. Let's take a look at a few ideas to start you re-thinking your bread choices when making your next picnic sandwich.
Hard Crusts
Ask the French or the Italians about bread, and their first choices will be hard breads like baguettes, boule, or fougasse. These choices add gourmet flair and flavor to more traditional sandwiches. As an added bonus, these breads make it easier to stack juicy, messy ingredients inside without worrying about having your tasty ingredients end all over your hands instead of in your tummy where they belong.
Grilled or Pressed Breads
Then there are those sandwiches that have been grilled, something many sandwich shops call paninis. Although not a specific type of bread, there are some common types used to create grilled sandwiches that are pressed with those familiar grill marks. Grilling and pressing gives a sandwich added flavor and texture, and a delightful appearance. Ciabatta, foccacia, and sourdough are some of the more popular bread choices you will want to try.
Wrap and Roll
Sandwich bread varieties don't stop there. In fact, some sandwiches don't even require traditional breads to be complete. Take tortilla wraps, for example. The versatility of these lightweight flatbreads makes them tasty candidates for combining with common sandwich ingredients like  meats, cheeses, lettuce, vegetables, and dressings, as well as less common sandwich makings like grilled fish and fruit.
You've probably seen these wraps beginning to replace traditional sandwich breads, even in the fast-food joints. With a wide variety of tortilla flavors like tomato-basil, spinach, sun-dried tomato, corn, and flour, it's not difficult to create new tastes in the American diet. These soft tortillas are commonly used to make the pinwheel and roll-up sandwiches seen at parties and special events, but certainly are also a perfect choice for easy to eat sandwiches in a picnic basket.
In addition, many countries have their own flatbreads they use to make delicious sandwiches. In Norway, it's lefse, used in rakfisk wraps with potatoes, onions, and sour cream. In the Middle East, it's lavash, used by Jillian Michaels as a secret weapon of one of her most popular diet plans. People in Afghanistan bake a vegan flat bread called bolani, stuffing it with any number of vegetables and potatoes.
There are enough bread varieties to allow for individual tastes and exciting new possibilities with our 'standard' sandwich ingredients. Try a few of these exotic breads at your nearest grocer or bakery, and you'll soon discover how easy it is to travel the world of flavor and variety with sandwiches that excite your palate and sense of adventure.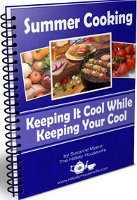 p.s. Summertime cooking calls for cool cooking. Whether you're grilling something scrumptious, tossing a tasty salad, or piling a sandwich high with goodies, you need recipes and ideas.
We've put together a nice collection of tips for cooking cool along with recipes for everything from grilled meats, vegetables, and desserts (yes, desserts!), to fruit salads, veggie salads, rice salads, and bean salads.
Put away your cast iron Dutch oven, your roasting pans, your soup pots… it's time to cook cool! Click on this link and order your copy of Summer Cooking – Keeping It Cool While Keeping Your Cool for ONLY $7 and start enjoying cool cooking today!
Disclosure: Some of the links below are affilate links, meaning, at no additional cost to you, I will earn a commission if you click through and make a purchase.