Orange Waffles
These delicious orange flavored waffles made with orange juice and oil are sure to impress your brunch guests. At the same time the recipe is easy enough to serve your family anytime. I make these in big batches and freeze them for delicious breakfasts throughout the week.
Once you start making your own waffles, you won't go back to the frozen stuff from the grocery store. The key is to invest in a good waffle iron. I started out with a $9 one from a local super store and couldn't figure out why no matter what I did my waffles didn't turn out crispy. It finally dawned on me that the waffle maker was to blame. I know have this Belgian Waffle Baker
and have crispy golden waffles every time. Well worth spending $30 on.
Orange Waffle Recipe
Ingredients
1 tablespoon active dry yeast
1 cup freshly squeezed orange juice, warmed (about 120°F)
1/2 cup lowfat soy milk, at room temperature
1 tablespoon canola oil
1 teaspoon vanilla extract
1/8 teaspoon orange oil
2-1/4 cups whole wheat pastry flour
1 teaspoon baking powder
Instructions
In a large bowl combine yeast in the warm orange juice and allow to set for about 15 minutes.
Place soy milk, canola oil, vanilla, orange oil, flour and baking powder in the bowl with the yeast.
Cover bowl and place in a warm spot for about 30 minutes.
Heat waffle iron. Pour batter into heated waffle iron and cook until brown.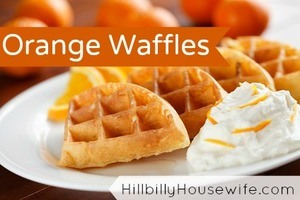 Disclosure: Some of the links below are affilate links, meaning, at no additional cost to you, I will earn a commission if you click through and make a purchase.