Orange Glazed Ham Recipe
With just 3 ingredients, this is the perfect Holiday recipe. Things get so hectic and there are so many dishes to prepare, it's nice to have a simple main dish that's as tasty as it is pretty for your table. The sweetness of the molasses and the citrus taste of the orange juice concentrate complement each other well and make a delicious glaze.
Orange Glazed Ham
Ingredients
5 lb. Precooked Boneless Ham
3 oz. pkg. Orange Juice Concentrate
1/2 C. Molasses
Instructions
Preheat the oven at 325 degrees Fahrenheit.
In a small roasting pan, put the ham with the fat facing upwards.
Place ham in the oven and bake for 15-20 minutes per pound. A meat thermometer will register 140 degrees Fahrenheit when done.
While ham is baking in the oven, mix the orange juice concentrate with the molasses until the orange juice has dissolved. Set aside to form glaze.
When the ham has finished cooking, take it out of the oven and throw out the drippings.
Take a knife and score the ham, lightly. You can put whole cloves in the scores for extra taste.
Drizzle the prepared glaze over the top of the ham and then cook for another 15-20 minutes before you set aside to cool. The ham should be allowed to cool for a minimum of 20 minutes before carving commences.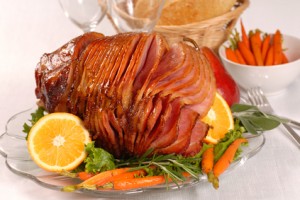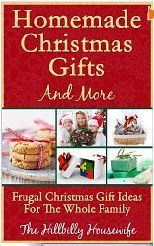 Would you like to steer clear of the holiday shopping crowds? You can with this guide to Homemade Christmas Gifts and More.
Making Homemade Christmas gifts is one way to actually enjoy the process of gift-giving. Not only are homemade gifts and decorations frugal, they're more fun!
We don't have to rush out to the mall to shop for Christmas when we have ideas for creating gifts right at home. Take time to enjoy your holiday season. Click on and download now to start planning your frugal AND fun Christmas.
www.hillbillyhousewife.com/christmasbook
Disclosure: Some of the links below are affilate links, meaning, at no additional cost to you, I will earn a commission if you click through and make a purchase.