Oatmeal Pancakes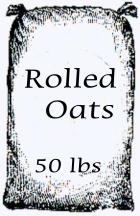 2 cups dry oatmeal
2 cups buttermilk
2 medium eggs
2 tablespoons oil
1/2 cup flour
2 tablespoons sugar
1 teaspoon baking powder
1 teaspoon baking soda
1/2 teaspoon salt
This is best started the night before, making it a good weekend breakfast. Get out a large bowl. In it combine the oatmeal and buttermilk. Stir well. Cover with plastic wrap and refrigerate overnight. You could just let it sit for an hour or so, but the overnight soak is what give these pancakes their characteristic texture.
The next morning, take the bowl out of the refrigerator. Add the eggs, oil, flour, sugar, baking powder, baking soda and salt. Beat well with a wire whisk. Fry the pancakes on a hot well oiled griddle or skillet. Use about 1/4 cup batter per pancake. When the top side is bubbly and puffed up, and the underside is brown, turn the pancake. Brown the second side and transfer to a plate. Continue until all of the batter is used up. This recipe makes enough to serve my family on a slow morning. You may cut the recipe in half if you like. As it's written, it serves 6 or 8 people pretty well. Add fresh fruit, margarine, Pancake Syrup and milk for a good breakfast.
Disclosure: Some of the links below are affilate links, meaning, at no additional cost to you, I will earn a commission if you click through and make a purchase.