No Bake Oatmeal Cookies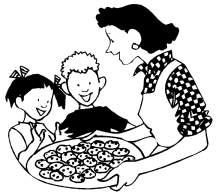 This is a favorite in our house and has been since I was a little girl. Everyone usually has all the ingredients and if not doesn't cost a ton to buy them.
1 stick butter
1/4 cup cocoa
1/2 cup milk
2 cup sugar
1 tablespoon vanilla
1/2 cup peanut butter
3 cups quick cook oats
Boil butter, cocoa, sugar, vanilla and peanut butter together in a pot for 1 minute.
Add oats and mix well.
Spoon out into the size you want on wax paper or aluminum foil on the counter or table.
Cookies will harden/set while they cool
Great for kids to help make and they will be gone before you know it.
Nicole L. – Erie, CO
Disclosure: Some of the links below are affilate links, meaning, at no additional cost to you, I will earn a commission if you click through and make a purchase.