Keep Saving With Frugal Tips & Things Aren't Always What They Seem – HBHW Newsletter
September 1st 2009
Editorial
Thanks so much for all the positive feedback on the new format of the HBHW newsletter. I'm glad you're liking it as much as I am and a big HUGE THANK YOU goes out to everyone that submitted a recipe, a "I'm Looking For Request" and everyone that took the time to reply to one of those requests.
I've made some pretty big decisions about the HBHW Club this past week and would love to share those with you. Quite a few of you asked me if there was a way that they could try the club without spending too much up-front to make sure it was going to work for them. Hey, I can understand that… I don't like to buy the Cat in the Bag either.
You an now join the HBHW Club for only a dollar for the first 7 days. After that it'll still be $10 per month. You're welcome to cancel anytime. Just sent me an email and I'll take care of it for you. If you find the club isn't for you, just cancel within those first 7 days and you'll never be charged another dime.
Ready to give it a try? Go to http://www.hillbillyhousewifeclub.com/special.html
I've also been in touch with some of our current members and we've decided that I'll be emailing all members on a weekly basis to keep everyone in touch with what's going on in the Club. I'm sure the forum discussions and member interactions will get even better as a result of this.
Oh… I almost forgot! I wanted to show you our new deck. We started working on this right after I sent out last week's newsletter (literally within 20 minutes or so). We did all the work ourselves, which was hard and my arms and legs were sore for days, but it was totally worth it and I've been enjoying sitting out there with a good book almost every day. Here's a picture: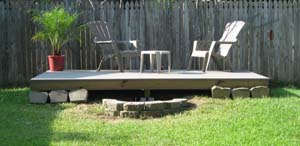 That's it for this week. As always, I welcome your comments and suggestions. Feel free to email me at susanne@hillbillyhousewife.com
Warm Regards,
Susanne – The Hillbilly Housewife
P.S. Take a look at this week's sponsor offer. Kayla is a great friend and I've gotten her planner and took a look at it. My daughter is a little young for it (she's in first grade), but I think it will come in very handy for us starting next year. If you have kids in 2 or 3rd grade or older, I can highly recommend this.
Sponsor
My name is Kayla Fay, and I'm the mother of four sons. Three of our boys have been diagnosed with ADHD, and one son has a learning disability. For years, homework was the source of incredible stress at our home. One of the biggest problems was that they didn't get their homework copied down correctly, and often left books and materials in their desk or locker.
We bought planners, and tried using the planners the school provided, but they didn't help. Our boys would write too big for the blocks in the planners, or they would write on the wrong page. Or they would write the page for the spelling under the word 'math'. It was so confusing.
One year I went into the classroom after school every day to make sure our son had his assignments right, and had everything he needed to do them. But – while his homework was done – we weren't developing any sense of responsibility or organization in our son.
Since I couldn't find the perfect planner, I created one myself. Our first planner was handwritten in a marble composition book. But the results convinced me that we were on the right track! So I created another, improved version on the computer.
Our new calendar included:
~ Dated pages with one day per page format, giving lots of room for kids to write BIG.
~Space for our boys to write down homework and the books and supplies needed to complete it.
~Checklist blocks to ensure that each item is packed – and done.
~A place for notes to and from school.
~Color coded spaces for each subject.
Over the years our original planner has evolved and expanded to meet the changing needs of our boys in different grades. And a couple of years ago we made our planner available to the public. It's called The PAC-kit, and it will help your child PLAN to SUCCEED. You can read more about the PAC-kit here.

Inspirational Quote
"If your everyday life seems poor, don't blame it, blame yourself; admit to yourself that you are not enough of a poet to call forth its riches; because for the creator, there is no poverty and no indifferent place." – Rainer Maria Rilke
Reader Question
I tried cooking hamburgers on the grill last week, but they kept braking and I lost most of them because they fell in the coals. What can I do to keep them from breaking apart while I grill them?
Bill
Great question Bill. I actually ended up chatting with my husband about this since he's the one that does all the grilling. There are a couple of things you can do. Start off by buying at least 80/20 ground beef. If you go with anything leaner than that, the burgers will be more likely to break. The fat in the meat helps keep them together.
Pack the meat in tight when you form your burgers. It also helps to spray your grill with a little nonstick spray before you put the burgers on there. Once you stick them on there, leave the meat on for a while. Give it a chance to cook before you start to turn it. You shouldn't have to turn the burgers more than twice during the cooking process.
Hope this helps,
Susanne
News From The HBHW Club
This is a new section of the newsletter. Each week I'm going to share some tidbits of what's going on at the HBHW Club with you. I hope you enjoy these extra tips, recipes and ideas and of course would love to have you join the club.
As a HBHW newsletter subscriber, you can join for only $10 per month here: http://www.hillbillyhousewifeclub.com/special.html
And to make it even easier, I'll let you try it out for just a dollar for the first 7 days.
Here's one of the recipes that were submitted this past week.
Walnut Gem Cookies
* 1/2 cup butter or margarine
* 2 Tbsp sugar
* 1/8 tsp salt
* 1 tsp vanilla
* 1 cup flour
* 1 cup chopped walnuts
* powdered sugar
In mixer, cream together the butter and sugar until nice and fluffy.  Add in the salt and vanilla.  Then start to mix in the flour slowly.  Remove from mixer and stir in chopped walnuts with spoon.  Cover bowl loosely with plastic and chill in refrigerator for about 30 minutes.
Remove and begin shaping mixture into balls about the size of a golf ball, about a two bite size.  Arrange them on an ungreased baking sheet.
Bake for about 15 minutes in a 350 degree oven.  Remove and let cool for just a few minutes until you can handle them.  Then, roll them in the powdered sugar and set aside on a cooling rack.  You can sprinkle more sugar on top if you'd like while they're sitting on the rack.
And here are some of the other recipes that have been added in the past few days.
Grand Spinach Salad
Easy Beef 'n' Cabbage Casserole
Creole Squash Bake
Zucchini Harvest Soup
Sweet Potato and Apple Scallop
All in all, we have over 170 new recipes in the member area already. This week we've been talking about what to do when you get overwhelmed with all the daily chores, strange places to come across great new recipes (you won't believe where some members have found a new favorite), implementing weekly email updates for Club members and of course we are still sharing daily frugal tips.
Ready to join us? Try The HBHW Club for only $1. We'd love to have you! http://www.hillbillyhousewifeclub.com/special.html
Featured Article
This week's featured article was inspired by some emails I receive quite frequently. The question boils down to how one can convince the rest of the family to live more frugally. Read my answer in this article about adapting a more frugal lifestyle.
Frugal Tips
[RSSImport display="3″ feedurl="http://www.hillbillyhousewife.com/category/frugal-tips/feed" displaydescriptions=true end_item="
" start_item=""]
Recipes
Here are some of the most recent recipes that have been added to the HBHW site. Enjoy!
[RSSImport display="5″ feedurl="http://www.hillbillyhousewife.com/category/recipes/feed" displaydescriptions=true end_item="
" start_item=""]
Do you have a recipe you would like to share? Click here to send it to me and I'll be happy to add it to the website.
I'm Looking For:
This section is going to be all about you. If you are looking for a particular recipe or a tip on how to do something, submit it here and I will post it in an upcoming newsletter. I'll give you my input and other readers of the newsletter will have the opportunity to share their recipes and tips as well. So take a moment to post your questions and of course if you have a tip or idea for any question posted in this section feel free to leave a comment under the appropriate post.
I'm Looking For Requests
[RSSImport display="20″ feedurl="http://www.hillbillyhousewife.com/category/newsletter/recipe-requests/feed" displaydescriptions=true end_item="
" start_item=""]
I'm Looking For Responses
Below you will find some of the recent responses to the "I'm Looking For" Requests. You may also want to go directly to this section and browse through all the recent submissions and replies. To do so, click on "I'm Looking for" here, and start looking through them.
[RSSImport display="20″ feedurl="http://www.hillbillyhousewife.com/comments/feed?cat=recipe-requests&withcomments=1″ displaydescriptions=true end_item="
" start_item=""]
Inspirational Story
THINGS AREN'T ALWAYS WHAT THEY SEEM
Author Unknown
Two traveling angels stopped to spend the night in the home of a wealthy family. The family was rude and refused to let the angels stay in the mansion's guest room. Instead the angels were given a space in the cold basement.
As they made their bed on the hard floor, the older angel saw a hole in the wall and repaired it. When the younger angel asked why, the older angel replied… "Things aren't always what they seem".
The next night the pair came to rest at the house of a very poor, but very hospitable farmer and his wife. After sharing what little food they had the couple let the angels sleep in their bed where they could have a good night's rest.
When the sun came up the next morning the angels found the farmer and his wife in tears. Their only cow, whose milk had been their sole income, lay dead in the field.
The younger angel was infuriated and asked the older angel "how could you have let this happen!? The first man had everything, yet you helped him," he accused. "The second family had little but was willing to share everything, and you let their cow die."
"Things aren't always what they seem," the older angel replied. "When we stayed in the basement of the mansion, I noticed there was gold stored in that hole in the wall. Since the owner was so obsessed with greed and unwilling to share his good fortune, I sealed the wall so he wouldn't find it. Then last night as we slept in the farmers bed, the angel of death came for his wife. I gave him the cow instead. Things aren't always what they seem."
Sometimes this is exactly what happens when things don't turn out the way they should. If you have faith, you just need to trust that every outcome is always to your advantage. You might not know it until some time later.
Rom 8:28 And we know that all things work together for good to those who love God, to those who are the called according to His purpose.
Final Thought
That's it for this edition of the Hillbilly Housewife Newsletter. I hope you've had as much fun reading it as I had creating it for you. I also hope that you have found the information helpful and useful. And by all means feel free to forward the newsletter to family and friends or even better, encourage them to subscribe to it.
Do you have a question, a tip, a recipe or a story you'd like to share with us? Email it to me and I'll include it in a future issue. Can't wait to see what you have to say.
Warm Wishes,
Susanne – The Hillbilly Housewife
Disclosure: Some of the links below are affilate links, meaning, at no additional cost to you, I will earn a commission if you click through and make a purchase.