Freezer Cooking and Chicken Mini Muffins – HBHW Newsletter
October 20th, 2010
Editorial

Hello again and welcome to another edition of the Hillbilly Housewife Newsletter.
If you're like me, your calendar is quickly filling up for the fall and winter months.  It's amazing how our kids' schedule gets first billing while we have to work in what we can – even dinnertime.
That's why I have long relied on a full freezer for those days when there is no way I will have time to spend in the kitchen preparing a meal.  Along with stocking frozen meats and vegetables, I try to keep a supply of casseroles, soups, and breads neatly tucked away in the freezer ready and waiting.  This week I'm featuring my Freezer Cooking Made Simple ebook to give you a chance to explore the possibilities of freezer cooking in your home.  I hope you'll take a few minutes to see what freezer cooking has to offer you.
I've also featured an article about freezer cooking this week.  To be fair, cooking a month's worth of meals at one time isn't for everybody.  That's why we need options.  In both my ebook and the featured article, you will find lots of ways to tweak your freezer cooking schedule to suit your own individual preferences.  I have friends who enjoy cooking for the freezer once a month and I have friends who only freeze prepared ingredients to throw together in a recipe when needed.  Both systems work well.  Please read the featured article and see how easy it is to design your own system.
This week's quote and story were somewhat inspired by freezer cooking.  Stocking the freezer feels like a very old fashioned notion; similar to stocking the root cellar and canning the fall harvest.  Sometimes, old ideas are good ideas, and simple things are good things.  I hope you'll take a moment or two out of your busy day to read this week's quote and story.
Please also remember to check out this fun little contest. Front Porch Ideas and More is hosting an Autumn and Halloween Porch Decorating Contest during the month of October. If you like decorating your porch this time of the year, you will enjoy all the ideas that Mary and Dave have for your porch. You could win a $100 or $50 gift certificate from Plow & Hearth. Learn more about their fun contest here: Autumn and Halloween Porch Decorating Contest.
We are holding a little contest right here at HBHW as well.  We are just now putting the finishing touches on a fun Holiday Recipe Contest. We're busy collecting prizes and will let you know soon where to submit your own special holiday recipes.  Be sure to watch for more details in the following weeks.
Those are my thoughts this week. As always, I welcome your comments and suggestions. Feel free to email me at susanne@hillbillyhousewife.com
Warm Regards,
Susanne – The Hillbilly Housewife
Inspirational Quote
To select well among old things, is almost equal to inventing new ones.
~Nicholas Charles Trublet~
Sponsor
I Highly Recommend Freezer Cooking Made Simple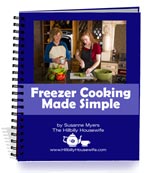 Freezer cooking is a term that many of you are familiar with.  Although stocking up for the winter is an old fashioned idea, freezer cooking has been enjoying a resurgence among younger homemakers.
For many reasons, cooking frugal meals has become a number 1 concern for many of us.  Whether due to the economy or just out of a general sense of providing stability and nutritious meals for our families, homemakers are anxious to learn how to stock their freezers. Just the feeling you get knowing the freezer is full can give you a nice secure feeling; not to mention all that extra time you'll have not running around trying to figure out what's for dinner each night.
You can just cook dishes and throw them in the freezer, but there is a better way.  With a well thought out system and a well organized shopping list, your freezer cooking day can produce more dishes faster and with less effort.  Here's a glimpse at what Freezer Cooking Made Simple has to offer:
How to make your first few freezer meals and what you need to get started.
What foods will freeze well and what foods you should stay away from in your freezer cooking.
It's time to to stock your freezer with a week's worth of dinners (complete with recipes and grocery list).
Strategies for getting these meals prepared quickly and safely.
How to keep your freezer stocked and make the most of these simple and delicious freezer meals.
Are you ready to order your copy of Freezer Cooking Made Simple yet?  There is no reason to wait because your order is totally risk free!  And best of all, at only $9.95 this is an affordable ebook that will return your investment many times over.
Click here to order this incredible e-book at absolutely no risk and start stocking your freezer and saving money TODAY!
Featured Article
Not everyone (me included) is cut out for once a month freezer cooking. Some people prefer to fill their freezers with a once a week cooking day, or even by freezing prepared ingredients rather than full meals. Please take a moment to read this week's featured article written by Peg Baron to find out more about how you can design a freezer cooking schedule that fits your style:
Once A Month Freezer Cooking Alternatives
Recipe Sharing
Having a freezer full of meals is a great way to save time and to take advantage of sales when you find them.  Your freezer is like a vault – the food in there only increases in value as grocery prices rise.  I'd like to share a recipe that my family always enjoys.  I hope you'll give it a try:
3/4 C shredded Swiss cheese
1/4 C shredded mozzarella cheese
1 3/4 C baking mix
1 C skim milk
1/4 tsp salt
1/2 C chicken breast meat, cooked and chopped fine
In a large mixing bowl mix together the two cheeses, the milk and the baking mix.
Be sure the baking mix is completely moistened.
Add the salt and chicken and mix well.
Preheat the oven to 400 degrees.
Spray the mini muffin tin cups with a non stick cooking spray.
Pour the batter into each muffin cup filling them 2/3 full.
Bake 10 minutes or until the tops are golden brown and a toothpick inserted in the center come out clean.
These make a great appetizer for that special party. Kids even like them for lunch or as an evening snack.
Click on this link for even more recipes for mini freezer muffins. You'll find recipes that are sure to become your family's favorites, like these corn dog muffins.  Learn How to Freeze Muffins and stock your freezer with great treats for the whole family, all ready and waiting.
Healthy Hillbilly Housewife
Here's what's new on the healthy hillbilly housewife section. You can also go straight to http://www.healthy.hillbillyhousewife.com
[RSSImport display="5″ feedurl="http://healthy.hillbillyhousewife.com/feed" displaydescriptions=true end_item="
" start_item=""]
Frugal Tips
[RSSImport display="3″ feedurl="http://www.hillbillyhousewife.com/category/frugal-tips/feed" displaydescriptions=true end_item="
" start_item=""]
Do you have a tip to share? Fill out the submit a frugal tip form and I'll be glad to add it to the site and share your tip in an upcoming edition of the newsletter.
Recipes
Here are some of the most recent recipes that have been added to the HBHW site. Enjoy!
[RSSImport display="5″ feedurl="http://www.hillbillyhousewife.com/category/recipes/feed" displaydescriptions=true end_item="
" start_item=""]
Do you have a recipe you would like to share? Click here to send it to me and I'll be happy to add it to the website.
I'm Looking For:
This section is all about you. If you are looking for a particular recipe or a tip on how to do something, submit it here and I will post it in an upcoming newsletter. I'll give you my input and other readers of the newsletter will have the opportunity to share their recipes and tips as well. So take a moment to post your questions and of course if you have a tip or idea for any question posted in this section feel free to leave a comment under the appropriate post.
I'm Looking For Requests
[RSSImport display="20″ feedurl="http://www.hillbillyhousewife.com/category/newsletter/recipe-requests/feed" displaydescriptions=true end_item="
" start_item=""]
I'm Looking For Responses
Below you will find some of the recent responses to the "I'm Looking For" Requests. You may also want to go directly to this section and browse through all the recent submissions and replies. To do so, click on "I'm Looking for" here, and start looking through them.
[RSSImport display="20″ feedurl="http://www.hillbillyhousewife.com/comments/feed?cat=recipe-requests&withcomments=1″ displaydescriptions=true end_item="
" start_item=""]
Inspirational Story
God's Coffee
~Author Unknown~
A group of alumni, highly established in their careers, got together to visit their old university professor. Conversation soon turned into complaints about stress in work and life.
Offering his guests coffee, the professor went to the kitchen and returned with a large pot of coffee and an assortment of cups – porcelain, plastic, glass, crystal, some plain looking, some expensive, some exquisite – telling them to help themselves to the coffee.
When all the students had a cup of coffee in hand, the professor said:
"If you noticed, all the nice looking expensive cups were taken up, leaving behind the plain and cheap ones. While it is normal for you to want only the best for yourselves, that is the source of your problems and stress.
Be assured that the cup itself adds no quality to the coffee. In most cases it is just more expensive and in some cases even hides what we drink.
What all of you really wanted was coffee, not the cup, but you consciously went for the best cups… And then you began eyeing each other's cups.
Now consider this: Life is the coffee; the jobs, money and position in society are the cups. They are just tools to hold and contain Life, and the type of cup we have does not define, nor change the quality of Life we live.
Sometimes, by concentrating only on the cup, we fail to enjoy the coffee God has provided us.
God brews the coffee, not the cups………. Enjoy your coffee!"
Final Thought
That's it for this edition of the Hillbilly Housewife Newsletter. I hope you've had as much fun reading it as I had creating it for you. I also hope that you have found the information helpful and useful. And by all means feel free to forward the newsletter to family and friends or even better, encourage them to subscribe to it.
Do you have a question, a tip, a recipe or a story you'd like to share with us? Email it to me and I'll include it in a future issue. Can't wait to see what you have to say.
Warm Wishes,
Susanne – The Hillbilly Housewife
Disclosure: Some of the links below are affilate links, meaning, at no additional cost to you, I will earn a commission if you click through and make a purchase.