Wild Wild West Cookout, Emergency Money, Take Rest – HBHW Newsletter
August 4th, 2010
Editorial

Hello again and welcome to another edition of the Hillbilly Housewife Newsletter. This edition is running a little late today because I had too much fun sitting at the kitchen table with my sister. She is visiting for a few days  and we always have a good time catching up and reminiscing about back when we were little girls.
Before we get back to school, let's have a last cookout, and let's make it a good one. My friend Cheryl over at Celebrations.com has created a cookout with all the makings of the Wild Wild West.  There are recipes for kids and grownups, as well as decoration and entertainment ideas.  Be sure to click on this link to find everything you need for a Cowboy Themed Summer Cookout.
This week's featured article is about where to find emergency money.  Because of the simple fact of being in an "emergency" we often get befuddled and confused and forget all our basic budgeting skills.  Take a minute to sit back and study this strategic look at finding money when you need it by reading this week's featured article.
The inspirational quote and story I've chosen this week I hope will give you a few moments to pause and think about how much you have to gain by taking time to rest and enjoy what's around you.  Also, appreciate the fact that you are enough… there's nothing you can't do.
Those are my thoughts this week. As always, I welcome your comments and suggestions. Feel free to email me at susanne@hillbillyhousewife.com
Warm Regards,
Susanne – The Hillbilly Housewife
Inspirational Quote
Take rest. A field that has rested gives a bountiful crop.
~Ovid~
Sponsor
Keepin' It Clean E-book Series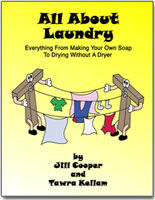 Are you tired of spending huge amounts of money on laundry detergent and softeners?  Me too.  I'm literally throwing money down the drain!
And, when it comes to laundry, it isn't only the money; it's the time and effort it takes to get the laundry done, folded, and put away.
Finally,  I have gotten a handle on my laundry woes.  I found the answers in this great laundry guide from my friends at LivingOnADime.com
Won't you take a minute and look at what this E-book has to offer?  Just click on this link and learn how to start saving time and money today:
Keepin' It Clean E-book Series

News From The HBHW Club
If you haven't heard about the Hillbilly Housewife Club, it's a members only forum packed full of great information, resources, and friendly chit chat about the things we are all interested in – fun, frugal living. Come Join Us And See What All The Chatter Is About!

I look forward to chatting with you in the member area. Click the following link and try the HBHW Club for only $1.
http://www.hillbillyhousewifeclub.com/special.html
Our friends at the Club have been discussing canning, interesting tips for used tea bags, and all sorts of fun things. Besides the discussions going on, we've been sharing recipes. Here is one of the recipes I posted on the Club that I'd like to share with you:
Young Zucchini Pickles

6 lbs. young zucchini, sliced thin
2 cups onions, sliced thin
1/2 cup of pickling salt
2 qts of ice water
2 cup of sugar
2 qts of distilled white vinegar
1/4 cup of whole mustard seed
1/4 cup of celery seed
1 tsp turmeric
Place the zucchini and onions into a 12 quart glass bowl and sprinkle evenly with the salt.
Pour the ice water over the vegetables and stir once.
Cover the bowl and let the veggies stand at room temperature for 3 hours.
Dump the veggies into a colander, rinse well and drain.
Roll the vegetables in a clean kitchen towel to dry them.
Prepare the jars and lids as directed by the manufacturer.
Combine the sugar, vinegar, mustard, celery seeds, and turmeric in a stainless steel or glass sauce pan.
Place the sauce pan over high heat and stirring constantly bring to a brisk boil.
Add the vegetables and return the mixture to a boil.
Pack the pickles into the jars and add enough of the hot cooking liquid to maintain a 1/2 inch head space.
Release the air bubbles and add more pickles and water to retain the correct head space.
Wipe the rims, seal the jars and place in a water bath canner.
Process the pickles from the point of boiling in a hot water bath for 10 minutes.
Remove carefully and cool in a draft free area, check the seals and refrigerate any jars that did not seal correctly for up to 2 months.
Makes 12 pints
Listed here is a sampling of recent recipes added, making a total of more than 400 recipes currently available to our Club members.
Chunky Canned Pears

Thick Rich Tomato Sauce

Tender Canned Chicken

Canned Freshwater Fish

We welcome recipe submissions from our friends at the Club and are always happy to see what's cooking in your kitchen. Our aim is to have six recipes posted each week. That's a lot of recipes!
Featured Article
If you feel like you're behind the eight-ball at times, scrambling, trying to find ways to get, earn, or find extra money, this article is for you.
One of the first things I notice is that when money needs to be found for an emergency, the brain seems to shut down.  It's the "emergency" aspect that has us panicked and unable to find the money we need.
This article gives you a clear and concise method for thinking your way through an emergency money situation. Just click on the link below to find out how to lay out a real strategy for finding emergency money:
Where Can I Get Emergency Money
Healthy Hillbilly Housewife
Here's what's new on the healthy hillbilly housewife section. You can also go straight to http://www.healthy.hillbillyhousewife.com
[RSSImport display="5″ feedurl="http://healthy.hillbillyhousewife.com/feed" displaydescriptions=true end_item="
" start_item=""]
Frugal Tips
[RSSImport display="3″ feedurl="http://www.hillbillyhousewife.com/category/frugal-tips/feed" displaydescriptions=true end_item="
" start_item=""]
Do you have a tip to share? Fill out the submit a frugal tip form and I'll be glad to add it to the site and share your tip in an upcoming edition of the newsletter.
Recipes
Here are some of the most recent recipes that have been added to the HBHW site. Enjoy!
[RSSImport display="5″ feedurl="http://www.hillbillyhousewife.com/category/recipes/feed" displaydescriptions=true end_item="
" start_item=""]
Do you have a recipe you would like to share? Click here to send it to me and I'll be happy to add it to the website.
I'm Looking For:
This section is all about you. If you are looking for a particular recipe or a tip on how to do something, submit it here and I will post it in an upcoming newsletter. I'll give you my input and other readers of the newsletter will have the opportunity to share their recipes and tips as well. So take a moment to post your questions and of course if you have a tip or idea for any question posted in this section feel free to leave a comment under the appropriate post.
I'm Looking For Requests
[RSSImport display="20″ feedurl="http://www.hillbillyhousewife.com/category/newsletter/recipe-requests/feed" displaydescriptions=true end_item="
" start_item=""]
I'm Looking For Responses
Below you will find some of the recent responses to the "I'm Looking For" Requests. You may also want to go directly to this section and browse through all the recent submissions and replies. To do so, click on "I'm Looking for" here, and start looking through them.
[RSSImport display="20″ feedurl="http://www.hillbillyhousewife.com/comments/feed?cat=recipe-requests&withcomments=1″ displaydescriptions=true end_item="
" start_item=""]
Inspirational Story
Nothing To Fear
~author unknown~
There's nothing to fear – you're as good as the best,
As strong as the mightiest, too.
You can win in every battle or test;
For there's no one just like you.
There's only one you in the world today;
So nobody else, you see,
Can do your work in as fine a way:
You're the only you there'll be !
So face the world, and all life is yours
To conquer and love and live:
And you'll find the happiness that endures
In just the measure you give;
There's nothing too good for you to possess,
Nor heights where you cannot go:
Your power is more than belief or guess
It is something you have to know.
There is nothing to fear – you can and you will.
For you are the invincible you.
Set your foot on the highest hill –
There's nothing you cannot do.
Final Thought
That's it for this edition of the Hillbilly Housewife Newsletter. I hope you've had as much fun reading it as I had creating it for you. I also hope that you have found the information helpful and useful. And by all means feel free to forward the newsletter to family and friends or even better, encourage them to subscribe to it.
Do you have a question, a tip, a recipe or a story you'd like to share with us? Email it to me and I'll include it in a future issue. Can't wait to see what you have to say.
Warm Wishes,
Susanne – The Hillbilly Housewife
Disclosure: Some of the links below are affilate links, meaning, at no additional cost to you, I will earn a commission if you click through and make a purchase.