All About You, $75 Menu, Cowboy Cookout – HBHW Newsletter
July 28th, 2010
Editorial

Hello again and welcome to another edition of the Hillbilly Housewife Newsletter.
It will be back-to-school before we know it so let's get into some serious summertime fun.  What does summertime fun mean to me?  A cookout!  My friend Cheryl over at Celebrations.com has created a cookout with all the makings of a day on the open range in the Wild Wild West.  There are recipes for kids and grownups, as well as decoration and entertainment ideas.  Be sure to click on this link to find everything you need for a Cowboy Themed Summer Cookout.
This week's featured article brings back a very popular subject from the past; the $45 Emergency Menu.  However, as we all know, the cost of food has risen somewhat since the time I posted that article.  So, I have tweaked the menu to more closely reflect today's grocery prices.  Be sure to take a look at the featured article this week.
The inspirational quote and story I've chosen this week are about you; more importantly what you do with your life.  Are you hindering your growth and happiness?
Those are my thoughts this week. As always, I welcome your comments and suggestions. Feel free to email me at susanne@hillbillyhousewife.com
Warm Regards,
Susanne – The Hillbilly Housewife
Inspirational Quote
Make the most of yourself, for that is all there is of you.
~Ralph Waldo Emerson~
Sponsor
Keepin' It Clean E-book Series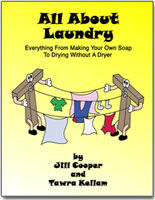 Aside from groceries, another large expense in most households is laundry.  We are literally throwing money down the drain!
Every time you buy laundry detergent and softener, do you cringe, like me?
And, when it comes to laundry, it isn't only the money; it's the time and effort it takes to get the laundry done, folded, and put away.
Finally, I can report that I have gotten a handle on my laundry woes.  I found the answers in this great laundry guide from my friends at LivingOnADime.com
Won't you take a minute and look at what this E-book has to offer?  Just click on this link and learn how to start saving time and money today:
Keepin' It Clean E-book Series

News From The HBHW Club
If you haven't heard about the Hillbilly Housewife Club, it's a members only forum packed full of great information, resources, and friendly chit chat about the things we are all interested in – fun, frugal living. Come Join Us And See What All The Chatter Is About!

I look forward to chatting with you in the member area. Click the following link and try the HBHW Club for only $1.
http://www.hillbillyhousewifeclub.com/special.html
Our friends at the Club have been discussing canning.  We've received some great tips from a long-time canner, along with quite a few recipes.  Here is one of the recipes I posted on the Club that I'd like to share with you:
Old Fashioned Canned Tomato Juice

If you like a salty tomato juice, you'll want to salt it when you drink it, not before you can it. This tomato juice makes a wonderful marinade or tenderizer for meat.  It's especially good for any kind of crockpot stew or roast that you make with a less expensive cut of meat.  For any recipe you use, just substitute this tomato juice for some or all of the diced tomatoes you might add.
25 lbs. of tomatoes, cored and coarsely chopped
14 Tbsp. lemon juice (fresh or bottled)
Prepare the quart size canning jars and two piece lids according the manufacturer's instructions.
Place the tomatoes into a large cooking pot and bring to a slow simmer over medium heat.
Stirring often cook the tomatoes for 30 minutes or until very soft.
Press the tomato mixture through a sieve to separate the juice from the skins and seeds.
Place the juice back into the pot and bring to a slow simmer over medium heat.
Simmer the juice for 5 additional minutes.
Pour the juice into the prepared jars leaving a 1/2 inch head space.
Add 2 tablespoons of lemon juice to each jar.
Release the air bubbles and add more juice if necessary to achieve the 1/2 inch head space.
Wipe off the jar rims and seal down the caps by hand.
Process the jars in a water bath canner for 45 minutes from the point of boiling.
Remove the jars with a jar lifter and place on clean towels in a draft free area to cool.
Check the seals before storing and place any jars with tops that did not seal in the refrigerator.
Use any refrigerated juice within 2 weeks.
Makes 7 quarts
A metal colander works fine for the sieve.
Listed here is a sampling of recent recipes added, making a total of more than 400 recipes currently available to our Club members.
Anytime Strawberry Jam

Fresh Green Sweet Peas

Handy Canned Onions

Pressure Canned Greens
We welcome recipe submissions from our friends at the Club and are always happy to see what's cooking in your kitchen. Our aim is to have six recipes posted each week. That's a lot of recipes!
Featured Article
For many families on a tight budget, the most effective way to cut costs is in their grocery bill each month.  This one expense is something we feel we have control over.  Planning a menu in detail, with each item chosen for greatest cost savings, can help a family truly stick to a limited budget.
That's why I developed a menu plan that is easy to follow, including specific dishes with recipes included.  Most people I talk to want and need a plan to follow in order to save real money, and stick to a budget.
Won't you take a few minutes to read the article and see how you can really save on your grocery bill?  Just click on the link below:
$70 Menu for 4 to 6
Healthy Hillbilly Housewife
Here's what's new on the healthy hillbilly housewife section. You can also go straight to http://www.healthy.hillbillyhousewife.com
[RSSImport display="5″ feedurl="http://healthy.hillbillyhousewife.com/feed" displaydescriptions=true end_item="
" start_item=""]
Frugal Tips
[RSSImport display="3″ feedurl="http://www.hillbillyhousewife.com/category/frugal-tips/feed" displaydescriptions=true end_item="
" start_item=""]
Do you have a tip to share? Fill out the submit a frugal tip form and I'll be glad to add it to the site and share your tip in an upcoming edition of the newsletter.
Recipes
Here are some of the most recent recipes that have been added to the HBHW site. Enjoy!
[RSSImport display="5″ feedurl="http://www.hillbillyhousewife.com/category/recipes/feed" displaydescriptions=true end_item="
" start_item=""]
Do you have a recipe you would like to share? Click here to send it to me and I'll be happy to add it to the website.
I'm Looking For:
This section is all about you. If you are looking for a particular recipe or a tip on how to do something, submit it here and I will post it in an upcoming newsletter. I'll give you my input and other readers of the newsletter will have the opportunity to share their recipes and tips as well. So take a moment to post your questions and of course if you have a tip or idea for any question posted in this section feel free to leave a comment under the appropriate post.
I'm Looking For Requests
[RSSImport display="20″ feedurl="http://www.hillbillyhousewife.com/category/newsletter/recipe-requests/feed" displaydescriptions=true end_item="
" start_item=""]
I'm Looking For Responses
Below you will find some of the recent responses to the "I'm Looking For" Requests. You may also want to go directly to this section and browse through all the recent submissions and replies. To do so, click on "I'm Looking for" here, and start looking through them.
[RSSImport display="20″ feedurl="http://www.hillbillyhousewife.com/comments/feed?cat=recipe-requests&withcomments=1″ displaydescriptions=true end_item="
" start_item=""]
Inspirational Story
You Are
~author unknown~
One day not too long ago the employees of a large company in St. Louis, Missouri returned from their lunch break and were greeted with a sign on the front door. The sign said: "Yesterday the person who has been hindering your growth in this company passed away. We invite you to join the funeral in the room that has been prepared in the gym."
At first everyone was sad to hear that one of their colleagues had died, but after a while they started getting curious about who this person might be. The excitement grew as the employees arrived at the gym to pay their last respects. Everyone wondered: "Who is this person who was hindering my progress? Well, at least he's no longer here!"
One by one the employees got closer to the coffin and when they looked inside it they suddenly became speechless. They stood over the coffin, shocked and in silence, as if someone had touched the deepest part of their soul.
There was a mirror inside the coffin: everyone who looked inside it could see himself. There was also a sign next to the mirror that said: "There is only one person who is capable to set limits to your growth: it is YOU."
YOU are the only person who can revolutionize your life.
YOU are the only person who can influence your happiness, your realization and your success.
YOU are the only person who can help yourself.
Your life does not change when your boss changes, when your friends change, when your parents change, when your partner changes, when your company changes.
Your life changes when YOU change, when you go beyond your limiting beliefs, when you realize that YOU ARE the only one responsible for your life.
Final Thought
That's it for this edition of the Hillbilly Housewife Newsletter. I hope you've had as much fun reading it as I had creating it for you. I also hope that you have found the information helpful and useful. And by all means feel free to forward the newsletter to family and friends or even better, encourage them to subscribe to it.
Do you have a question, a tip, a recipe or a story you'd like to share with us? Email it to me and I'll include it in a future issue. Can't wait to see what you have to say.
Warm Wishes,
Susanne – The Hillbilly Housewife
Disclosure: Some of the links below are affilate links, meaning, at no additional cost to you, I will earn a commission if you click through and make a purchase.