Living Simply and All About Laundry – HBHW Newsletter
July 21st, 2010
Editorial

Hello again and welcome to another edition of the Hillbilly Housewife Newsletter.
We all want to save money on our family's budget.  There are a lot of little tips, tricks, and ideas to do that, but there's one area that has probably the best return-on-investment you can get for your effort.  We're talking about laundry detergent and softener.
This week's featured article will show you how to save money, REAL money, not just pennies a day, but perhaps dollars a day by making your own laundry products.  Please take a look at these simple recipes and you, too, can start enjoying huge savings on your household budget.
The inspirational quote and story I've chosen this week are about living simply.  Please take a moment to read and reflect on both the quote and the lovely poem I've chosen for the story.
Those are my thoughts this week. As always, I welcome your comments and suggestions. Feel free to email me at susanne@hillbillyhousewife.com
Warm Regards,
Susanne – The Hillbilly Housewife
Inspirational Quote
Thrift is the best means of thriving.
~Charles J. Hare~
Sponsor
Keepin' It Clean E-book Series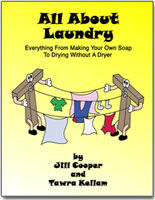 When you take a look at your family's budget, is there one item that stands out as a big money and time drain?  There was in my house – the laundry!
Every time I put one of those big boxes or jugs of laundry detergent on the checkout at the grocery store, I cringed. And, it wasn't only the money, it was the struggle of getting the laundry done, folded, and put away.
But, all that changed when I started using this great laundry guide from my friends at LivingOnADime.com
This one ebook has saved me hundreds of dollars at the store just by eliminating those costly store-bought laundry products.  With simple recipes, improved laundry techniques, and lots of helpful little tips, my laundry is no longer a nightmare of wasted time and money.
Won't you take a minute and look at what this E-book has to offer?  Just click on this link and learn how to start saving time and money today:
Keepin' It Clean E-book Series

News From The HBHW Club
If you haven't heard about the Hillbilly Housewife Club, it's a members only forum packed full of great information, resources, and friendly chit chat about the things we are all interested in – fun, frugal living. Come Join Us And See What All The Chatter Is About!

I look forward to chatting with you in the member area. Click the following link and try the HBHW Club for only $1.
http://www.hillbillyhousewifeclub.com/special.html
We've been discussing canning over at the Club.  Even though I grew up in a home where my grandmother and mother canned, I have yet to try my hand at it, until now.  This year I will be making an effort to can a variety of fruits and vegetables.
Here is one of the recipes I posted on the Club that I'd like to share with you:
Sunday Morning Raspberry Syrup

5 cups fresh raspberries, hulled and cut in half
3 cups water, divided
1 Tbsp lemon zest, grated
2 1/2 cups sugar
3 1/2 cups corn syrup
2 Tbsp fresh lemon juice
Put the raspberries into a 5 quart pot and mash the raspberries with a potato masher.
Pour 1 1/2 cups of water over the berries and add the lemon zest.
Place the pot over high heat and bring to a boil, then reduce the heat to low and simmer the berries for 5 minutes.
Strain the berries through a mesh strainer over a bowl.
Prepare the canning jars as directed by the manufacturer of the jars and keep them hot.
Stir the remaining water and the sugar together in a large saucepan.
Bring the mixture to a boil over high heat, stirring constantly to dissolve the sugar.
Cook the mixture until the temperature reaches 260 degrees on a candy thermometer.
Stir in the strained raspberry mixture and corn syrup and bring back to a boil.
Boil the syrup for 4 minutes, remove from the heat and stir in the lemon juice.
Remove any foam that has formed off the top and discard.
Pour the hot syrup into the canning jars leaving a 1/4 inch head space.
Release the air bubbles by sticking a clean knife in mixture and add more syrup if necessary to maintain the head space.
Process the syrup in a water bath canner for 10 minutes from the point of boiling.
Remove and cool on towels in a dry draft free area then check the seals before storing.
Makes 6 half pints
Takes approximately 40 minutes from start to finish.
Listed here is a sampling of recent recipes added, making a total of more than 400 recipes currently available to our Club members.
Sweet Canned Blueberries
Tomato Jalapeno Salsa
Easy Homemade Grilling Glazes
Easy Homemade Grilling Rubs
We welcome recipe submissions from our friends at the Club and are always happy to see what's cooking in your kitchen. Our aim is to have six recipes posted each week. That's a lot of recipes!
Featured Article

For today's featured article I'd like to share recipes for homemade laundry soap and softener.  I know with just these two recipes I've saved hundreds of dollars on my laundry budget.  Please click on the link below and give these frugal recipes a try:
Homemade Laundry Detergent
Homemade Cheap Fabric Softener
But, why stop with the laundry?  Click on the link below to find even more cleaning products you can make at home:
Homemade Cleaning Products
Healthy Hillbilly Housewife
Here's what's new on the healthy hillbilly housewife section. You can also go straight to http://www.healthy.hillbillyhousewife.com
[RSSImport display="5″ feedurl="http://healthy.hillbillyhousewife.com/feed" displaydescriptions=true end_item="
" start_item=""]
Frugal Tips
[RSSImport display="3″ feedurl="http://www.hillbillyhousewife.com/category/frugal-tips/feed" displaydescriptions=true end_item="
" start_item=""]
Do you have a tip to share? Fill out the submit a frugal tip form and I'll be glad to add it to the site and share your tip in an upcoming edition of the newsletter.
Recipes
Here are some of the most recent recipes that have been added to the HBHW site. Enjoy!
[RSSImport display="5″ feedurl="http://www.hillbillyhousewife.com/category/recipes/feed" displaydescriptions=true end_item="
" start_item=""]
Do you have a recipe you would like to share? Click here to send it to me and I'll be happy to add it to the website.
I'm Looking For:
This section is all about you. If you are looking for a particular recipe or a tip on how to do something, submit it here and I will post it in an upcoming newsletter. I'll give you my input and other readers of the newsletter will have the opportunity to share their recipes and tips as well. So take a moment to post your questions and of course if you have a tip or idea for any question posted in this section feel free to leave a comment under the appropriate post.
I'm Looking For Requests
[RSSImport display="20″ feedurl="http://www.hillbillyhousewife.com/category/newsletter/recipe-requests/feed" displaydescriptions=true end_item="
" start_item=""]
I'm Looking For Responses
Below you will find some of the recent responses to the "I'm Looking For" Requests. You may also want to go directly to this section and browse through all the recent submissions and replies. To do so, click on "I'm Looking for" here, and start looking through them.
[RSSImport display="20″ feedurl="http://www.hillbillyhousewife.com/comments/feed?cat=recipe-requests&withcomments=1″ displaydescriptions=true end_item="
" start_item=""]
Inspirational Story
The Simple Things
~Edgar A. Guest~
I would not be too wise-so very wise
That I must sneer at simple songs and creeds,
And let the glare of wisdom blind my eyes
To humble people and their humble needs.
I would not care to climb so high that I
Could never hear the children at their play,
Could only see the people passing by,
And never hear the cheering words they say.
I would not know too much-too much to smile
At trivial errors of the heart and hand,
Nor be too proud to play the friend the while
Nor cease to help and know and understand.
I would not care to sit upon a throne,
Or build my house upon a mountain-top,
Where I must dwell in glory all alone
And never friend come in or poor man stop.
God grant that I may live upon this earth
And face the tasks which every morning brings
And never lose the glory and the worth
Of humble service and the simple things.
Final Thought
That's it for this edition of the Hillbilly Housewife Newsletter. I hope you've had as much fun reading it as I had creating it for you. I also hope that you have found the information helpful and useful. And by all means feel free to forward the newsletter to family and friends or even better, encourage them to subscribe to it.
Do you have a question, a tip, a recipe or a story you'd like to share with us? Email it to me and I'll include it in a future issue. Can't wait to see what you have to say.
Warm Wishes,
Susanne – The Hillbilly Housewife
Disclosure: Some of the links below are affilate links, meaning, at no additional cost to you, I will earn a commission if you click through and make a purchase.