Clock and Compass, Time and Choices, Calm and Quiet – HBHW Newsletter
July 7th, 2010
Editorial

I hope you all had a wonderful 4th of July celebration surrounded by family and friends.  Also, a belated Happy Canada Day to our friends up north.  Sorry I missed it.  I hope your festivities were fun filled, as well.
My friend Ellen C.  Brown of CreatingHours.com put the whole matter of feeling pulled apart by demands of family, work, and just life,  into perspective in her heart tugging article "Time and Choices."  Please be sure to take time to read this week's featured article.
I chose today's inspirational quote and story so we could reflect a bit on time and goals.  When we're focused on hanging onto our goals and pushing hard to achieve them, we can lose focus.  All our time may be spent pursuing goals and managing the time to achieve those goals.  But, sometimes we need to step back, refocus, and maybe even let go.  See what you think about taking all your time to pursue your goals when you may be heading in the wrong direction to begin with.
I've chosen Little Kid Crafts For All Seasons again as this week's sponsor because after a long, fun weekend we need some quiet crafting time to cool down and relax.  Summer fun is great, but all those hours outside playing in the sun can wear down kids and grownups alike.  Some time indoors spent doing a few crafts might be just what you need right now.
Those are my thoughts this week. As always, I welcome your comments and suggestions. Feel free to email me at susanne@hillbillyhousewife.com
Warm Regards,
Susanne – The Hillbilly Housewife
Inspirational Quote
All the art of living lies in a fine mingling of letting go and holding on.
~Henry Ellis~
Sponsor
Little Kid Crafts For All Seasons – Kid Tested Crafts That Parents Love Too!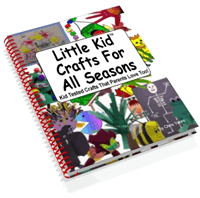 The busy 4th of July weekend is over and many of us are trying to return to a normal schedule.  That's not easy to do when kids are home and trying to get your attention.  You need lots of projects to keep everyone busy and happy.  But, in the midst of all this fun in the sun, everybody is going to get tired out.  That's why we need inside activities to get out of the sun, cool down, and relax.
This ebook has over 200 pages of  kid-created and kid-tested ideas to help keep your little ones quietly busy all summer long.
In addition, when you order Little Kid Crafts For All Seasons you'll receive hundreds of fresh ideas, along with this great bonus,  Little Kid Paper Plate Crafts. That's almost 400 pages of crafts for kids as young as 2 years old.
Be sure to check out this valuable book and take advantage of the bonus offer today! For only $19.95 you'll receive two great sources with almost 400 pages of kid-tested crafting projects. Take a break and enjoy some calm, quiet fun with your kids.  Order your ebook today.
News From The HBHW Club
If you haven't heard about the Hillbilly Housewife Club, it's a members only forum packed full of great information, resources, and friendly chit chat about the things we are all interested in – fun, frugal living. Come Join Us And See What All The Chatter Is About!

My friend Ellen Braun from RaisingSmallSouls.com has been helping us figure out some quiet, cool fun to do at home and elsewhere with her informative resource FRUGAL SUMMER FUN.  Many parents welcome a little calm retreat from all the fun in the sun, and this resource is packed with ideas for places to go and things to do to cool off and relax with the kids.
If you'd like to have access to this resource, and many more like it, just click on the link and take advantage of our special offer to join the HBHW club. http://www.hillbillyhousewifeclub.com/special.html
This is just one of our many informative resources at the HBHW Club.  Our topics include subjects like making money working at home, meal planning, gardening,  saving on utilities, creating a family budget, and a step-by-step plan for getting out of debt. Join the HBHW Club and grab your FREE resource today!

As a special to you, the HBHW newsletter subscriber, you can join for only $10 per month. Click on this link for all the details: http://www.hillbillyhousewifeclub.com/special.html
Still not sure about joining the HBHW Club? How about if I make it real easy. I'll let you try it out for just a dollar for the first 7 days.
How will you benefit from joining the HBHW Club with this offer?
For just $1 you'll have 7 days of access to over 400 great frugal recipes that are tried and true, with a new recipe every day.
For just $1 you'll have 7 days to ask your most puzzling frugal homemaking questions – and even get answers!
Join us now and enjoy 7 days of frugal fun. Click on the link here and come aboard! http://www.hillbillyhousewifeclub.com/special.html
Now, let's just take a peek at what's been going on at the HBHW Club Forum.
Cooking Whole Chickens has our Club members talking.  When was the last time you compared the price of chicken breasts versus a whole chicken?  Well, it seems that has caught the attention of several of our friends at the Club.  They each have decided they'll figure out how to adapt any recipes they have and also learn how to cut up a whole chicken rather than buy the parts.  Even those boneless, skinless chicken breasts are right there for the taking!  Good frugal thinking!
The Walking Challenge has truly become a challenge.  Our friends at the Club have been trying to stick to their exercise plan, but many of us (me included) have found it difficult.  Whether it's the heat or the lack of motivation, we have fallen off.  Well, accountability is step one to sticking with a program.  So, I've challenged our Club members to exercise every day for one week solid and then report back to say how they feel.  I guarantee they will notice a difference.  You can't help but feel better when you got in your exercise that day!
A Rummage Sale Find may have gone into the trash if we hadn't been able to solve this problem. One of our friends found a great blanket for very little money.  But, when she put it in the wash machine, the cigarette smoke odor was absolutely offensive.  With a few suggestions from our Club members, she got that smell out and now has a lovely new blanket, all fresh as a daisy.  Sometimes it just takes a little brainstorming to come up with just the right strategy.
As you can see, our topics have a wide range – anywhere from homesteading, to pet care, to frugal gardening, to health and fitness, to fun projects to keep kids busy at home.  If something has to do with keeping our homes and families happy, we'll discuss it!
How would you like to join the conversation? As a Club member, you'll be able to share your opinions, frugal tips, and ideas on topics most important to your life.
Why don't you join us so you can get in on the conversation. I look forward to chatting with you in the member area. Click the following link and try the HBHW Club for only $1.
http://www.hillbillyhousewifeclub.com/special.html
When you join us at the HBHW Club, you'll want to be sure to take a stroll through the resources available free to Club members only. Popular resources include:
Craft Blog For Fun And Profit
Frugal Gardening
Simple Summer Cooking
Frugal Family Summer Fun
Pantry Cooking
Freezer/Pantry Challenge & Meal Planning
Cleaning With Vinegar And Baking Soda
Setting Up A Family Budget
Getting Out Of Debt For Good
Utility Bill Savings
Meal Planning Guide – Simple Step-by-Step Method
Let me know what you think of the resources and if there are any topics we should explore further. As a Club member, your opinion is highly valued because it's YOUR Club!
Join The Hillbilly Housewife Club for Just a Dollar
I'd like to share one of the recipes that was posted on the HBHW Club this past week by a Club member:
Pine Nut & Parmesan Burgers
1  1/2 lbs. ground beef
1 medium onion, finely chopped
1 cup dry fine bread crumbs
2/3 cup pine nuts
1/3 cup grated Parmesan cheese (not the dry kind in the canister)
1/3 cup chopped fresh parsley
2 eggs, beaten with fork
1 tsp salt
1/2 tsp. black pepper
1 clove garlic, minced
Put all the ingredients in a large bowl and mix well, using your hands. Form into 4 patties and cook covered on a medium hot grill.
Put on direct heat for 2 minutes, flip cook on direct for another 2 minutes, flip and move to indirect heat and cook for another 2 minutes, flip and cook for 2 minutes more.  You want this cooked well so all the flavors blend.
Listed here is a sampling of recent recipes added, making a total of more than 400 recipes currently available to our Club members.
Fancy Condiments
Grilled Oregano & Basil Tuna Steaks
Whole Grilled Chicken
White BBQ Grilling Sauce
We welcome recipe submissions from our friends at the Club and are always happy to see what's cooking in your kitchen. Our aim is to have six recipes posted each week. That's a lot of recipes!
Featured Article – Time and Choices

We, especially parents, are often called upon to make hard choices.  Choices about our kids, ourselves, work, health, food, and, of course, time.
How much time are you spending on things that don't matter to your goals, your family, your health, or your life?  Are you acquiescing to demands that have no value in your overall life plan?  How are outside forces determining what you do each day?  Where do you and your life fit in the scheme of things?
Please click on and read this powerful article written by my friend Ellen Brown of CreatingHours.com and see if you don't feel a few heart strings pulled.
Healthy Hillbilly Housewife
Here's what's new on the healthy hillbilly housewife section. You can also go straight to http://www.healthy.hillbillyhousewife.com
[RSSImport display="5″ feedurl="http://healthy.hillbillyhousewife.com/feed" displaydescriptions=true end_item="
" start_item=""]
Frugal Tips
[RSSImport display="3″ feedurl="http://www.hillbillyhousewife.com/category/frugal-tips/feed" displaydescriptions=true end_item="
" start_item=""]
Do you have a tip to share? Fill out the submit a frugal tip form and I'll be glad to add it to the site and share your tip in an upcoming edition of the newsletter.
Recipes
Here are some of the most recent recipes that have been added to the HBHW site. Enjoy!
[RSSImport display="5″ feedurl="http://www.hillbillyhousewife.com/category/recipes/feed" displaydescriptions=true end_item="
" start_item=""]
Do you have a recipe you would like to share? Click here to send it to me and I'll be happy to add it to the website.
I'm Looking For:
This section is all about you. If you are looking for a particular recipe or a tip on how to do something, submit it here and I will post it in an upcoming newsletter. I'll give you my input and other readers of the newsletter will have the opportunity to share their recipes and tips as well. So take a moment to post your questions and of course if you have a tip or idea for any question posted in this section feel free to leave a comment under the appropriate post.
I'm Looking For Requests
[RSSImport display="20″ feedurl="http://www.hillbillyhousewife.com/category/newsletter/recipe-requests/feed" displaydescriptions=true end_item="
" start_item=""]
I'm Looking For Responses
Below you will find some of the recent responses to the "I'm Looking For" Requests. You may also want to go directly to this section and browse through all the recent submissions and replies. To do so, click on "I'm Looking for" here, and start looking through them.
[RSSImport display="20″ feedurl="http://www.hillbillyhousewife.com/comments/feed?cat=recipe-requests&withcomments=1″ displaydescriptions=true end_item="
" start_item=""]
Inspirational Story
The Compass or The Clock
~author unknown~
What comes first, the compass or the clock?
Before one can truly manage time (the clock), it is important to know where you are going (the compass).
What your priorities and goals are, in which direction you are headed is more important than how fast you are going.
Rather than always focusing on what's urgent, learn to focus on what is really important.
Final Thought
That's it for this edition of the Hillbilly Housewife Newsletter. I hope you've had as much fun reading it as I had creating it for you. I also hope that you have found the information helpful and useful. And by all means feel free to forward the newsletter to family and friends or even better, encourage them to subscribe to it.
Do you have a question, a tip, a recipe or a story you'd like to share with us? Email it to me and I'll include it in a future issue. Can't wait to see what you have to say.
Warm Wishes,
Susanne – The Hillbilly Housewife
Disclosure: Some of the links below are affilate links, meaning, at no additional cost to you, I will earn a commission if you click through and make a purchase.