Happy Father's Day, Summer Fun Ideas, Hot Weather Recipes – HBHW Newsletter
June 16th, 2010
Editorial

Father's Day is this Sunday, June 20th, and I've featured several articles on this topic, as well as included a Father-inspired quote and story.
Our featured articles today are about the origin of Father's Day, some easy Father's Day gift ideas, and a whole day of delicious recipes to treat your Dad from sunup to sundown.  Take time today to gather your kids and plan a Father's Day celebration to remember.
The inspirational quote and story is, to me, a description of "Father."  As kids, we often think of him as a "man of the world," going out to conquer and do great things.  But, at the end of the day, Father comes home and, as we learn later in life, becomes the true hero.  I hope you'll take a few minutes to read and reflect on this topic today and spend time on Father's Day this Sunday to celebrate the man or men in your life that have given so much of themselves.
Of course, summer is upon us and the first couple weeks of summer are usually pretty lazy.  We just enjoy having a little extra time to putter around the house and relax.  But, it doesn't last for ever and before we know it we're all starting to look around for something to do, something to focus on.
Even though we have a few little excursions planned for the family this summer, that still leaves a lot of time at home.  And as the old song goes "busy hands are happy hands" and when those busy hands belong to our little ones, Moms and Dads are happy, too!
That's why I've chosen  Little Kid Crafts For All Seasons again as this week's sponsor.  You'll find great projects that will keep your youngsters busy and happy during those long days of summer that are yet to come. Be sure to check it out.
Those are my thoughts this week. As always, I welcome your comments and suggestions. Feel free to email me at susanne@hillbillyhousewife.com
Warm Regards,
Susanne – The Hillbilly Housewife
Inspirational Quote
A man travels the world over in search of what he needs, and returns home to find it.
~George Moore~
Sponsor
Little Kid Crafts For All Seasons – Kid Tested Crafts That Parents Love Too!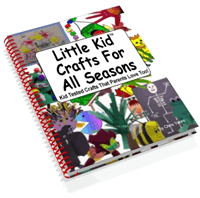 Yes, summer is here and you've got a house full of kids.  Maybe even the neighbor kids, too.  What are you going to do to keep them busy and having fun?
As the months go by, and the weather heats up, your kids' attention span is going to wane, and with that, your frustration will grow.  You need ideas… and a lot of them!
This crafting ebook for kids is jam packed with kid-created and kid-tested activities.  Over 200 pages of fresh ideas to keep your little ones busy all summer long – and throughout the rest of the year, too!
Plus, when you order Little Kid Crafts For All Seasons you'll also receive as a bonus Little Kid Paper Plate Crafts.  That's almost 400 pages of crafts for kids as young as 2 years old.  Imagine, keeping your whole family happy and busy!
Be sure to check out this valuable book and take advantage of the bonus offer today!  For only $19.95 you'll receive two great sources with almost 400 pages of kid-tested crafting projects.  This may be the summer you never hear the words "We're bored!" again.
News From The HBHW Club
What? You haven't heard about the Hillbilly Housewife Club? It's a members only forum packed full of great information, resources, and friendly chit chat about the things we are all interested in – fun, frugal living. Come Join Us And See What All The Chatter Is About!

Our newest resource at the Club is all about creating FRUGAL SUMMER FUN for your family.  Along with my friend, Ellen Braun from RaisingSmallSouls.com I've put together an informative and fun resource that's packed full of frugal fun ideas for you and your family to enjoy this summer.
We all know that summer can start to drag on, and eventually you'll hear the dreaded "I'm bored" remark from your youngsters.  Don't we all want to avoid that!  You can when you use this resource.  Just click on the link and take advantage of our special offer to join the HBHW club. http://www.hillbillyhousewifeclub.com/special.html
You don't want to miss any of our informative and valuable resources including meal planning, gardening, making money working at  home, saving on utilities, creating a family budget and a step-by-step plan for getting out of debt. Join the HBHW Club and grab your FREE resource today!

As a special to you, the HBHW newsletter subscriber, you can join for only $10 per month. Click on this link for all the details: http://www.hillbillyhousewifeclub.com/special.html
Still not sure about joining the HBHW Club? How about if I make it real easy. I'll let you try it out for just a dollar for the first 7 days.
How will you benefit from joining the HBHW Club with this offer?
For just$1 you'll have 7 days of access to over 400 great frugal recipes that are tried and true, with a new recipe every day.
For just $1 you'll have 7 days to ask your most puzzling frugal homemaking questions – and even get answers!
Join us now and enjoy 7 days of frugal fun. Click on the link here and come aboard! http://www.hillbillyhousewifeclub.com/special.html
Now, let's just take a peek at what's been going on at the HBHW Club Forum.
Hot weather cooking, or should I say not cooking, is the main focus of our recipes this month.  Our friends at the Club have requested dishes that don't heat up the kitchen any more than it already is during these hot months of summer.  I've tried to include salads that are not just green and fresh, but hearty, too.  We'll also be posting grilling recipes as the weeks go by and hope to get our Club members to submit a few of their own.
Our Walking Challenge has many of us having to get creative and make adjustments in this heat.  Some of our friends have taken to swimming rather than walking, and others have had to readjust their schedules to walk in the early morning before the heat gets too oppressive.  This isn't always the easiest thing to do, but we're willing to do what we have to in order to stay healthy and fit.
Our Daily Reflection had a bit of a twist especially since we've been focusing on our exercise and diet programs lately.  Can we embrace our bodies… extra weight and all?  Perhaps our image of the "perfect figure" needs to change, especially as we age.  And, shouldn't women be curvy and soft?  All these thoughts have us wondering if maybe our fitness program should focus on the way we feel and not so much on the way we look.  It's something to think about.
Along with healthy and well fed families, we are discussing topics that include frugal tips for cleaning and cooking, as well as homesteading and gardening.  If something has to do with keeping our homes and families happy, we'll discuss it!
How would you like to join the conversation? As a Club member, you'll be able to share your opinions, frugal tips, and ideas on topics most important to your life.
Why don't you join us so you can get in on the conversation. I look forward to chatting with you in the member area.
Click the following link and try The HBHW Club for only $1. We'd love to have you come join us! http://www.hillbillyhousewifeclub.com/special.html
When you join us at the HBHW Club, you'll want to be sure to take a stroll through the resources available free to Club members only. Popular resources include:
Craft Blog For Fun And Profit
Frugal Gardening
Simple Summer Cooking
Frugal Family Summer Fun
Pantry Cooking
Freezer/Pantry Challenge & Meal Planning
Cleaning With Vinegar And Baking Soda
Setting Up A Family Budget
Getting Out Of Debt For Good
Utility Bill Savings
Meal Planning Guide – Simple Step-by-Step Method
Let me know what you think of the resources and if there are any topics we should explore further. As a Club member, your opinion is highly valued because it's YOUR Club!
Join The Hillbilly Housewife Club for Just a Dollar
I'd like to share one of the recipes that was posted on the HBHW Club this past week.
Chicken & Rice Asian Style

Salad:
3 cups cooked rice
2 cups cooked chicken, cut up bite size
1 small can sliced mushrooms, drained
1 small can sliced water chestnuts, drained
1 (16 oz) bag frozen Asian style mixed vegetables, lightly cooked and drained
2 eggs, hard boiled, and chopped
2 green onions, chopped, including tops
3 stalks celery, diced
1 small green pepper, diced
salt and black pepper to taste
Dressing:
1 (8 oz) bottle Creamy Italian salad dressing
1/2 cup mayonnaise
1 Tblsp. apple cider vinegar
1/2 tsp. curry powder
Combine all salad ingredients in large glass or plastic bowl, tossing well.  Cover and chill for two to three hours.
Before serving, in separate bowl, whisk together the dressing ingredients until well blended.  Pour a little dressing over salad ingredients in bowl and toss together, taste, and add more dressing if desired.  Add more salt and pepper if needed.
This is more like a cold casserole than a salad.  It's certainly hearty enough for a hungry family on a hot summer evening.
Listed here is a sampling of recent recipes added, making a total of more than 400 recipes currently available to our Club members.
Luau Chicken Salad
Chilly Chicken Chinese Salad
Favorite 7 Layer Salad
Salami Summer Salad
We welcome recipe submissions from our friends at the Club and are always happy to see what's cooking in your kitchen. Our aim is to have six recipes posted each week. That's a lot of recipes!
Featured Articles – Father's Day Gifts & Recipes

Since Father's Day is this Sunday, I thought I'd gather a few special Father's Day articles together.  One is on the origin of Father's Day.  Although there are several ideas of where Father's Day got its start, this one is widely believed to be true.
Then I've compiled a few easy gift ideas for kids both young and old.  Many are simple craft ideas just to get you thinking; others are purchased gifts that are also meant to be things that a youngster can easily buy.
Then, what would Father's Day be without food?   Dads are all the same when it comes to their tummies – give them a hearty meal and they're happy.  I've grouped together recipes for the whole day, from a filling breakfast to an ice cream treat after dinner.
Click on the links below and start planning your Father's Day:
Simple Father's Day Gift Ideas
A Whole Day of Father's Day Meals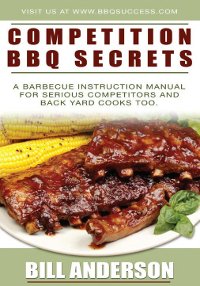 If you're looking for even more Father's Day recipes, you may want to check out this fabulous cookbook, Competition BBQ Secrets – A Barbecue Instruction Manual.
Even if your Dad has never actually entered a barbecue competition, these secrets will have him winning in his own backyard!  Click on and help your Father in his quest to become the King of the BBQ.
Healthy Hillbilly Housewife
Here's what's new on the healthy hillbilly housewife section. You can also go straight to http://www.healthy.hillbillyhousewife.com
[RSSImport display="5″ feedurl="http://healthy.hillbillyhousewife.com/feed" displaydescriptions=true end_item="
" start_item=""]
Frugal Tips
[RSSImport display="3″ feedurl="http://www.hillbillyhousewife.com/category/frugal-tips/feed" displaydescriptions=true end_item="
" start_item=""]
Do you have a tip to share? Fill out the submit a frugal tip form and I'll be glad to add it to the site and share your tip in an upcoming edition of the newsletter.
Recipes
Here are some of the most recent recipes that have been added to the HBHW site. Enjoy!
[RSSImport display="5″ feedurl="http://www.hillbillyhousewife.com/category/recipes/feed" displaydescriptions=true end_item="
" start_item=""]
Do you have a recipe you would like to share? Click here to send it to me and I'll be happy to add it to the website.
I'm Looking For:
This section is all about you. If you are looking for a particular recipe or a tip on how to do something, submit it here and I will post it in an upcoming newsletter. I'll give you my input and other readers of the newsletter will have the opportunity to share their recipes and tips as well. So take a moment to post your questions and of course if you have a tip or idea for any question posted in this section feel free to leave a comment under the appropriate post.
I'm Looking For Requests
[RSSImport display="20″ feedurl="http://www.hillbillyhousewife.com/category/newsletter/recipe-requests/feed" displaydescriptions=true end_item="
" start_item=""]
I'm Looking For Responses
Below you will find some of the recent responses to the "I'm Looking For" Requests. You may also want to go directly to this section and browse through all the recent submissions and replies. To do so, click on "I'm Looking for" here, and start looking through them.
[RSSImport display="20″ feedurl="http://www.hillbillyhousewife.com/comments/feed?cat=recipe-requests&withcomments=1″ displaydescriptions=true end_item="
" start_item=""]
Inspirational Story
What Is A Father?
~Author unknown~
A father is a person who is forced to endure childbirth without an anesthetic. He growls when he feels good and laughs very loud when he is scared half-to-death.
A father never feels entirely worthy of the worship in a child's eyes. He is never quite the hero his daughter thinks. Never quite the man his son believes him to be. And this worries him sometimes. (So he works too hard to try to smooth the rough places in the road of those of his own who will follow him.)
A father is a person who goes to war sometimes … and would run the other way except that war is part of his only important job in his life, (which is making the world better for his child than it has been for him).

Fathers grow older faster than people, because they, in other wars, have to stand at the train station and wave goodbye to the uniform that climbs on board.  And, while mothers cry where it shows, fathers stand and beam — outside — and die inside.
Fathers are men who give daughters away to other men, who aren't nearly good enough, so that they can have children that are smarter than anybody's.
Fathers fight dragons almost daily. They hurry away from the breakfast table, off to the arena which is sometimes called an office or a workshop. There, with callused hands, they tackle the dragon with three heads; Weariness, Works, and Monotony. And they never quite win the fight, but they never give up. Knights in shining armor; fathers in shiny trousers. There's little difference as they march away each workday.
I don't know where father goes when he dies, but I've an idea that, after a good rest, wherever it is, he won't just sit on a cloud and wait for the girl he's loved and the children she bore. He'll be busy there too — repairing the stars, oiling the gates, improving the streets, smoothing the way.
Final Thought
That's it for this edition of the Hillbilly Housewife Newsletter. I hope you've had as much fun reading it as I had creating it for you. I also hope that you have found the information helpful and useful. And by all means feel free to forward the newsletter to family and friends or even better, encourage them to subscribe to it.
Do you have a question, a tip, a recipe or a story you'd like to share with us? Email it to me and I'll include it in a future issue. Can't wait to see what you have to say.
Warm Wishes,
Susanne – The Hillbilly Housewife
Disclosure: Some of the links below are affilate links, meaning, at no additional cost to you, I will earn a commission if you click through and make a purchase.