Be A Part Of Something This Summer, Vacation Planning, Activities For Kids – HBHW Newsletter
June 9th, 2010
Editorial

With kids out of school, summer has officially arrived.  A house full of kids calls for some serious strategic planning.  From taking summer trips to finding activities to do around the house, today's newsletter is dedicated to helping you have a happy, as well as productive, summer.
We'll start with the Sponsor for this week's newsletter.  Summertime means summer fun!  Keeping your kids occupied during their time off from school can be challenging.  How would you like some fresh new ideas?  That's what  Little Kid Crafts For All Seasons is all about. Check out our sponsor today and see what you can find to keep your kids entertained all summer long.
The featured article today is about planning a family vacation.  Traditionally, summertime is the right time to take the kids, pack the car, and head out for an adventure.  However, there is planning and budgeting to consider.  You may need to explore some vacationing options if your budget is tight.  Be sure to check out the article this week and see if you can find a way to have fun and save money at the same time.
The inspirational quote and story I've chosen today have a somewhat common theme, even if it may not be obvious at first glance.  I know that when summer comes along, we all like to sit back and relax.  But, our tasks at hand have to come first.  Yes, you should lay back in your lounge chair and enjoy the fruits of your labor.  It's what industrious people do – we create a world to enjoy.  Even our "Little Wave" in the inspirational story is a part of something bigger.  I hope you'll take a moment to reflect on the world you're a part of.
Those are my thoughts this week. As always, I welcome your comments and suggestions. Feel free to email me at susanne@hillbillyhousewife.com
Warm Regards,
Susanne – The Hillbilly Housewife
Inspirational Quote
Someone's sitting in the shade today because someone planted a tree a long time ago.
~Warren Buffett~
Sponsor
Little Kid Crafts For All Seasons – Kid Tested Crafts That Parents Love Too!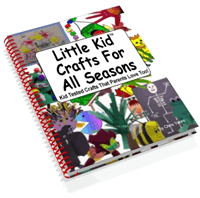 Yes, summer is here and you've got a house full of kids.  Maybe even the neighbor kids, too.  What are you going to do to keep them busy and having fun?
As the months go by, and the weather heats up, your kids' attention span is going to wane, and with that, your frustration will grow.  You need ideas… and a lot of them!
That's what this ebook is all about – creating fun!  And the great thing about this particular crafting ebook for kids is that it's jam packed with kid-created and kid-tested activities.  Over 200 pages of fresh ideas to keep your little ones busy all summer long – and throughout the rest of the year, too!
That's not all you'll get!.  When you order Little Kid Crafts For All Seasons you'll receive as a bonus Little Kid Paper Plate Crafts.  That's almost 400 pages of crafts for kids as young as 2 years old.  Imagine, keeping your whole family happy and busy!
Be sure to check out this valuable book and take advantage of the bonus offer today!  For only $19.95 you'll receive two great sources with almost 400 pages of kid-tested crafting projects.  This may be the summer you never hear the words "We're bored!" again.
News From The HBHW Club
What? You haven't heard about the Hillbilly Housewife Club? It's a members only forum packed full of great information, resources, and friendly chit chat about the things we are all interested in – fun, frugal living. Come Join Us And See What All The Chatter Is About!

You don't want to miss any of our informative and valuable resources including meal planning, gardening, making money working at  home, saving on utilities, creating a family budget and a step-by-step plan for getting out of debt. Join the HBHW Club and grab your FREE resource today!

As a special to you, the HBHW newsletter subscriber, you can join for only $10 per month. Click on this link for all the details: http://www.hillbillyhousewifeclub.com/special.html
Still not sure about joining the HBHW Club? How about if I make it real easy. I'll let you try it out for just a dollar for the first 7 days.
How will you benefit from joining the HBHW Club with this offer?
For just$1 you'll have 7 days of access to over 400 great frugal recipes that are tried and true, with a new recipe every day.
For just $1 you'll have 7 days to ask your most puzzling frugal homemaking questions – and even get answers!
Join us now and enjoy 7 days of frugal fun. Click on the link here and come aboard! http://www.hillbillyhousewifeclub.com/special.html
Now, let's just take a peek at what's been going on at the HBHW Club Forum.
Hot weather meals are the focus of our recipe section this month.  We're looking for salads, grilling dishes, and super quick meals that get you in and out of the kitchen in minutes.  No stirring a hot pot for hours and no oven cranked up high heating up your kitchen – and you.  Our friends at the Club have already started sharing some of their favorite summertime meals with us.  I'm looking forward to even more recipes as the summer rolls on.
Dieting isn't just about watching calories. Sometimes we need help from not only our friends, but a power even higher.  When we find our eating habits have taken over our health, and life, there can be answers found in places we might not think about at first.  One of our friends at the Club has found her faith in God has helped her create better eating habits.  This has been an interesting direction to take;  one I am happy to say has helped her lose over 40 pounds, and keep it off.   Congratulations!
I'm also happy to say that dieting sabotage is no longer an issue with another of our friends at the Club.  Her family (or at least some members of her family) have announced that they are on a diet!  This will make things much easier for our friend to stick to her healthy eating habits.
Putting the past behind us and grabbing all the "buffet of life" has to offer is the topic of a recent "daily reflection."  After all, the buffet line doesn't discriminate between people who have made mistakes in their past and people who have not.  It's all right there for the taking – sinners and saints alike!  This was a very fun image that hit home with many of our Club members.
Along with healthy and well fed families, we are discussing topics that include frugal tips for cleaning and cooking, as well as homesteading and gardening.  If something has to do with keeping our homes and families happy, we'll discuss it!
How would you like to join the conversation? As a Club member, you'll be able to share your opinions, frugal tips, and ideas on topics most important to your life.
Why don't you join us so you can get in on the conversation. I look forward to chatting with you in the member area.
Click the following link and try The HBHW Club for only $1. We'd love to have you come join us! http://www.hillbillyhousewifeclub.com/special.html
When you join us at the HBHW Club, you'll want to be sure to take a stroll through the resources available free to Club members only. Popular resources include:
Craft Blog For Fun And Profit
Frugal Gardening
Simple Summer Cooking
Frugal Family Summer Fun
Pantry Cooking
Freezer/Pantry Challenge & Meal Planning
Cleaning With Vinegar And Baking Soda
Setting Up A Family Budget
Getting Out Of Debt For Good
Utility Bill Savings
Meal Planning Guide – Simple Step-by-Step Method
Let me know what you think of the resources and if there are any topics we should explore further. As a Club member, your opinion is highly valued because it's YOUR Club!
Join The Hillbilly Housewife Club for Just a Dollar
I'd like to share one of the recipes that was posted on the HBHW Club this past week.
Cool Layered Taco Dip

1/2 cup sour cream
1/4 cup mayonnaise
1/2 pkg. Ortega taco seasoning
4 cups shredded Cheddar cheese
1 can ripe black olives
1 medium tomato, chopped
2 green onions, chopped (include tops)
1 small green pepper, chopped fine
large sturdy tortilla chips
Get out a large (at least 9 x 13) pan.  Spread bean dip on the bottom, then avocado on top of that.  In a separate bowl, mix the sour cream, mayo, and the taco seasoning until blended well.  Spread evenly over the avocado.  Evenly sprinkle in layers the next ingredients in order; cheese, olives, tomatoes, onion, green pepper.
Put in the refrigerator for at least 30 minutes or until nice and cold.  Serve with big tortilla chips.  This is more filling than you might think and tastes great on a hot summer afternoon.
Listed here is a sampling of recent recipes added, making a total of more than 400 recipes currently available to our Club members.
Garden Style Red Beans & Rice
Quick Skillet Hoppin' John
Super Speedy 3 Bean Pasta Salad
Apricot Pineapple Preserves
We welcome recipe submissions from our friends at the Club and are always happy to see what's cooking in your kitchen. Our aim is to have six recipes posted each week. That's a lot of recipes!
Featured Articles
With kids finally out of school, many parents take the opportunity to plan a family summer vacation.  However, if you don't create a structured plan, you could run into some budgeting nightmares.
There are reasons you may want to plan vacations a little differently, especially if your budget doesn't allow for a full-out stay in a beach house, mountain chalet, or trip to Disney.
Click the link below to explore some options that may fit your time-frame, and budget, a little better:
Are You Making Plans For Summer Vacation?
Healthy Hillbilly Housewife
Here's what's new on the healthy hillbilly housewife section. You can also go straight to http://www.healthy.hillbillyhousewife.com
[RSSImport display="5″ feedurl="http://healthy.hillbillyhousewife.com/feed" displaydescriptions=true end_item="
" start_item=""]
Frugal Tips
[RSSImport display="3″ feedurl="http://www.hillbillyhousewife.com/category/frugal-tips/feed" displaydescriptions=true end_item="
" start_item=""]
Do you have a tip to share? Fill out the submit a frugal tip form and I'll be glad to add it to the site and share your tip in an upcoming edition of the newsletter.
Recipes
Here are some of the most recent recipes that have been added to the HBHW site. Enjoy!
[RSSImport display="5″ feedurl="http://www.hillbillyhousewife.com/category/recipes/feed" displaydescriptions=true end_item="
" start_item=""]
Do you have a recipe you would like to share? Click here to send it to me and I'll be happy to add it to the website.
I'm Looking For:
This section is all about you. If you are looking for a particular recipe or a tip on how to do something, submit it here and I will post it in an upcoming newsletter. I'll give you my input and other readers of the newsletter will have the opportunity to share their recipes and tips as well. So take a moment to post your questions and of course if you have a tip or idea for any question posted in this section feel free to leave a comment under the appropriate post.
I'm Looking For Requests
[RSSImport display="20″ feedurl="http://www.hillbillyhousewife.com/category/newsletter/recipe-requests/feed" displaydescriptions=true end_item="
" start_item=""]
I'm Looking For Responses
Below you will find some of the recent responses to the "I'm Looking For" Requests. You may also want to go directly to this section and browse through all the recent submissions and replies. To do so, click on "I'm Looking for" here, and start looking through them.
[RSSImport display="20″ feedurl="http://www.hillbillyhousewife.com/comments/feed?cat=recipe-requests&withcomments=1″ displaydescriptions=true end_item="
" start_item=""]
Inspirational Story
The Little Wave
~Mitch Albom~
The story is abut a little wave, bobbing along in the ocean, having a grand old time. He's enjoying the wind and the fresh air – until he notices the other waves in front of him, crashing against the shore. "My God, this terrible",the wave says. "Look what's going to happen to me!"
Then along comes another wave. It sees the first wave, looking grim, and it says to him: "Why do you look so sad?" The first wave says: "You don't understand! We're all going to crash! All of us waves are going to be nothing! Isn't it terrible?"
The second wave says: "No, you don't understand. You're not a wave, you're part of the ocean."
Final Thought
That's it for this edition of the Hillbilly Housewife Newsletter. I hope you've had as much fun reading it as I had creating it for you. I also hope that you have found the information helpful and useful. And by all means feel free to forward the newsletter to family and friends or even better, encourage them to subscribe to it.
Do you have a question, a tip, a recipe or a story you'd like to share with us? Email it to me and I'll include it in a future issue. Can't wait to see what you have to say.
Warm Wishes,
Susanne – The Hillbilly Housewife
Disclosure: Some of the links below are affilate links, meaning, at no additional cost to you, I will earn a commission if you click through and make a purchase.