Freezer and Pantry Cooking Resource, Last Call For Recipes, Organic Gardening, Life Is A Gift – HBHW Newsletter
March 3rd,  2010
Editorial
The seed catalogs are really filling up my mailbox, so spring must be here, right?  Perhaps not exactly here, but it doesn't stop me from being hopeful that warm breezes are coming soon.  If you are starting to think about your garden, you'll want to be sure to read this week's featured article.
I've started seeing swimsuits and cute little sundresses in the stores now and it has me thinking about shedding some of that winter sloth I've been indulging myself in.  Thanks to my good friend Scott from the Fatloss Quickie workout program, I've managed to keep up my home-based exercise program so that when the roads clear, I'll be in pretty good shape to get out there walking again.  How are your fitness plans coming?
Scott has also been encouraging me to share my journey on the Healthy.HillbillyHousewife.com website.  I admit I've been remiss in this, but I hope you won't give up on me and my struggles with this commitment to exercise.  Stop in when you can and give me a little nudge if I'm not on track.  I need all the support I can get.  I'd be happy to hear about your own exercise commitment, as well.
This week's inspirational story and quote are both about tossing off the ropes that bind you to someone you think you should be, instead of being the person you are.  We all put restrictions and expectations on ourselves each morning and then wonder why, with such strict limitations, we are disappointed in ourselves by nightfall.  Take a minute to reflect on this if you will.
Those are my thoughts this week.  As always, I welcome your comments and suggestions. Feel free to email me at susanne@hillbillyhousewife.com
Warm Regards,
Susanne – The Hillbilly Housewife
Sponsor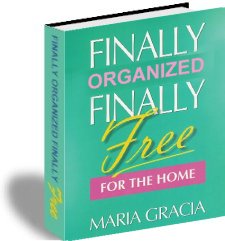 Finally Organized, Finally Free is an amazing collection of 2,175 ideas, tips and  techniques for organizing your home, your  clutter, your time, your schedule, your money,  your paper, your family and much more!
Clutter-control tips for every room in the house.
Time  management systems to help you gain extra hours in your day.
Super ways to organize the paper monsters in your life.
Ideas and  systems to keep you motivated, and so much more!
Get your copy of Finally Organized – Finally Free for $19.97 here.
Inspirational Quote
Twenty years from now you will be more disappointed by the things that you didn't do than by the ones you did do. So throw off the bowlines. Sail away from the safe harbor. Catch the trade winds in your sails. Explore. Dream. Discover.
– Mark Twain –
Last Call – Take  Part In Our Newest Cookbook and get YOUR recipe published.

We are busy wrapping up our collection of easy "throw together" meals which will feature many of your recipes.  But, we have room for more, so be sure to gather your recipes for easy, 5 or fewer ingredients, and get them emailed to me at frugal.folks.hbhw@gmail.com as soon as possible.
I know many of you have created great meals with little to go on but what's left in your pantry, refrigerator, and freezer after you've exhausted the grocery money.  I hope you'll take a minute to share those recipes with us so we can get them published in our new eCookbook.
Be sure to include the history of your creation, especially if it goes back to your mother's or grandmother's days, along with the ingredients and simple cooking directions.  That's all there is to it.  You don't want to be left out when this cookbook gets published online!
Please email your recipes to me at frugal.folks.hbhw@gmail.com so I can include them.  I'll keep you informed on exactly how and when we'll be releasing this fun new eCookbook resource.
News From The HBHW Club
The interview with my friend Christine Steendahl is complete and posted in the Club resource.  The resource discusses Christine's Freezer and Pantry Challenge along with her experience with menu planning.
The audio interview turned out really well and Christine shared quite a few tips that will help members save a lot of money on their groceries, not only during times when they eat mostly from the pantry and freezer, but throughout the year. We also talked quite a bit about meal planning and bargain / coupon shopping.
The audio recording of the interview is available as a resource to members in the Club area.  I've also included with the audio a written transcript (for those that prefer to read). If you'd like to listen to this great, informative, and fun interview, click the link below to join the Club.
As a HBHW newsletter subscriber, you can join for only $10 per month here: http://www.hillbillyhousewifeclub.com/special.html And to make it even easier, I'll let you try it out for just a dollar for the first 7 days.
What's been going on at the HBHW Club? It seems as if we've all been in  hibernation mode.  I've been trying to gather our recipes together as well as posting our new resource, while others have been visiting when they can.
I know we're all waiting for spring to come and I promise to poke my head into the forum more often to see what's happening.  I hope you'll join me there.
Ready to join us? Try The HBHW Club for only $1. We'd love to have you! http://www.hillbillyhousewifeclub.com/special.html
After you check out the Freezer/Pantry Cooking resource, be sure to click on and take a stroll through some of the previous resources.  In case you've missed any, they should all be there so you can catch up on any you didn't get a chance to read.  Let me know what you think of the resources and if there are any topics we should explore further.
Join The Hillbilly Housewife Club for Just a Dollar
I'd like to share one of the recipes that was submitted to the HBHW Club this past week.
School Days Tuna Macaroni Casserole

8 oz. elbow macaroni, cooked and drained
1 (7 oz) can tuna, drained (reserve liquid)
1 Tblsp. finely minced onion
1 (10 oz) can cream of celery soup
1 cup sour cream
1/8 tsp. salt
1 cup shredded Cheddar cheese (divided in half)
Preheat oven to 350 degrees.
Cook the macaroni in a large pot, drain and return to the pot.  Then pour reserved tuna liquid over and mix gently together.
Add the tuna, onion, cream of celery soup, sour cream, and 1/2 cup of the shredded cheese and mix together well.
Turn into a large baking dish (9×13 pan), top with the remaining cheese over the top and sprinkle on the paprika.
Bake, uncovered,  at 350 degrees for 30 to 40 minutes or until hot, bubbly, and the cheese on top is melted.
And here are a few more recipes that have recently been added to the member area.
Oatmeal Molasses Bread
Make-It-Stretch Meat Loaf
Seashore Wild Rice Casserole
Chuck Roast Stroganoff – Crock Pot
All in all, we have over 337 new recipes in the member area already.
One of my favorite part of the HBHW Club is the Member Forum. Here are just a few of the most recent posts.
Member Forum Posts
Why don't you join us so you can get in on the conversation.  I look forward to chatting with you in the member area.
http://www.hillbillyhousewifeclub.com/special.html
Featured Article
Are you planning to plant an organic garden this year?  If so, you'll be needing some information about organic pesticides.
Through the years in my garden, I've tried to rely on the "complimentary plants" theory of laying out my garden.  That method assumes that certain plants protect other plants from certain insects and plights.  However, this method isn't always 100%.
There is a lot of work that goes into a garden.  This year you may want to consider organic pesticides if you are not satisfied with your garden's crops.  Give this short article a read and see what you think.
Planning An Organic Garden? Thoughts On Organic Pesticides
Healthy Hillbilly Housewife
Here's what's new on the healthy hillbilly housewife section. You can also go straight to http://www.healthy.hillbillyhousewife.com
[RSSImport display="5″ feedurl="http://healthy.hillbillyhousewife.com/feed" displaydescriptions=true end_item="
" start_item=""]
Frugal Tips
[RSSImport display="3″ feedurl="http://www.hillbillyhousewife.com/category/frugal-tips/feed" displaydescriptions=true end_item="
" start_item=""]
Do you have a tip to share? Fill out the submit a frugal tip form and I'll be glad to add it to the site and share your tip in an upcoming edition of the newsletter.
Recipes
Here are some of the most recent recipes that have been added to the HBHW site. Enjoy!
[RSSImport display="5″ feedurl="http://www.hillbillyhousewife.com/category/recipes/feed" displaydescriptions=true end_item="
" start_item=""]
Do you have a recipe you would like to share? Click here to send it to me and I'll be happy to add it to the website.
I'm Looking For:
This section is all about you. If you are looking for a particular recipe or a tip on how to do something, submit it here and I will post it in an upcoming newsletter. I'll give you my input and other readers of the newsletter will have the opportunity to share their recipes and tips as well. So take a moment to post your questions and of course if you have a tip or idea for any question posted in this section feel free to leave a comment under the appropriate post.
I'm Looking For Requests
[RSSImport display="20″ feedurl="http://www.hillbillyhousewife.com/category/newsletter/recipe-requests/feed" displaydescriptions=true end_item="
" start_item=""]
I'm Looking For Responses
Below you will find some of the recent responses to the "I'm Looking For" Requests. You may also want to go directly to this section and browse through all the recent submissions and replies. To do so, click on "I'm Looking for" here, and start looking through them.
[RSSImport display="20″ feedurl="http://www.hillbillyhousewife.com/comments/feed?cat=recipe-requests&withcomments=1″ displaydescriptions=true end_item="
" start_item=""]
Inspirational Story
Steps To Happiness
Author – Unknown

Everybody Knows,
You can't be all things to all people,
You can't do all things at once,
You can't do all things equally well,
You can't do all things better than everyone else,
Your humanity is showing just like everyone else's.
So,
You have to find out who you are, and be that,
You have to decide what comes first, and do that,
You have to discover your strengths, and use them,
You have to learn not to compete with others,
Because no one else is in the contest of "being you."
Then,
You will have learned to accept your own uniqueness,
You will have learned to set priorities and make decisions,
You will have learned to live with your limitations,
You will have learned to give yourself the respect that is due,
And you'll be a most vital mortal.
Dare To Believe,
That you are a wonderful, unique person,
That you are a once-in-all-of-history event,
That it's more than a right, it's your duty, to be who you are,
That life is not a problem to solve, but a gift to cherish,
And you'll be able to stay one up on what used to get you down.
Final Thought
That's it for this edition of the Hillbilly Housewife Newsletter. I hope you've had as much fun reading it as I had creating it for you. I also hope that you have found the information helpful and useful. And by all means feel free to forward the newsletter to family and friends or even better, encourage them to subscribe to it.
Do you have a question, a tip, a recipe or a story you'd like to share with us? Email it to me and I'll include it in a future issue. Can't wait to see what you have to say.
Warm Wishes,
Susanne – The Hillbilly Housewife
Disclosure: Some of the links below are affilate links, meaning, at no additional cost to you, I will earn a commission if you click through and make a purchase.