Winter Foods and Crockpot Shredded Beef Burgers- HBHW Newsletter
January 6th 2010
Editorial
I just realized this isn't just the first newsletter of the year, it's the first newsletter of the decade. How exciting is that? Instead of finishing the newsletter, I just sat here for the past 30 minutes and reflected on the past decade and how much my life has changed. 10 years ago I was newly married, still in college. So much of my life has changed. Over the last decade we moved cross country and bought our first house, had a child, sold the house and moved back south. We bought the house we are in now, got rid of A LOT of debt that accumulated and I went from working fulltime to becoming a stay at home mom and later took over this website. Lost of changes, and of course there were some great times and some bad times. Overall, I wouldn't have missed any of it. I've done a lot of growing up and changing over this past decade and am excited to see what the next one brings. How about you? Take some time today to look back and see how far you have come and what you've accomplished over the past 10 years. Then make some plans for the future.
The one thing that made a huge difference for me and my family was to pay off all our consumer debt. The only thing we have left at this point is our mortgage. If debt is something you still struggle with, take a look at special offer from Tawra at Living On A Dime that I emailed you about earlier this week. Their digging out of debt book has a lot of the hands on advice in it that my husband and I used to pay off our credit cards and car loans. I also like the fact that she bundled the Digging out of Debt and the Dining On a Dime ebooks for this offer. The easiest place to start saving right away is your grocery budget and between the recipes and tips on this site and the ones found in the ebook, you'll be ready to slash your grocery budget and use that extra cash to pay off your debt.
You can get Digging Out of Debt and Dining on A Dime for 70% off Click here to order: http://www.hillbillyhousewife.com/livingonadime.htm – but hurry, this offer expires TOMORROW.
Last but not least, if you haven't had a chance to take a look yet, I encourage you to check out the freezer and pantry challenge I blogged about a few days ago. You can read about it here:
http://www.hillbillyhousewife.com/blog/?p=2568
That's it for this week. As always, I welcome your comments and suggestions. Feel free to email me at susanne@hillbillyhousewife.com
Warm Regards,
Susanne – The Hillbilly Housewife
Inspirational Quote
"A smile is a curve that sets everything straight". – Anonymous
Sponsor
Now You Can get Dining On A Dime and Dig Out of Debt for 70% OFF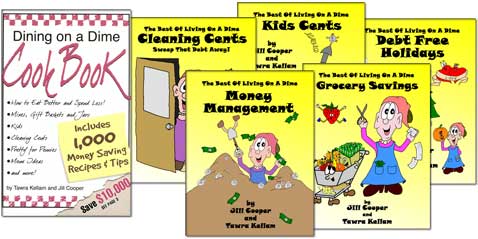 From now through January 7th, we're offering a HUGE discount on Dining On A Dime and Dig Out of Debt. Click here to order: http://www.hillbillyhousewife.com/livingonadime.htm
News From The HBHW Club
This section is all about the HBHW Club. Each week I'm going to share some tidbits of what's going on at the HBHW Club with you. I hope you enjoy these extra tips, recipes and ideas and of course would love to have you join the club.
As a HBHW newsletter subscriber, you can join for only $10 per month here: http://www.hillbillyhousewifeclub.com/special.html
And to make it even easier, I'll let you try it out for just a dollar for the first 7 days.
Here's one of the recipes that were submitted this past week.
Shredded Barbecue Beef Burgers – Crock Pot
* 1 (5 lb.) rump roast, or other inexpensive cut
* 1 medium onion, diced
* 1 bottle (8 oz) steak sauce
* 1 cup water
* 1 cup barbecue sauce, your favorite kind
* 1 tsp yellow mustard
* salt and pepper to taste
Brown roast in hot skillet in small amount of oil.  Remove and give the onions a quick saute.  Place onion in crock pot and place beef roast on top of onion.  In separate bowl, mix together the rest of the ingredients and pour over the meat in crock pot.
Cook on Low setting for 6 hours.  Remove beef from slow cooker and fork shred or chop, then return to slow cooker and stir to combine all the ingredients back together.  Put cover back on crock pot and continue cooking on Low for 40 to 45 minutes.
Serve on good quality hamburger buns with mustard, pickles, sliced onion, and cheese slices.  This is a great marriage between a good hamburger and a good Sloppy Joe.
And here are a few more recipes that have recently been added to the member area.
Sparkling Champagne Punch
Savory Olives
Party Time Crab Dip
Cajun Shrimp All-Bundled-Up
Parmesan Stuffed Mushrooms
5 Ingredient Spiced Tea Mix
Holiday Cheer Egg Nog
Classic Pecan Bars
All in all, we have over 290 new recipes in the member area already.
What else has been going on at the HBHW Club? We've been talking about this past Christmas and New Year's Wishes.  I'm sure you have a lot to contribute to the conversation. Ready to join us? Try The HBHW Club for only $1. We'd love to have you! http://www.hillbillyhousewifeclub.com/special.html
Featured Article
What you eat can make a big difference in how well your body does this winter. Here are some tips for what to eat to stay cozy comfy warm during this cold time of the year.
Winter Foods That Will Warm Your Body And Spirit
Frugal Tips
[RSSImport display="3″ feedurl="http://www.hillbillyhousewife.com/category/frugal-tips/feed" displaydescriptions=true end_item="
" start_item=""]
Do you have a tip to share? Fill out the submit a frugal tip form and I'll be glad to add it to the site and share your tip in an upcoming edition of the newsletter.
Recipes
Here are some of the most recent recipes that have been added to the HBHW site. Enjoy!
[RSSImport display="5″ feedurl="http://www.hillbillyhousewife.com/category/recipes/feed" displaydescriptions=true end_item="
" start_item=""]
Do you have a recipe you would like to share? Click here to send it to me and I'll be happy to add it to the website.
I'm Looking For:
This section is going to be all about you. If you are looking for a particular recipe or a tip on how to do something, submit it here and I will post it in an upcoming newsletter. I'll give you my input and other readers of the newsletter will have the opportunity to share their recipes and tips as well. So take a moment to post your questions and of course if you have a tip or idea for any question posted in this section feel free to leave a comment under the appropriate post.
I'm Looking For Requests
[RSSImport display="20″ feedurl="http://www.hillbillyhousewife.com/category/newsletter/recipe-requests/feed" displaydescriptions=true end_item="
" start_item=""]
I'm Looking For Responses
Below you will find some of the recent responses to the "I'm Looking For" Requests. You may also want to go directly to this section and browse through all the recent submissions and replies. To do so, click on "I'm Looking for" here, and start looking through them.
[RSSImport display="20″ feedurl="http://www.hillbillyhousewife.com/comments/feed?cat=recipe-requests&withcomments=1″ displaydescriptions=true end_item="
" start_item=""]
Inspirational Story
CHILD'S DEFINITION OF LOVE
Author Unknown
A group of professional people posed this question to a group of 4 to 8 year-olds, "What does love mean?" The answers they got were broader and deeper than anyone could have imagined.  See what you think:
"When my grandmother got arthritis, she couldn't bend over and paint her toenails anymore.  So my grandfather does it for her all the time, even when his hands got arthritis too.  That's love." Rebecca – age 8
When someone loves you, the way they say your name is different.  You know that your name is safe in their mouth." Billy – age 4
"Love is when a girl puts on perfume and a boy puts on shaving cologne and they go out and smell each other." Karl – age 5
"Love is when you go out to eat and give somebody most of your French fries without making them give you any of theirs." Chrissy – age 6
"Love is what makes you smile when you're tired." Terri – age 4
Love is when my mommy makes coffee for my daddy and she takes a sip before giving it to him, to make sure the taste is OK." Danny – age 7
"Love is when you kiss all the time.  Then when you get tired of kissing, you still want to be together and you talk more.  My Mommy and Daddy are like that. They look gross when they kiss" Emily – age 8
"Love is what's in the room with you at Christmas if you stop opening presents and listen," Bobby – age 7 (Wow!)
"If you want to learn to love better, you should start with a friend who you hate," Nikka – age 6
"There are two kinds of love.  Our love.  God's love. But God makes both kinds of them." Jenny – age 8
"Love is when you tell a guy you like his shirt, then he wears it everyday." Noelle – age 7
"Love is like a little old woman and a little old man who are still friends even after they know each other so well." Tommy – age 6
"During my piano recital, I was on a stage and I was scared.  I looked at all the people watching me and saw my daddy waving and smiling.  He was the only one doing that.  I wasn't scared anymore," Cindy – age 8
"My mommy loves me more than anybody.  You don't see anyone else kissing me to sleep at night." Clare – age 6
"Love is when Mommy gives Daddy the best piece of chicken." Elaine -age 5
"Love is when Mommy sees Daddy smelly and sweaty and still says he is handsomer than Robert Redford." Chris – age 7
"Love is when your puppy licks your face even after you left him alone all day." Mary Ann – age 4
"I know my older sister loves me because she gives me all her old clothes and has to go out and buy new ones." Lauren – age 4
"When you love somebody, your eyelashes go up and down and little stars come out of you." Karen – age 7
"Love is when Mommy sees Daddy on the toilet and she doesn't think it's gross." Mark – age 6
"You really shouldn't say 'I love you' unless you mean it.  But if you mean it, you should say it a lot.  People forget," Jessica – age 8
Author and lecturer Leo Buscaglia once talked about a contest he was asked to judge.  The purpose of the contest was to find the most caring child.  The winner was a four year old child whose next door neighbor was an elderly gentleman who had recently lost his wife.  Upon seeing the man cry, the little boy went into the old gentleman's yard, climbed onto his lap, and just sat there. When his Mother asked him what he had said to the neighbor, the little boy said, "Nothing, I just helped him cry."
Final Thought
That's it for this edition of the Hillbilly Housewife Newsletter. I hope you've had as much fun reading it as I had creating it for you. I also hope that you have found the information helpful and useful. And by all means feel free to forward the newsletter to family and friends or even better, encourage them to subscribe to it.
Do you have a question, a tip, a recipe or a story you'd like to share with us? Email it to me and I'll include it in a future issue. Can't wait to see what you have to say.
Warm Wishes,
Susanne – The Hillbilly Housewife
Disclosure: Some of the links below are affilate links, meaning, at no additional cost to you, I will earn a commission if you click through and make a purchase.