Good Luck Bad Luck and Hot Dog Ramblings – HBHW Newsletter
June 30th, 2010
Editorial

Here in the United States we'll be celebrating the 4th of July this weekend with picnics, parades, fireworks, and just plain old fun in the sun.  We usually cook (and eat!) way too much food, spend as much time outside as we can, and generally exhaust ourselves.  I hope you have a wonderful weekend surrounded by family and friends.
In keeping with this big "cookout" weekend, I decided to feature an article that's an old favorite of many of us here at Hillbilly Housewife, Hot Dog Ramblings.  I hope you'll take a few minutes to see what we're rambling about!
The inspirational quote and story are about luck – some we make and some that we fall into, whether we like it or not.  Luck is a funny thing.  We don't always know when we're lucky, and sometimes when we think we're truly the unluckiest person in the world, the opposite is true.  Think of some of those times in your life when you felt that luck was just not on your side, and then something wonderful came of that seemingly unlucky situation.  It's just a fun thought this week.
I've chosen Little Kid Crafts For All Seasons again as this week's sponsor because many of us are on vacation over the 4th of July holiday here in the USA and will need lots of ideas to keep the kids busy.  And, if you have a house full of kids, you may even want to plan special crafting events for them. I hope you'll take advantage of this great offer.
Those are my thoughts this week. As always, I welcome your comments and suggestions. Feel free to email me at susanne@hillbillyhousewife.com
Warm Regards,
Susanne – The Hillbilly Housewife
Inspirational Quote
Remember that not always getting what you want is sometimes a wonderful stroke of luck.
~Dalai Lama~
Sponsor
Little Kid Crafts For All Seasons – Kid Tested Crafts That Parents Love Too!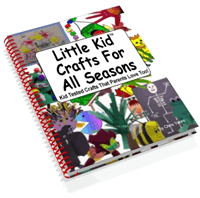 Here we are right in the midst of the summer vacation time.  You may already have restless kids on your hands.  You may even find the heat too unbearable to go outside and need inside activities to keep those little hands busy.
How would you like over 200 pages of  kid-created and kid-tested ideas to  keep your little ones busy over the 4th of July holiday and all summer long?
When you order Little Kid Crafts For All Seasons you'll receive hundreds of fresh ideas, and a great bonus,  Little Kid Paper Plate Crafts. That's almost 400 pages of crafts for kids as young as 2 years old.
Be sure to check out this valuable book and take advantage of the bonus offer today! For only $19.95 you'll receive two great sources with almost 400 pages of kid-tested crafting projects. This may be the summer you finally avoid hearing those dreaded words:  "We're bored!"
News From The HBHW Club
If you haven't heard about the Hillbilly Housewife Club, it's a members only forum packed full of great information, resources, and friendly chit chat about the things we are all interested in – fun, frugal living. Come Join Us And See What All The Chatter Is About!

My friend Ellen Braun from RaisingSmallSouls.com has been helping our Club members keep their kids entertained with our latest resource, FRUGAL SUMMER FUN.  In this resource, we explore all sorts of ideas to help keep your family entertained and happy all summer long. Many of us are not taking a big expensive family vacation this year, but we're still keeping our kids happy and having a great time creating lasting memories.
If you'd like to have access to this resource, and many more like it, just click on the link and take advantage of our special offer to join the HBHW club. http://www.hillbillyhousewifeclub.com/special.html
This is just one of our many informative resources at the HBHW Club.  Topics range from meal planning, gardening, making money working at home, saving on utilities, creating a family budget, and a step-by-step plan for getting out of debt. Join the HBHW Club and grab your FREE resource today!

As a special to you, the HBHW newsletter subscriber, you can join for only $10 per month. Click on this link for all the details: http://www.hillbillyhousewifeclub.com/special.html
Still not sure about joining the HBHW Club? How about if I make it real easy. I'll let you try it out for just a dollar for the first 7 days.
How will you benefit from joining the HBHW Club with this offer?
For just $1 you'll have 7 days of access to over 400 great frugal recipes that are tried and true, with a new recipe every day.
For just $1 you'll have 7 days to ask your most puzzling frugal homemaking questions – and even get answers!
Join us now and enjoy 7 days of frugal fun. Click on the link here and come aboard! http://www.hillbillyhousewifeclub.com/special.html
Now, let's just take a peek at what's been going on at the HBHW Club Forum.
Hot Weather Cooking has taken our friends at the Club from salads, to grilling, to the crockpot – anything to get out of the kitchen! One of our friends is even thinking of baking bread in her grill.  Can't wait to see what happens with that.  Has anyone tried that before?  The grill has a thermostat on the outside so conceivably it should work.  This will be a challenge, for sure.
The Walking Challenge may have to be renamed "The Anything You Can Do To Exercise Challenge."  For various reasons, heat being a big concern, we've been having trouble figuring out how to fit exercise into our day.  Our reluctant early riser is still rising early to get a bike ride in before it gets too hot.  We have a friend who can't convince her dog to walk in the heat but is lucky to have a pool, so she's swimming.  Unfortunately, the sun got the best of her even in the pool.  I thought I'd take a spin on the treadmill the other day but the heat coming off of the machine was too much to handle in the already overheated house. This is truly a challenge!
Our Four Legged Family Members can cause some pretty difficult problems in the house at times.  Yes, we love the little furry creatures, but that doesn't mean they don't frustrate us sometimes.  One of our friends has a cat who has decided that he wants to mark the house as his.  For whatever reason, he is making a stand.  We have some rather knowledgeable friends at the Club (years of experience!) so I hope we can come up with a solution to this problem before too long.
As you can see, our topics have a wide range – anywhere from homesteading, to pet care, to frugal gardening, to health and fitness, to fun projects to keep kids busy at home.  If something has to do with keeping our homes and families happy, we'll discuss it!
How would you like to join the conversation? As a Club member, you'll be able to share your opinions, frugal tips, and ideas on topics most important to your life.
Why don't you join us so you can get in on the conversation. I look forward to chatting with you in the member area. Click the following link and try the HBHW Club for only $1.
http://www.hillbillyhousewifeclub.com/special.html
When you join us at the HBHW Club, you'll want to be sure to take a stroll through the resources available free to Club members only. Popular resources include:
Craft Blog For Fun And Profit
Frugal Gardening
Simple Summer Cooking
Frugal Family Summer Fun
Pantry Cooking
Freezer/Pantry Challenge & Meal Planning
Cleaning With Vinegar And Baking Soda
Setting Up A Family Budget
Getting Out Of Debt For Good
Utility Bill Savings
Meal Planning Guide – Simple Step-by-Step Method
Let me know what you think of the resources and if there are any topics we should explore further. As a Club member, your opinion is highly valued because it's YOUR Club!
Join The Hillbilly Housewife Club for Just a Dollar
I'd like to share one of the recipes that was posted on the HBHW Club this past week by a Club member:
Victoria's Frozen Fruit Salad
1 can fruit cocktail
1 t. unflavored gelatin
2 T. lemon juice
1 (3 oz) pkg cream cheese
1/4 c. mayonnaise
Dash of salt
1 c. whipping cream
1/2 c. sugar (I use 1/3 c. honey)
1/2 c. nuts, chopped (optional)
Drain fruit cocktail. Soften gelatin in lemon juice, then dissolve over hot water. (I just heat 30 sec. in microwave.) Blend cream cheese with mayo and salt. Stir in gelatin.
In separate bowl, whip cream stiff, gradually adding sugar (or honey). Fold in cheese mixture, fruit cocktail, and nuts, if desired. Pour into freezer tray lined with waxed paper (I use a glass bread pan.) Freeze until firm, 4-5 hrs. Turn out onto a platter, remove waxed paper, and cut into thick slices. Enjoy!
Listed here is a sampling of recent recipes added, making a total of more than 400 recipes currently available to our Club members.
Sauerkraut Salami Salad
More Than Mac & Cheese Salad
Apple Peanut Butter Snack in a Salad
Grilled Maple Syrup Sweet Potatoes
We welcome recipe submissions from our friends at the Club and are always happy to see what's cooking in your kitchen. Our aim is to have six recipes posted each week. That's a lot of recipes!
Featured Articles – Hot Dog Ramblings

There's more to a good old fashioned hot dog than meets the eye.  If you've never explored different ways to cook and serve hot dogs, now is the time to do it!
It's not just the way you cook them, it's the variety of things you put on them.  And, don't stop there.  How about the different buns you can use?  What about wrapping them in a biscuit?  Then there's the old standby Pork and Beans.  There are a lot of ways to serve this summertime treat.  Do take a look at this featured article and see if you can get some new ideas for your next family cookout.
Healthy Hillbilly Housewife
Here's what's new on the healthy hillbilly housewife section. You can also go straight to http://www.healthy.hillbillyhousewife.com
[RSSImport display="5″ feedurl="http://healthy.hillbillyhousewife.com/feed" displaydescriptions=true end_item="
" start_item=""]
Frugal Tips
[RSSImport display="3″ feedurl="http://www.hillbillyhousewife.com/category/frugal-tips/feed" displaydescriptions=true end_item="
" start_item=""]
Do you have a tip to share? Fill out the submit a frugal tip form and I'll be glad to add it to the site and share your tip in an upcoming edition of the newsletter.
Recipes
Here are some of the most recent recipes that have been added to the HBHW site. Enjoy!
[RSSImport display="5″ feedurl="http://www.hillbillyhousewife.com/category/recipes/feed" displaydescriptions=true end_item="
" start_item=""]
Do you have a recipe you would like to share? Click here to send it to me and I'll be happy to add it to the website.
I'm Looking For:
This section is all about you. If you are looking for a particular recipe or a tip on how to do something, submit it here and I will post it in an upcoming newsletter. I'll give you my input and other readers of the newsletter will have the opportunity to share their recipes and tips as well. So take a moment to post your questions and of course if you have a tip or idea for any question posted in this section feel free to leave a comment under the appropriate post.
I'm Looking For Requests
[RSSImport display="20″ feedurl="http://www.hillbillyhousewife.com/category/newsletter/recipe-requests/feed" displaydescriptions=true end_item="
" start_item=""]
I'm Looking For Responses
Below you will find some of the recent responses to the "I'm Looking For" Requests. You may also want to go directly to this section and browse through all the recent submissions and replies. To do so, click on "I'm Looking for" here, and start looking through them.
[RSSImport display="20″ feedurl="http://www.hillbillyhousewife.com/comments/feed?cat=recipe-requests&withcomments=1″ displaydescriptions=true end_item="
" start_item=""]
Inspirational Story
The Chinese Farmer – Good Luck, Bad Luck
~author unknown~
There is a Chinese story of an old farmer who had an old horse for tilling his fields. One day the horse escaped into the hills and, when all the farmer's neighbours sympathised with the old man over his bad luck, the farmer replied, 'Bad luck? Good luck? Who knows?'
A week later the horse returned with a herd of wild horses from the hills and this time the neighbours congratulated the farmer on his good luck. His reply was, 'Good luck? Bad luck? Who knows?'
Then, when the farmer's son was attempted to tame one of the wild horses, he fell off its back and broke his leg. Everyone thought this very bad luck. Not the farmer, whose only reaction was, 'Bad luck? Good luck? Who knows?'
Some weeks later the army marched into the village and conscripted every able-bodied youth they found there. When they saw the farmer's son with his broken leg they let him off. Now was that good luck? Bad luck? Who knows?
Final Thought
That's it for this edition of the Hillbilly Housewife Newsletter. I hope you've had as much fun reading it as I had creating it for you. I also hope that you have found the information helpful and useful. And by all means feel free to forward the newsletter to family and friends or even better, encourage them to subscribe to it.
Do you have a question, a tip, a recipe or a story you'd like to share with us? Email it to me and I'll include it in a future issue. Can't wait to see what you have to say.
Warm Wishes,
Susanne – The Hillbilly Housewife
Disclosure: Some of the links below are affilate links, meaning, at no additional cost to you, I will earn a commission if you click through and make a purchase.