Cholesterol Confusion and Focus – HBHW Newsletter
September 15th, 2010
Editorial

Hello again and welcome to another edition of the Hillbilly Housewife Newsletter.
Are you settling into your fall routine?  We have a full calendar, as usual, and the days seem pretty tightly scheduled.  But, we'll get back into the swing of things, like we always do.  We're looking forward to some crisp fall days and nights and hopefully a lazy day or two thrown in to enjoy.
The article I'm sharing with you this week is about a subject I've been confused about for quite some time; good and bad cholesterol.  Most people have heard those terms, but many people, myself included, don't really understand the difference or what it means to our health.  This article clears up the confusion quite nicely.  Be sure to scroll down and click on the link for this informative article.
The inspirational quote and story I've chosen this week are about the rewards and success we have when we finally focus on one thing and one thing only.  I hope you'll take one of your moments today to read and reflect on this week's quote and story.
Those are my thoughts this week. As always, I welcome your comments and suggestions. Feel free to email me at susanne@hillbillyhousewife.com
Warm Regards,
Susanne – The Hillbilly Housewife
Inspirational Quote
Most people have no idea of the giant capacity we can immediately command when we focus all of our resources on mastering a single area of our lives.
~Anthony Robbins~
Sponsor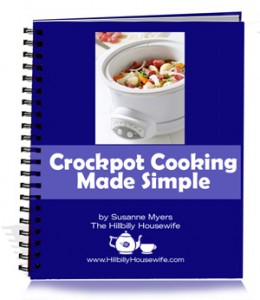 I Highly Recommend  Crockpot Cooking Made Simple
Want to learn more about how to use your crockpot to feed your hungry family easily, while saving money and time?
Get all the information, recipes, and tips you need with my Crockpot Cooking Made Simple ebook. I've included tips for buying and caring for your crockpot as well as some simple instructions that will allow you to convert regular recipes into slowcooker dishes.
You'll also find over 500 recipes for anything from main dishes to soups and stews and even dessert and drink recipes for the crockpot.
Click on here and buy it today to start saving money and time with your next meal!
http://www.hillbillyhousewife.com/ebooks/crockpotcooking.htm
News From The HBHW Club
If you haven't heard about the Hillbilly Housewife Club, it's a members only forum packed full of great information, resources, and friendly chit chat about the things we are all interested in – fun, frugal living. Come Join Us And See What All The Chatter Is About!

I look forward to chatting with you in the member area. Click the following link and try the HBHW Club for only $1.
http://www.hillbillyhousewifeclub.com/special.html
Our friends at the Club have been discussing everything from eating well on a tight budget to knitting.  Along with these discussions, we've been sharing recipes, too. Here is a recipe I posted at the Club that I'd like to share with you:
Overnight Strata For A Crowd

16 slices good white bread like potato bread or oat bread, crusts cut off and both sides buttered lightly
4 large ripe tomatoes, sliced into thin circles
1  medium onion, sliced into thin circles
1 (4 oz) can chopped green chilies
12 oz shredded Cheddar cheese
7 eggs
3 1/2 cups or milk
1 1/2  tsp salt
1/2 tsp garlic powder
1/2 tsp cumin
1/2 tsp chili powder
Butter a large rectangular casserole dish.  Lay 8 slices of bread in dish, top evenly with tomatoes, onions, and chili peppers.  Take about 2/3 of the Cheddar cheese and sprinkle on top.  Cover with remaining 8 slices of bread.
In separate bowl, beat together with a fork the eggs, milk, and seasonings.  Pour this mixture over the top of the bread in casserole.  Be sure this liquid reaches the top of the bread.  If it doesn't, add more milk/egg mixture; make a batch using a 1 egg to 1/2 cup milk ratio (no need to add more seasonings).
Now distribute the remaining Cheddar cheese over the top and cover the dish with tin foil.  Put in refrigerator overnight.
To cook:  Take out of the refrigerator 1 hour before putting in oven.  Preheat oven to 350 degrees.  Bake casserole for 1- 1/4 hour to 1- 1/2 hour or until eggs are completely set and knife inserted into the middle of dish comes out clean.  Let stand at room temperature (uncovered) for 5 to 10 minutes before cutting.
Listed here is a sampling of recent recipes added, making a total of more than 400 recipes currently available to our Club members.
Doubly Cheesy Chilies Casserole

4 Ingredient Flour Tortillas

4 Ingredient Popovers

Southern Stewed Tomatoes & Okra
We welcome recipe submissions from our friends at the Club and are always happy to see what's cooking in your kitchen. Our aim is to have six recipes posted each week. That's a lot of recipes!
Featured Article
If cholesterol is as confusing to you as it is to me, you'll appreciate this article written by an expert in the field, Deborah Land.  You'll quickly learn how to identify good cholesterol and bad cholesterol.  More importantly, you'll find out how to identify the foods that keep you healthy. Please click on the link below and give this week's featured article a read:
How I Learned to Lower Cholesterol Through Diet
Healthy Hillbilly Housewife
Here's what's new on the healthy hillbilly housewife section. You can also go straight to http://www.healthy.hillbillyhousewife.com
[RSSImport display="5″ feedurl="http://healthy.hillbillyhousewife.com/feed" displaydescriptions=true end_item="
" start_item=""]
Frugal Tips
[RSSImport display="3″ feedurl="http://www.hillbillyhousewife.com/category/frugal-tips/feed" displaydescriptions=true end_item="
" start_item=""]
Do you have a tip to share? Fill out the submit a frugal tip form and I'll be glad to add it to the site and share your tip in an upcoming edition of the newsletter.
Recipes
Here are some of the most recent recipes that have been added to the HBHW site. Enjoy!
[RSSImport display="5″ feedurl="http://www.hillbillyhousewife.com/category/recipes/feed" displaydescriptions=true end_item="
" start_item=""]
Do you have a recipe you would like to share? Click here to send it to me and I'll be happy to add it to the website.
I'm Looking For:
This section is all about you. If you are looking for a particular recipe or a tip on how to do something, submit it here and I will post it in an upcoming newsletter. I'll give you my input and other readers of the newsletter will have the opportunity to share their recipes and tips as well. So take a moment to post your questions and of course if you have a tip or idea for any question posted in this section feel free to leave a comment under the appropriate post.
I'm Looking For Requests
[RSSImport display="20″ feedurl="http://www.hillbillyhousewife.com/category/newsletter/recipe-requests/feed" displaydescriptions=true end_item="
" start_item=""]
I'm Looking For Responses
Below you will find some of the recent responses to the "I'm Looking For" Requests. You may also want to go directly to this section and browse through all the recent submissions and replies. To do so, click on "I'm Looking for" here, and start looking through them.
[RSSImport display="20″ feedurl="http://www.hillbillyhousewife.com/comments/feed?cat=recipe-requests&withcomments=1″ displaydescriptions=true end_item="
" start_item=""]
Inspirational Story
Focus Your Thinking
~Brian Cavanaugh~
On a clear, bright sunny day take powerful magnifying glass and a stack of newspapers and go outside for an experiment. Hold the magnifying glass over a pile of crumpled pages. Even though you are magnifying the power of the sun's rays through the glass lens, you will never start a fire – if you keep moving the glass.
But if you hold the magnifying glass still, allowing it to focus the rays in a concentrated beam of sun energy, you harness the power of the sun and multiply it through the lens – starting a fire.
Focusing also works with your power of thought! Try it and ignite your wandering ideas.
.
Final Thought
That's it for this edition of the Hillbilly Housewife Newsletter. I hope you've had as much fun reading it as I had creating it for you. I also hope that you have found the information helpful and useful. And by all means feel free to forward the newsletter to family and friends or even better, encourage them to subscribe to it.
Do you have a question, a tip, a recipe or a story you'd like to share with us? Email it to me and I'll include it in a future issue. Can't wait to see what you have to say.
Warm Wishes,
Susanne – The Hillbilly Housewife
Disclosure: Some of the links below are affilate links, meaning, at no additional cost to you, I will earn a commission if you click through and make a purchase.