Lunch Box Basics, Do More Than Is Expected – HBHW Newsletter
August 11th, 2010
Editorial

Hello again and welcome to another edition of the Hillbilly Housewife Newsletter. I just got back from a short trip to the beach with my family. We were showing my sister and her fiance the beautiful Carolina shoreline. We're all a bit exhausted but had a wonderful time swimming in the ocean and finding seashells and sand-dollars.
This week's featured article is about Lunch Box Basics. Since many of us are sending kids back to school, I thought it would be a good time to share some very specific ideas for packing good lunches.  If you are a brown-bagger yourself, you may want to click on and take a look at this week's featured article.
The inspirational quote and story I've chosen this week are about doing more than is expected in order to achieve your goals.  Learn more, work more, and don't let your dreams disappear for lack of trying.
Those are my thoughts this week. As always, I welcome your comments and suggestions. Feel free to email me at susanne@hillbillyhousewife.com
Warm Regards,
Susanne – The Hillbilly Housewife
Inspirational Quote
Study while others are sleeping.  Work while others are loafing.  Prepare while others are playing.  Dream while others are wishing.
~William Arthur Ward~
Sponsor
Save Money & The Planet – A Guide To Home Energy Savings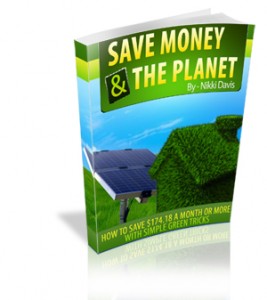 Would you like to save at least $100 a month on your energy bills? Then take a look at this new book that I contributed to along with a few other Energy Conscious authors. The book is titled Save Money and the Planet and is the latest book on saving more energy in the home.
Save Money and The Planet is a comprehensive solution that will give you a great deal of tips that will help you save a ton of money each and every month. This book cover tips on:
How to Save More Energy
How to Save Money on other Utilities
How to build a Solar Panel for your Home
How to Build A Solar Cell
How to save Energy in the Kitchen, in the Office, in the Outdoors, and more
And over 100 tips on how to save money.
If you are looking for a solution to the overspending in energy bills and other utility bills in the home, be sure to check out Save Money and the Planet.
http://www.hillbillyhousewife.com/savemoneyplanet
News From The HBHW Club
If you haven't heard about the Hillbilly Housewife Club, it's a members only forum packed full of great information, resources, and friendly chit chat about the things we are all interested in – fun, frugal living. Come Join Us And See What All The Chatter Is About!

I look forward to chatting with you in the member area. Click the following link and try the HBHW Club for only $1.
http://www.hillbillyhousewifeclub.com/special.html
Our friends at the Club have been discussing canning, replacing paper towels with rags for cleaning, getting out of debt, exercising, eating right, and all sorts of fun things. Along with the discussions, we've been sharing recipes. Here is one of the recipes I posted on the Club that I'd like to share with you:
Ready-To-Use Canned Ground Beef

8 lbs. of lean ground beef
2 qts of beef broth
2 tsp canning salt
Crumble the beef into a large skillet and place the skillet over medium heat.
Stirring occasionally for even browning, cooking the meat for 20 minutes or until browned through.
Pour the beef broth into a saucepan and place over medium heat.
Bring the broth to a boil.
Spoon the ground beef into the prepared jars and add enough of the boiling broth to achieve a 1 inch headspace.
Sprinkle 1/2 teaspoon of salt into each jar and release any air bubbles by sliding a long narrow knife down around the edges of the jar.
Add more liquid if necessary to maintain the 1 inch headspace.
Wipe the rims of the jars and tighten down the lids.
Process the filled jars in a pressure canner at 10 lbs of pressure for 1 hour 30 minutes.
Release the pressure and let it fall to 0.
Leave the jars in the closed canner after the pressure hits 0 for 10 minutes.
Remove the jars and let them cool in a draft free area.
Check the seals and jars that did not seal correctly refrigerate and use within 1 week.
Makes 4 quarts
With canned ground beef in your pantry, dinner is no more than a few minutes away.  This is a great staple to keep on hand for anyone worried about power outages or a long cold winter with limited resources or trips to the market. Throw a jar of canned beef in a skillet with some of your homemade tomato sauce, canned veggies, and a handful of pasta, and you have a meal ready in a flash.  No more Hamburger Helper!
Listed here is a sampling of recent recipes added, making a total of more than 400 recipes currently available to our Club members.
Ruby Red Pressure Canned Beets

Perky Pickle Relish

Whole Canned Tomatoes

Pressure Canned Diced Carrots

We welcome recipe submissions from our friends at the Club and are always happy to see what's cooking in your kitchen. Our aim is to have six recipes posted each week. That's a lot of recipes!
Featured Article
With back to school comes the thought of lunches.  Do you pack your kids' lunches or do they eat the school provided meal?  Will packing lunches for your kids save you money?  What about nutrition?  What about keeping cold foods cold and hot foods hot?  What sorts of foods are safe to pack in a lunch box?  Check out this very informative article to get all the answers to these questions… and much, much more.
Lunch Box Basics
Healthy Hillbilly Housewife
Here's what's new on the healthy hillbilly housewife section. You can also go straight to http://www.healthy.hillbillyhousewife.com
[RSSImport display="5″ feedurl="http://healthy.hillbillyhousewife.com/feed" displaydescriptions=true end_item="
" start_item=""]
Frugal Tips
[RSSImport display="3″ feedurl="http://www.hillbillyhousewife.com/category/frugal-tips/feed" displaydescriptions=true end_item="
" start_item=""]
Do you have a tip to share? Fill out the submit a frugal tip form and I'll be glad to add it to the site and share your tip in an upcoming edition of the newsletter.
Recipes
Here are some of the most recent recipes that have been added to the HBHW site. Enjoy!
[RSSImport display="5″ feedurl="http://www.hillbillyhousewife.com/category/recipes/feed" displaydescriptions=true end_item="
" start_item=""]
Do you have a recipe you would like to share? Click here to send it to me and I'll be happy to add it to the website.
I'm Looking For:
This section is all about you. If you are looking for a particular recipe or a tip on how to do something, submit it here and I will post it in an upcoming newsletter. I'll give you my input and other readers of the newsletter will have the opportunity to share their recipes and tips as well. So take a moment to post your questions and of course if you have a tip or idea for any question posted in this section feel free to leave a comment under the appropriate post.
I'm Looking For Requests
[RSSImport display="20″ feedurl="http://www.hillbillyhousewife.com/category/newsletter/recipe-requests/feed" displaydescriptions=true end_item="
" start_item=""]
I'm Looking For Responses
Below you will find some of the recent responses to the "I'm Looking For" Requests. You may also want to go directly to this section and browse through all the recent submissions and replies. To do so, click on "I'm Looking for" here, and start looking through them.
[RSSImport display="20″ feedurl="http://www.hillbillyhousewife.com/comments/feed?cat=recipe-requests&withcomments=1″ displaydescriptions=true end_item="
" start_item=""]
Inspirational Story
The Trench Digger
~author unknown~
An elderly couple retired to the countryside to a small isolated cottage overlooking some rugged and rocky heathland.
One early morning, the woman saw from her window a young man dressed in working clothes walking on the heath about a hundred yards away. He was carrying a spade and a small case and he disappeared from view behind a copse of trees.
The woman thought no more about it but around the same time the next day she saw the man again, carrying his spade and a small case, and again he disappeared behind the copse.
The woman mentioned this to her husband who said he was probably a farmer or gamekeeper setting traps, or performing some other country practice that would be perfectly normal, and so not to worry.
However, after several more sightings of the young man with the spade over the next two weeks, the woman persuaded her husband to take a stroll – early, before the man tended to arrive – to the copse of trees to investigate what he was doing.
There they found a surprisingly long and deep trench, rough and uneven at one end, becoming much neater and tidier towards the other end.
"How strange," the old lady said, "Why dig a trench here…and in such difficult rocky ground?" and her husband agreed.
Just then the young man appeared earlier than his usual time.
"You're early," said the old woman, making light of their obvious curiosity, "We wondered what you were doing and we also wondered what was in the case."
"I'm digging a trench," said the man who continued, realizing a bigger explanation was appropriate. "I'm actually learning how to dig a good trench because the job I'm being interviewed for later today says that experience is essential, so I'm getting the experience. And the case…it's got my lunch in it."
He got the job.
Final Thought
That's it for this edition of the Hillbilly Housewife Newsletter. I hope you've had as much fun reading it as I had creating it for you. I also hope that you have found the information helpful and useful. And by all means feel free to forward the newsletter to family and friends or even better, encourage them to subscribe to it.
Do you have a question, a tip, a recipe or a story you'd like to share with us? Email it to me and I'll include it in a future issue. Can't wait to see what you have to say.
Warm Wishes,
Susanne – The Hillbilly Housewife

Disclosure: Some of the links below are affilate links, meaning, at no additional cost to you, I will earn a commission if you click through and make a purchase.