Moist Sweet Potato Bread
1 C of flour
1/2 t baking soda
1/4 t salt
1/2 t pumpkin pie spice
1 C cold sweet potatoes, mashed
1/2 C sugar
3 T canola oil
2 T of buttermilk
1 t vanilla extract
1 large egg
Turn oven on to 350 degrees to preheat, and lightly spray a loaf pan with a non stick cooking spray, then dust the loaf pan lightly with flour and tap out any excess.
In a mixing bowl, add the flour, baking soda, salt and pumpkin spice, and whisk together until the ingredients are blended well.
Place the mashed sweet potatoes into a separate mixing bowl; a the sugar to the potatoes, then add the oil, buttermilk and the vanilla into the mixture.
Break the egg into the mixture then whisk until blended together well.
Transfer the sweet potato mixture into the bowl with the flour mixture.
Stir just enough to moisten the dry ingredients through.
Pour the batter into the prepared loaf pan.
Bake 25 to 30 minutes or until a butter knife inserted in the center comes out clean.
Cool the loaf in the pan on a wire rack for 12 minutes, then invert the pan over a wire rack and allow the loaf to cool completely.
Makes 1 loaf
Sweet potatoes make breads very moist so there's no need for a lot of extra butter or oil.  Sweet potatoes are also a great source of beta carotene along other nutrients making them a healthy choice any time of year.  Pumpkin can be used in place the sweet potatoes if you prefer.
Ready for more amazing Sweet Potato Recipes? You're in luck. I wrote a fun little kindle cookbook with 35 sweet potato recipes from sweet to savory. Click the image below to get your copy of If You Give A Housewife A Sweet Potato.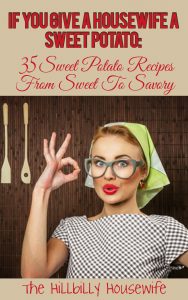 Disclosure: Some of the links below are affilate links, meaning, at no additional cost to you, I will earn a commission if you click through and make a purchase.