Moist Oatmeal Muffin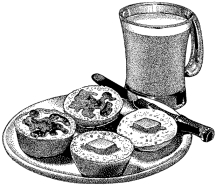 1 C oats, quick cooking or instant
1 C buttermilk
1 egg or 2 egg whites
1/2 C brown sugar, packed
1/4 C canola oil
1 C all purpose flour
1 tsp baking powder
1/2 tsp baking soda
1/2 tsp salt
Pour the buttermilk in a large mixing bowl.
Add the oats and stir to be sure all the oats are moistened.
Allow the oats to soak in the buttermilk for 20 minutes.
After the oats have soaked add the eggs, sugar and oil.
In a separate bowl mix together the flour, baking powder, baking soda and salt.
Slowly add the dry mixture to the oats and stir just until moistened.
Preheat the oven to 400 degrees.
Grease a muffin tin with a non stick cooking spray.
Fill the cups 2/3 full of batter.
Bake 15 minutes or until a toothpick comes out clean.
If you like a moist muffin these will be sure to please.
You can easily make an extra batch of these muffins and then freeze them.
Here's another muffin that freezes well – Cranberry Muffin Recipe.
Disclosure: Some of the links below are affilate links, meaning, at no additional cost to you, I will earn a commission if you click through and make a purchase.