Mocha Muffin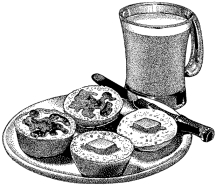 1 C all purpose flour
3 T cocoa, unsweetened
1/3 C and 1 T sugar
1 1/2 tsp baking soda
1/2 tsp baking powder
1/4 tsp salt
2/3 C buttermilk
1 tsp freeze dried coffee powder
3 T canola oil
2 egg whites
1/2 tsp vanilla
3/4 C bittersweet chocolate, chopped
1/2 C powdered sugar
2 tsp brewed coffee
Spray muffin tin cups with a non stick cooking spray.
In a small mixing bowl blend together the buttermilk and coffee powder until all the powder has completely dissolved.
Add the oil, egg substitute and vanilla being sure to stir well.
Sift the flour, cocoa powder, sugar, baking soda, baking powder and salt together in a large mixing bowl.
Pour the liquid into the flour mixture.
Stir with a wooden spoon to just moisten.
Fold in the chopped chocolate.
Preheat the oven to 375 degrees.
Pour each muffin cup 2/3 full of batter.
Bake 23 minutes or until a toothpick inserted comes out clean.
Remove muffins to a wire rack and allow to cool completely.
Mix together the powdered sugar and brewed coffee until smooth and thick.
Drizzle the glaze over the top of the cooled muffins.
These muffins are heaven. They are great when the time comes to relax and just enjoy a few me moments. They also make a nice gift if you put them in a small basket.
Here are some tips on how to freeze these muffins. It's a great way to make them ahead of time and then just reheat and server.
Got some overripe bananas on the counter? Make these banana muffins with them. This is another great freezer muffin.
Disclosure: Some of the links below are affilate links, meaning, at no additional cost to you, I will earn a commission if you click through and make a purchase.