Microwaving Potatoes – Frugal Tip
Let's talk about potatoes today. They are a great frugal staple. You can buy them inexpensively, or if you're so inclined you can also easily grow them in your yard. I prefer to buy them and use my limited gardening space to grow more expensive foods (herbs, lettuce, tomatoes etc.).
I always have a bag of potatoes sitting in the pantry. I often pull them out to add some bulk to meals. My favorite way to add last minute potatoes to any meal is to microwave them.
Get out a microwave-safe plate. Wash your potatoes and lay them on the plate. Grab a fork and poke a few holes in each potato.
Microwave them for 5 minutes on high. Rotate the potatoes and cook for another 5 minutes or so and check for doneness. Cook them longer if needed. This will depend on the size of your potatoes.
Serve them with a little butter as a "baked" potato to go along with the rest of your meal. Or take some leftover meat and veggies, chop it all up and top your cooked potato with it along with a little cheese for a complete meal.
I also like to chop up the cooked potatoes and use them along with some leftovers to make quick and filling burritos. Or use them at breakfast time along with some eggs in a breakfast burrito.
It's quick, easy and makes some great frugal meals.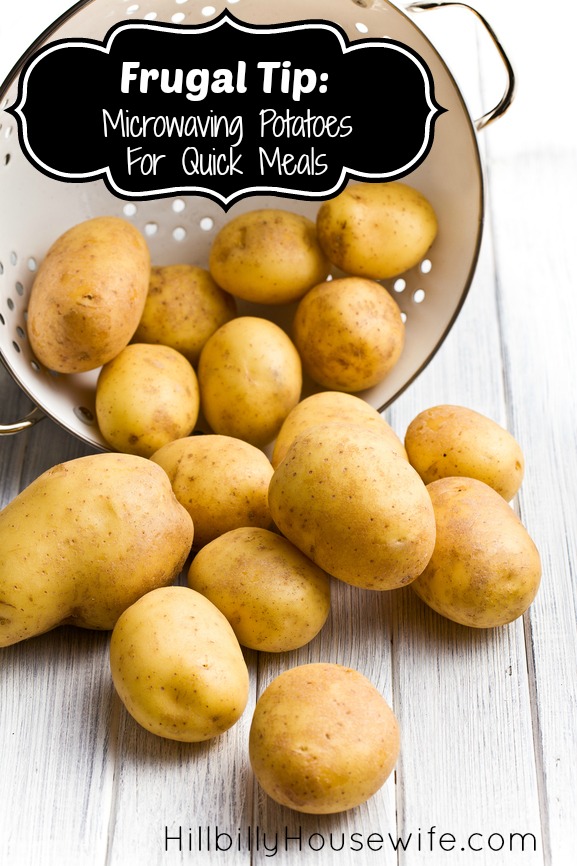 Extra Tip: Once your potatoes are done, the inside of your microwave will be full of steam. Grab a rag and give the inside a good wipe. Any splatters from previously heated food will come right off.
Disclosure: Some of the links below are affilate links, meaning, at no additional cost to you, I will earn a commission if you click through and make a purchase.