Memorial Day – A Brief History Lest We Forget
In 1868, three years after the Civil War ended, Decoration Day was established as a time for the nation to decorate the graves of the war dead with flowers. May 30th was chosen for the official date probably because flowers would be in bloom at that time all over the country.
The first official National observance was held that year at Arlington National Cemetery in Washington D.C. Various Washington officials presided over the ceremonies, which included many speeches, after which people walked through the cemetery, laying flowers on both Union and Confederate graves, reciting prayers and singing hymns.
Similar rituals are known to have been held before this official observance. Springtime tributes to the Civil War dead already had been held in various places as early as 1866. Women visited cemeteries to decorate the graves of fallen soldiers. They may have called this ceremony something other than Decoration Day, but the observances were similar.
Approximately 25 cemeteries claim to be the official origin of Decoration Day. Some of these observances were big events with flags at half-staff and businesses closed, while others were smaller events with just the quiet laying of flowers at the graves.
As the 20th Century rolled in, Decoration Day was being observed on May 30th throughout the nation. Through the years, the name Decoration Day slowly started changing to Memorial Day, as we know it today. State legislatures started passed proclamations designating the day an official holiday, and the military adopted regulations for proper observance at their facilities.
So far, Memorial Day observances were only honoring Civil War dead. However, World War I came and all that changed, and the honors were extended to the war dead of World War I, as well.
In 1971, Congress declared Memorial Day a National holiday and included Memorial Day in the Union Holidays Bill, moving many federal holidays to be observed on a Monday named during a month, rather than on a particular day. So now Memorial Day is observed on the last Monday in May rather than on May 30th.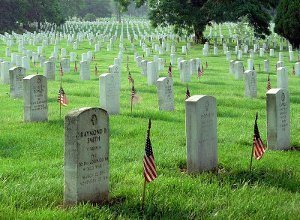 The importance of Memorial Day is best expressed in the words of General Logan in his 1868 orders to his men urging them, and us, to remember with reverence our war dead:
"We should guard their graves with sacred vigilance. Let pleasant paths invite the coming and going of reverent visitors and fond mourners. Let no neglect, no ravages of time, testify to the present or to the coming generations that we have forgotten as a people the cost of a free and undivided republic."
Today, at the Memorial Day ceremony at Arlington National Cemetery, you will see thousands of people placing small American flags on each grave — a tradition followed at many cemeteries around the country.
In December 2000, Congress passed "The National Moment of Remembrance Act, which encourages all Americans to pause wherever they are at 3 p.m. local time on Memorial Day for a minute of silence to remember and honor those who have died in service to the nation.
Please take a moment to remember the brave men and women of our military who have served and sacrificed, sometimes with their life.
Disclosure: Some of the links below are affilate links, meaning, at no additional cost to you, I will earn a commission if you click through and make a purchase.