Making Spiced Nuts
Today is St. Nikolaus Day. I'll share some of our family traditions a little later, but it's typically the day I make up a big batch of spiced nuts. These will store well until Christmas in an air-tight container… but who am I kidding, this first batch never lasts until the 25th. These also make a great homemade Christmas gift. Pour them into a mason jar and add a pretty bow.
Making Spiced Nuts
Ingredients
2 C. Nuts (whatever nuts you prefer will work)
1 Egg White
1/2 C. Sugar
1/4 C. Cornstarch
2 T. Cold Water
3 t. Cinnamon
1 T. Allspice
1/2 t. Ground Nutmeg
1/2 t. Ginger
Dash of Salt
Instructions
Begin by preheating your oven to 350 degrees Fahrenheit.
In a small mixing bowl, combine the egg white with the water and whisk well.
Once the egg white and water are whisked, add the nuts and toss to coat, set aside.
In a slightly larger bowl, combine the sugar, cornstarch and all the remaining spices. Mix well.
Using a straining spoon, lift nuts from the small bowl and transfer to the bowl containing the spice mixture. Leave the excess egg/water mixture in the small bowl as you only want the coated nuts to go into the spiced mixture.
Mix well.
On a cookie sheet lined with foil, spread the nut mixture out in a single layer.
Place in the oven for approximately 30 minutes.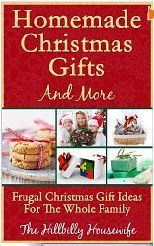 Would you like to steer clear of the holiday shopping crowds? You can with this guide to Homemade Christmas Gifts and More.
Making Homemade Christmas gifts is one way to actually enjoy the process of gift-giving. Not only are homemade gifts and decorations frugal, they're more fun!
We don't have to rush out to the mall to shop for Christmas when we have ideas for creating gifts right at home. Take time to enjoy your holiday season. Click on and download now to start planning your frugal AND fun Christmas.
www.hillbillyhousewife.com/christmasbook
Disclosure: Some of the links below are affilate links, meaning, at no additional cost to you, I will earn a commission if you click through and make a purchase.