Making Ghee and Egg Cups – Whole 30 Day 2
Day Two on Whole 30 went pretty smooth. I think it helps that I've been pretty busy all week so far. I'm still struggling with the whole "eating breakfast as soon as you get up" thing. I'm not ready for food until after I had my coffee and had time to think about what I want to eat.
Having two eggs cooked in some sort of healthy fat and either some tomato or avocado with it seems to work really well. Yesterday I had two of my egg muffin cups which are just scrambled up egg, olive, tomato, bell pepper and spinach cooked in a muffin tin. I ate half a banana with some almond butter with it. It was really good but I'm going to try cutting back on the fruit for a few days and see how I feel. I'm noticing that I'm more likely to crave something else after I have fruit.
This filled me up pretty good and kept me going through a late lunch. For lunch I fixed a small salad with some chicken on top. To be honest, it just wasn't enough food. I was hungry again 2 hours later and ended up eating another piece of chicken and some cashews.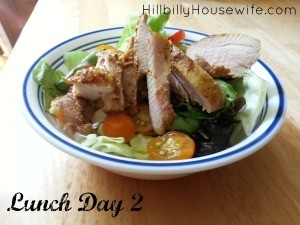 Dinner was another big plate of zucchini noodles with leftover meat sauce. I didn't take a picture since it looked the same as it did the day before.
I also made Ghee or clarified butter for the first time. It's a great cooking fat and it was surprisingly easy to make. I cooked my zucchini noodles in a little ghee and it made them taste even better.
Overall a pretty good day. I also discovered that my ironing board is the perfect (and adjustable height) to work as a standing desk. I've been reading a lot about how bad sitting is for the human body (and I do a lot of it). I'm going to give standing up for at least part of a day a try.
Disclosure: Some of the links below are affilate links, meaning, at no additional cost to you, I will earn a commission if you click through and make a purchase.