Making A List And Checking It Twice – Christmas Shopping Strategy That Works
Have you started putting together your shopping list for Christmas? No? Are you like so many of the "shopping challenged" folks out there that just cross their fingers and hope they will get through the gift buying frenzy without spending too much money? I guarantee, you will spend money you don't have if you don't sit down and make a gift shopping list.
Lists are tedious, aren't they. It's much more fun to just go into the beautifully decorated stores and be inspired by all the sparkle and glow and let your heart do the shopping, isn't it.
However, it's not so much fun when you don't know how much you've spent until you get your credit card bill.
That doomsday feeling happens when you get all the packages home and realize that;
you spent an unbelievable amount of money, and
you didn't get what you set out to buy.
It's time to change. You need a strategy. You need a list.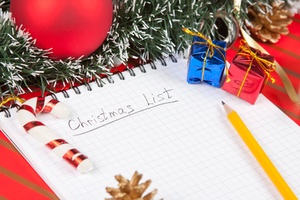 Every year you start out with some ideas about what you want to buy, and every year it comes down to the last few days and you begin the "panic buying."  Did I get enough? What about stocking stuffers?
To prevent the last minute panic that breaks the gift budget, start by developing your list. Here's how:
If there are a couple "big ticket" items on your list, that's okay. That's where we start. Subtract the cost of those items from your budget. Be as thorough as possible, using newspaper flyers or the internet to find out how much each item will cost.
Now list the stocking stuffers. Yes, those little items add up very quickly. One suggestion when the gift budget is extremely tight is to use bigger items as stocking stuffers. It's cheaper to buy a bigger stocking than to try to purchase a lot of additional little items to stuff a smaller stocking.
Once you have a comprehensive gift list together, stick it in your purse or glove compartment and get ready to shop. Now whether you shop all in one day or like to do a little bit each week, you've got a list from which to work. Check off items as you go and you are on your way!
With your gift list firmly in hand, you will be able to resist that impulse buying that the stores count on during the Holidays. You can relax, knowing that you got Junior and Sissy what you wanted to get them, no more, no less, and the budget is still on track.
And you can breathe easier knowing that the January bills won't harbor any big surprises!
Would you like to steer clear of the holiday shopping crowds? You can with this guide to Homemade Christmas Gifts and More.

Making Homemade Christmas gifts is one way to actually enjoy the process of gift-giving. Not only are homemade gifts and decorations frugal, they're more fun!

We don't have to rush out to the mall to shop for Christmas when we have ideas for creating gifts right at home. Take time to enjoy your holiday season. Click on and download now to start planning your frugal AND fun Christmas.
Disclosure: Some of the links below are affilate links, meaning, at no additional cost to you, I will earn a commission if you click through and make a purchase.