Make Holiday Dishes Ahead of Time and Freeze Them – Frugal Tip
Last week I shared a tip with you on how to freeze eggs. This week we'll take advantage of the freezer again… this time to make our lives easier throughout the Holiday season. There are all sorts of things you make well ahead of time.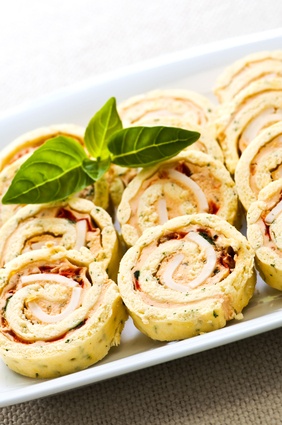 Appetizers
It's nice to have a few appetizers sitting out while everyone's waiting for the big Holiday meal. They also come in handy during the Holidays when unexpected guests arrive.
Make up some dips, or finger foods like the pinwheel sandwiches in the picture and freeze them. Thaw as needed… in the microwave when you're in a hurry and serve.
Casseroles
There are plenty of Holiday potlucks and family dinners ahead of us where we're asked to bring a dish. Make it easy by preparing one of your favorite casseroles ahead of time and sticking it in the freezer. Thaw it in the fridge overnight and bake it up before heading out the door.
Pies, Cakes and Cookies
Most pies, cakes and cookies can be made ahead and frozen, leaving the oven free to bake the turkey or ham. Of course you can also make the cookie dough ahead of time and freeze it to create your own "break and bake" cookies.
Soups
Last but not least let's not forget about soups. Most of them freeze really well. They make a great first course, but don't forget they are also great for lunch the day of the feast or for the days around the Holidays when you get tired of spending all your time in the kitchen. Look for a brand new Kindle book full of yummy freezer soups in the next day or two.
Even if you can't find a whole dish you can make and freeze, think about things you can prep and throw in the freezer. For example… I make an old fashioned dressing each year for Thanksgiving. It uses corn bread, biscuits made from scratch and some chopped onion and celery that have been cooked in butter. Each of these things can be made ahead of time, cooled and then frozen. Just pull them out of the freezer the night before Thanksgiving and they'll be ready for you to cook with in the morning.
And don't forget… making things ahead of time and freezing them allows you to buy and use up ingredients as they go on sale. Plus it will keep you from running to the store to buy a frozen pie or pick up a veggie tray because you're running out of time to make everything from scratch. It'll taste better and save you both time and money to make holiday dishes ahead of time and freeze them.
Disclosure: Some of the links below are affilate links, meaning, at no additional cost to you, I will earn a commission if you click through and make a purchase.