Make A Family Tree – Frugal Summer Fun
We are settling into our summer routine nicely. It looks like today will bring quite a bit of rain, so an indoor craft type activity is in order. How about making a family tree with the kids? This can be as simple or as evolved as you want it to be.
Get out some paper, card stock, construction paper and the likes and some pens. Decide how you want to arrange the tree. One option is to start a tree for each child with them at the top or bottom, with all other family members branching out.
Another option would be to start with the oldest ancestor you know of and move up from there until you reach your children's generation. Don't forget to give grandparents a call to learn more about their parents, grandparents and maybe even great-grand parents.
You can add pictures to each entry on your family tree, a simple little story about them, or the dates of important events like birth, marriage, death etc.
Another cute idea would be to get out the finger paint and do palm or even just finger prints for each "leaf" of the family tree. Or cut leaves out of green construction paper and glue them along with a brown trunk on a piece of card stock to make your tree.
Here's a great picture of a family tree. Feel free to print it out or draw something similar. Use one of the ideas I mentioned above, or come up with your own creative family tree. No matter what you do it's a fun project and a great conversation starter. Plus you never know what new facts and stories you may discover once you start working on your family tree.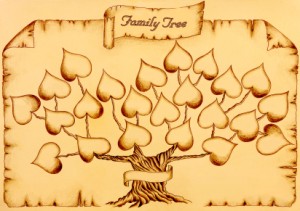 Disclosure: Some of the links below are affilate links, meaning, at no additional cost to you, I will earn a commission if you click through and make a purchase.