Machine Baked French Bread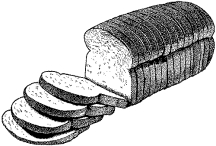 1-1/3 cups warm tap water
1-1/2 teaspoons salt
4 cups bread flour or all purpose flour
2 teaspoons active dry yeast
Measure the ingredients into the bread pan in the order listed. Make a well in the flour and sprinkle the yeast into it. Set the machine to it's French Bread or Whole Wheat Cycle. On my machine the French Bread Cycle lasts for 3 hours and 50 minutes. Press Start, and let the machine work it's magic. Remove the cooked bread from the pan after baking and allow it to cool before slicing.
The French Bread Cycle kneads and cooks the bread an extra long time, so it rises properly and has an extra crispy crust. If you don't have a French Bread Cycle, then use the Wheat Cycle which lasts for almost as long, giving the dough the extra kneading it needs. If you don't have a Wheat Cycle, then cook it on the Basic Cycle. It will still be good.
Disclosure: Some of the links below are affilate links, meaning, at no additional cost to you, I will earn a commission if you click through and make a purchase.