Classic Macaroni Salad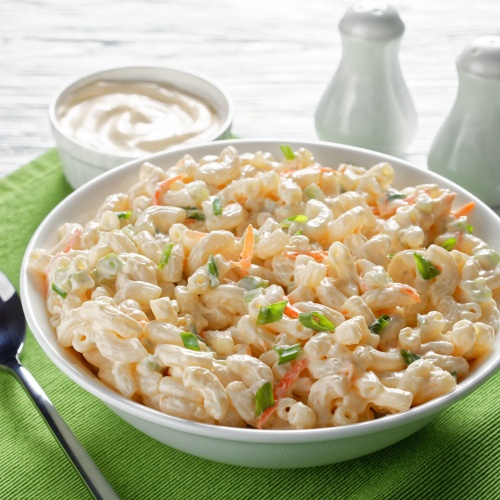 I love a good classic macaroni salad. It's one of my favorites during the summer, for potlucks and cookouts, or whenever I need something I can make ahead to go with dinner.
This recipe is deceptively simple. Don't let that fool you. It's delicious as is, but also very versatile. Add your favorite veggies, some chopped ham, or a few hard-boiled eggs to mix things up. With chopped ham and plenty of chopped egg, this makes the perfect one-dish meal. We have it for dinner frequently in the summer with a side of sliced tomatoes from the garden.
In the image above, I added a carrot I had left in the fridge (shredded for a fun pop of color and to make it easy to eat in the pasta salad), as well as some thinly sliced green onion from the garden. Peas are another fun addition or even chopped tomato.
I hope you give this classic macaroni salad a try and feel free to tweak the recipe to your own taste.
Macaroni Salad Recipe
Ingredients
2 cups dry macaroni
1 cup sliced celery
1 cup chopped green pepper
1/4 cup minced onion
2/3 cup light mayonnaise
1 tablespoon yellow mustard
2 teaspoons sugar
1/2 teaspoon salt
1/8 teaspoon black pepper
Instructions
Begin by preparing the macaroni according to package directions. Do not add any salt. When the macaroni is tender rinse it in cool water and drain well.
Next chop and measure the vegetables. Meanwhile, in a large bowl combine all of the other ingredients. This is the dressing. Mix it well.
Add the prepared macaroni and vegetables. Mix well and chill for 2 hours, or until serving time.
© 2022 Copyright www.HillbillyHousewife.com
This is a good make-ahead dish for pot-lucks and picnics. It's especially tasty in the summertime. I often make it when we grill outside along with this red bbq cole slaw.
Ready for some delicious recipes that work for a picnic as well as a potluck? Check out the latest HBHW cookbook – The Frugal Potluck.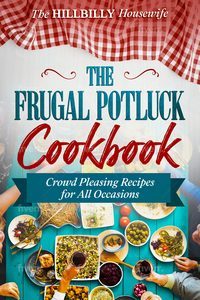 The Frugal Potluck Cookbook 
Do you love a good potluck? I do. It's a fun way to get together and share a meal.
Whether you're looking for a new dish to take to the church potluck, or something fun to share with your coworkers, I have you covered. As an added bonus, none of these dishes break the bank. Serve them at family gatherings, summer cookouts, or have them for dinner.
Disclosure: Some of the links below are affilate links, meaning, at no additional cost to you, I will earn a commission if you click through and make a purchase.