Lentil Pottage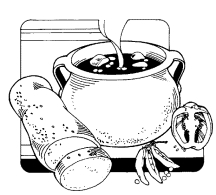 2 tablespoons olive or other oil
1 large onion, chopped
4 stalks celery, chopped
2 tablespoons minced fresh garlic (or 1 teaspoon dry)
1-1/2 cups dry lentils
2 quarts (8 cups) water
4 to 6 chicken bouillon cubes
Salt and Pepper to taste
Heat the oil in a large pot. Add the onion, celery and garlic. Saut� until the onion is translucent and every thing smells really good. Add the lentils, water and bouillon cubes. Bring the mixture to a boil. Reduce the heat and simmer the pottage over medium heat for about 45 minutes, or until the lentils are nice and tender. Taste the pottage and add salt and pepper to taste.
If you make this with red lentils you can call it Esau's Pottage because Esau was red and hairy, just like red lentils. Red lentils cook faster than brown lentils so watch them closely. If the pottage seems to dry out, then add a little more water as necessary. I prefer this to be thick, but some may prefer it thinner, like soup.
To read the story of Esau's Pottage, click here.
Ready for another bean or chickpea recipe that's been around for quite some time? Then try this falafel recipe, a spicy fried ball of ground chickpeas.
Disclosure: Some of the links below are affilate links, meaning, at no additional cost to you, I will earn a commission if you click through and make a purchase.