Lemon Bars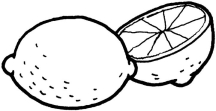 1 cup margarine (2 sticks)
2 cups flour
1/2 cup sugar
4 medium eggs
2 cups sugar
1/4 cup flour
1/2 cup lemon juice
powdered sugar
Soften up the margarine by leaving it on the counter for an hour or so, or do it in the microwave. Add the flour and 1/2 cup of sugar. Mix very well to make a dough similar to pie crust. Turn the dough into a 9 by 13-inch pan. Use your hands or the back of a spoon to pat and press the dough into an even layer on the bottom of the pan. This is the crust. Bake at 325° for about 20 minutes. Do not overbake.
Now prepare the lemon layer. In the same bowl combine the eggs, 2-cups sugar, 1/4-cup flour and lemon juice. Blend with a whisk until smooth and thick. Carefully pour this over the baked crust. Shake the pan gently to level it all out. Bake at 325° for another 20 minutes. Remove the pan from the oven and allow to cool before cutting. If desired, sprinkle a bit of powdered sugar on top of the bars to make them pretty and because it tastes so good. Serve with tea for a tea-party or bring to a church potluck. I like these around Easter Time because they seem like a nice spring-time dessert.
Disclosure: Some of the links below are affilate links, meaning, at no additional cost to you, I will earn a commission if you click through and make a purchase.