Lemon-Garlic Chicken
Makes 5 servings
4 chicken breasts
6 chicken drumsticks
1/2 cup lemon juice
1/4 cup green onions sliced
1/4 cup vegetable oil
1/4 cup white wine or water
1 tablespoon parsley finely chopped
2 cloves garlic minced
2 teaspoons chicken bouillon
1 teaspoon rosemary dried, crushed
1/2 teaspoon thyme dried, crushed
1/2 teaspoon salt
1/4 teaspoon seasoned pepper
Pierce chicken pieces with tines of a fork. Place chicken in a shallow roasting pan; set aside.
In a medium bowl, stir lemon juice, green onions, oil, wine or water, parsley, garlic, bouillon granules, rosemary, thyme, salt and seasoned pepper until blended. Pour over chicken. Cover and refrigerate at least 2 or up to 24 hours, turning chicken over occasionally.
Spray cold grate with non-stick cooking spray or brush with oil. Remove chicken from marinade. Place chicken pieces on grill about 5 to 6 inches above medium-hot coals. Turning and basting every 5 minutes, cook breasts for 30 minutes and legs for 45 minutes or until meat is no longer pink and juices run clear.
Serve with lemon slices and seasoned rice.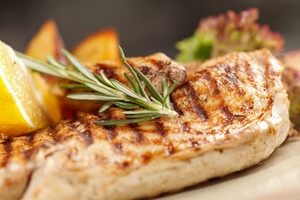 Disclosure: Some of the links below are affilate links, meaning, at no additional cost to you, I will earn a commission if you click through and make a purchase.