Leave In Conditioner Spray-On Detangler Tip
The following is a HBHW reader tip. I've been using this homemade detangler spray for my daughter's and occasionally my own hair and it works great. 
I have very curly and 'wild' hair and use a spray detangler/leave in conditioner (for wet and dry hair). It makes brushing/combing easier and reduces frizz drastically without using hairspray etc. Many people also use these for children as it makes combing a little easier – especially for tangles that can be a little painful for little ones. I noticed that it is quite pricey, in comparison to shampoo and conditioner.
In the old bottle, I added a small squirt of my regular conditioner, filled with water and shook well to mix it up. I have been using it for a while now and have noticed no difference to the original product.
You could use any pump spray bottle with a 'mist' setting. For me, the savings are small enough for this to be a practical frugal tip.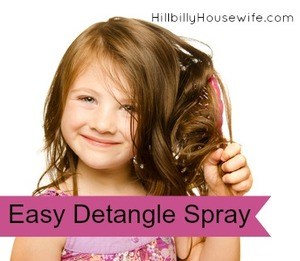 Disclosure: Some of the links below are affilate links, meaning, at no additional cost to you, I will earn a commission if you click through and make a purchase.