Keeping Track Of What's In Your Pantry – Frugal Tip
I was cleaning out my pantry the other day, getting rid of a few expired items and rearranging everything in there. I had no idea I still had some of the dry and canned goods that had gotten pushed to the very back of the shelves. I needed a better system. I went back to what I'm doing with my freezer. I started keeping track of what's in my pantry … with a simple check list that now lives on a clip board on the inside door of my pantry.
Taking Inventory
I started out with a notepad and jotted down everything that was in my pantry right now. If you're so inclined, include expiration dates for each item as well. I was in a bit of a hurry and didn't… I did however mark each item on the list that I know had been in there for quite a while and needed to be used up (nothing left in the pantry was expired). I'll be planning some meals this coming week around things that need to be used up first.
Keeping Track of What You Use Most
Next I quickly jotted down some of the things that I know we use all the time. Those include rice, beans and canned tomatoes. From there it was time to work on a checklist.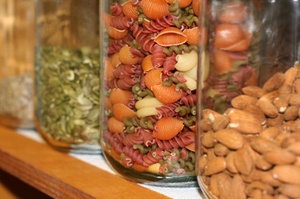 Making A Checklist
I made my checklist on the computer and printed it out when I was done, but you could also write it out by hand. The top of my checklist has a section for most used items, the rest the checklist lists everything I keep in my pantry and spice cabinet based on these categories:
Spices
Flour and Baking Items
Dry Beans
Cereal
Pasta and Rice
Breads
Crackers and Snacks
Canned Goods
Premade Mixes
Vinegar and Oil
Miscellaneous
I stuck my printed list into a plastic page protector and am keeping a dry erase marker close by. As I'm putting things away after grocery shopping, I add check marks to the list. As we start to run out of an item, it gets erased off. When it's time to make a meal plan or shopping list, I just glance at the check list to quickly see what we have and what needs to be replenished.
The Hillbilly Housewife Recommends: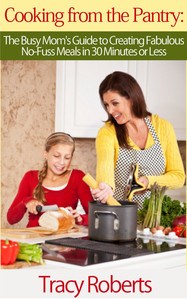 As a busy mom, you know that sometimes dinner time rolls around and you have no clue how to answer, "What's for dinner?".
Tracy Roberts knows how that goes but she's figured out a way to make delicious meals, in 30 minutes or less, that her family enjoys so much that they ask for more.  She shares her strategy in her Kindle ebook, Cooking from the Pantry: The Busy Mom's Guide to Creating Fabulous, No-Fuss Meals in 30 Minutes or Less.
Included inside are Tracy's basic grocery list, a list of meals she creates from it and a few of her family's favorite recipes. Click here to get your copy today www.hillbillyhousewife.com/pantrycookbook
Disclosure: Some of the links below are affilate links, meaning, at no additional cost to you, I will earn a commission if you click through and make a purchase.