Keeping Casserole Ingredients On Hand
If you want to throw together the perfect meal, you need to make sure that you keep all of your casserole pantry staples on hand. Here is a list that you can print to check your inventory against. By keeping these casserole ingredients on hand, you will be able to create a beautiful meal in no time!
Freezer Items
Flash Frozen Chicken Breasts
4lbs of ground hamburger
2lbs of ground turkey
2 1lb packages of smoked sausage links
Tater Tots
Hash Browns
Mixed Vegetables, and several types of other frozen veggies: peas, corn, broccoli and artichoke hearts.
Chopped Onions
Canned Items
Cream of Mushroom Soup
Cream of Chicken Soup
assorted cream soups, celery, etc. (or make your own "Cream of Anything" soup mix)
cheddar cheese soup
Rotel
Chopped green chilies
Assorted canned vegetables: peas, corn, creamed corn
chicken broth (or bullion powder)
beef broth (or bullion powder)
green enchilada sauce
sliced olives
marinara sauce
diced tomatoes
tomato sauce
tomato paste
jars of gravy
On Your Shelf
dried pasta
macaroni and cheese
quick cooking rice
quick cooking barley
Jiffy corn muffin mix
stuffing mix
breadcrumbs
taco seasoning
chicken bullion cubes
Velveeta
In the Refrigerator:
Cheeses:Jack, Mozzarella, and Cheddar, Ricotta and Cottage Cheese.
Sour Cream
Corn Tortillas
Biscuits in tubes
Crescent rolls in tubes
Fresh Vegetables to have on hand:
Onions
Green Onions
Garlic
Bell Peppers
few hot to mild chili peppers
Celery
Apples
If you keep most of these ingredients on hand, you will have your choice not only of many casseroles, but lots of
other dinners too.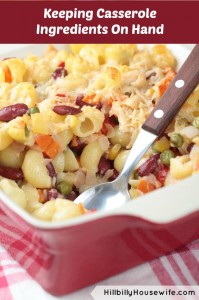 Disclosure: Some of the links below are affilate links, meaning, at no additional cost to you, I will earn a commission if you click through and make a purchase.