It's National Banana Bread Day
Did you know that today is National Banana Bread Day? I didn't either until I came across a couple of Facebook posts this morning. How fun to  have a special day dedicated to my favorite quick bread.
Banana breads are the perfect way to use up those over-ripe bananas laying on the kitchen counter. It's a delicious breakfast food, freezes well and makes a great hostess gift or that little something to take to a new neighbor.
Here's what Wikipedia has to say about the history of Banana Bread:
Banana bread first became a standard feature of American cookbooks with the popularization of baking soda and baking powder in the 1930s, appeared in Pillsbury's 1933 Balanced Recipes cookbook, and later gained more acceptance with the release of the original Chiquita Banana's Recipe Book in 1950.
Ready to do some baking this weekend? Here are a few of my favorite recipes.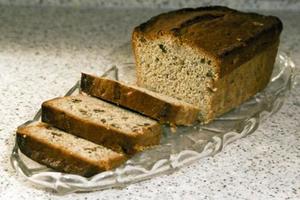 Let's start with my best banana bread recipe. This is my "go-to" recipe anytime I'm ready to bake. It's a simple, but oh-so yummy recipe that can easily be modified to include different types of nuts, dried fruits or even chocolate chips.
For a slightly healthier version, try my friend Carrie's Carrot Banana Bread or this diabetes friendly version made with Agave.
If a whole banana bread doesn't work for you, bake up your favorite recipe in a muffin tin and enjoy them as muffins. These also freeze well, so you can make a batch of banana muffins, enjoy one or two today and pop the rest in the freezer to use throughout the coming weeks.
Are you planning on making some quick bread today? Do you have a family-favorite recipe to share? Leave a comment and let me know how you're planning to celebrate today.
Disclosure: Some of the links below are affilate links, meaning, at no additional cost to you, I will earn a commission if you click through and make a purchase.