Is Coffee Good Or Bad For You?
I love a nice cup of coffee in the morning. Grabbing a cup O' Joe and curl up on the couch with a good book is my favorite way to start the day. It does get confusing when you follow the health news on coffee though, doesn't it? One week it's good for you, full of nutrients and metabolism boosting elements. The next week it's supposed to be bad for you.
I came across an interesting post this morning on EatLocalGrown.com. Is Coffee Good Or Bad For You? 
Let's start with the good stuff:
A typical 8oz (240 ml) cup of coffee contains (1):

Vitamin B2 (Riboflavin): 11% of the RDA.
Vitamin B5 (Pantothenic Acid): 6% of the RDA.
Vitamin B1 (Thiamin): 2% of the RDA.
Vitamin B3 (Niacin): 2% of the RDA.
Folate: 1% of the RDA.
Manganese: 3% of the RDA.
Potassium: 3% of the RDA.
Magnesium: 2% of the RDA.
Phosphorus: 1% of the RDA.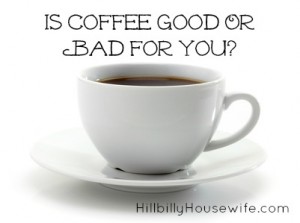 But it doesn't stop there… click through to the best to read about the other health benefits of coffee. Of course there are some downsides as well, including possible sleep disruptions and let's face it… this stuff is somewhat addictive. Once you know all the facts, you can decide if and and how much coffee you want to drink.
As for me, I'm going to continue to enjoy my morning coffee, but am limiting myself to one or two cups.
Disclosure: Some of the links below are affilate links, meaning, at no additional cost to you, I will earn a commission if you click through and make a purchase.