Introducing The Hillbilly Housewife Advent Calendar
In the past, I've traditionally run a big Thanksgiving sale, but with all sorts of different offers going on and us spending lots of family time this past weekend, I thought it would be fun to do something a little different this year.
I always loved having and advent calendar as a child and have enjoyed creating one each year for my daughter. This year, I thought I'd make a virtual one for you.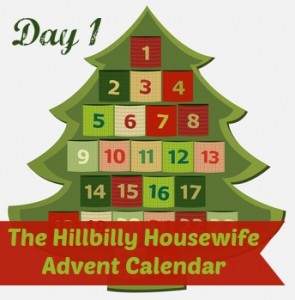 Each day from December 1st through the 24th,  I'll have a new "goodie" for you. It could be a coupon code, a special offer or a free kindle book. Come back each day to find out what the special treat of the day is. But don't dally… it will only be available for that day.
Let's start things off today with "No Stress Gift Giving On A Budget".
I'm busy buying and making presents and I'm sure it's no different for you. In this eBook you'll find my best and most frugal tips that will have you spending less, giving more and enjoying the Christmas Season.
Use Coupon Code: ADVENT to save 50% today only when you order the No Stress Gift Giving On A Budget Ebook.
Throughout the month of December, the  eBook is already reduced to $5. With today's special coupon, you can grab it for $2.50. Enjoy!
Disclosure: Some of the links below are affilate links, meaning, at no additional cost to you, I will earn a commission if you click through and make a purchase.