Insulating Drafty Windows – Frugal Tip
We're having some of the coldest days we've had all winter right now and it is very windy as well. As a result, the heat keeps running a lot more than usual and I really don't want to see the bill next month. The tip below for insulating drafty windows for little money couldn't have come at a better time. Here's a great frugal tip from a fellow HBHW reader: I live in a trailer house with the metal 'sandwich' windows that have a wide gap between the inside and the storm window. Cold air leaks in around the deteriorating frames really bad despite caulk so I got a package of cheap styrofoam insulation, some of it was even free, just ask a store if they get it in their boxes of freight. Most are happy to get rid of it. Then I cut it in strips about 1/8 to 1/16 wider than my gap so that the styrofoam would have tension on it and stay put. I squished it in and it held nice and snug blocking of most of the draft and since it is smooth and white it just looks like the painted frame.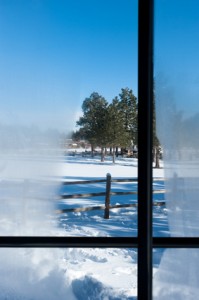 To further insulate my drafty windows I put a layer of bubble wrap inside before I closed the window then covered with clear vinyl. The effect, while time consuming, was well worth the effort and only cost me about $6 to do my whole house. This did not include the price of the vinyl and strips because I got them last year. They are the reusable kind. Another investment of about $14 that saved me a bunch over having to buy several boxes of the kind you put on with a hair dryer and are much more efficient.
Disclosure: Some of the links below are affilate links, meaning, at no additional cost to you, I will earn a commission if you click through and make a purchase.