Inside The Sandwich – Beyond Cold Cuts
It's picnic time! You reach for your sandwich recipes and realize that you've served the same things for as long as you can remember.  You have gotten so bored with the classics that not even tweaking them a little is appealing anymore.  And, like many sandwich aficionados, you have already run the gamut of bread choices, from pumpernickel to crusty Italian bread to wraps, and way beyond.
How do you break free from the traditional sandwich ingredients?  It seems you've tried it all already, or have you?
The Main Event
Let's begin with what many of us consider the 'main' ingredients of a sandwich and take a look at a few options.
Beef
A pile of thinly sliced roast beef is filling enough, but what about a nice thick steak?  No, it's not new, but often forgotten outside the local pub. Choose a very lean steak, like sirloin, that is less than an inch thick. Grill quickly in a hot skillet until done to your liking, then let cool.  Now, isn't that better than a stack of cold cuts?
Pork
One of our favorite sandwiches is pulled pork, but it's also one of the most common.  To break through this traditional favorite, use thinly sliced grilled or roasted pork tenderloin. This particular meat is tender and juicy and shaped just right for little sandwiches. Or, lay a row of thin slices on a baguette for a bigger appetite.
Chicken
What can you do with chicken that hasn't already bored you to tears, such as deli sliced or chopped and made into chicken salad sandwiches. How about pounded into cutlets and rolled in crushed pecans, then fried. This adds crunch and flavor to your plain chicken sandwich.  Let cool, and either slice and build a wrap or pile high on good bread and add your favorite sandwich fixings. Or, if the cutlets are thin enough, you can even use them to form fancy roll-ups.
Seafood
Put away that can of tuna and think way outside of that aisle.  Any seafood you like can be thrown between two pieces of bread or into a tortilla wrap.  Think fried oysters, spicy shrimp, and flaked crab meat.  Layer fish filets with crawfish and a variety of greens for a double-decker you are sure to enjoy.  Smoked salmon has enough flavor to carry a sandwich all by itself and make it stand out like nothing else.
Other Goodies
Peanut butter and jelly, cheese, and all those sandwiches we know and love can have you bored, too.  Instead of PB and J, how about a PB and B – that's peanut butter and bacon.  That may not be new, but instead of just laying a few pieces of bacon on top of your peanut butter, crumble the bacon up and mix it in for delightful array of textures and salty goodness.  If you want a PB and J, choose a jelly that perks up your sandwich, like a pepper jelly.  The same goes for cheese sandwiches.  Choose unique, flavorful cheeses to satisfy even the most gourmet palate.
The Accessories
When it comes to the accessories of a sandwich, you can go crazy.  Once you've chosen your 'new' main ingredient, look around for new accessories to add crunchy, creamy, and flavorful elements to your sandwiches.
Crunchy
Instead of just slicing an onion on top of your steak sandwich, use shallots which have a delicate mix of onion and garlic flavor.  Forget the lettuce, and put a layer of arugula or watercress on your sandwich, or even shredded cabbage.  Try adding apple or thinly sliced celery sticks for even more crunch.
Creamy
If you reach for the mayonnaise to mix up a creamy spread, stop. Grab some Greek yogurt instead, or maybe some guacamole will do. Do you like olives?  Go ahead and mash some up in your cream cheese for a savory addition to any sandwich.  A little hummus makes a nice change from the usual mayo or mustard.
Spicy
Spices and seasonings are all across the board.  From fresh dill sprinkled over a cucumber sandwich to jalapenos chopped up in your egg salad sandwich instead of pickle relish, you can find all sorts of flavor combinations that will boost your sandwich's appeal.
Cumin, curry, and cayenne are the basics for any sandwich maker who wants to spice up chicken salad or seafood.  But, don't forget sage, thyme, and rosemary for pork and beef sandwiches.  Sprinkle on generous amounts and your sandwich is gourmet right from the get-go.
And, let's not forget the herbs. Don't limit your imagination when it comes to fresh herbs. Buy a variety and add them to sandwiches in layers by mixing in the spread, or by marinating the main ingredient in them.
Finding totally new ingredients to put between two pieces of bread can be a challenge.  But, with just a stroll down the grocery aisles, and an open mind, you could produce some surprising results.  A new attitude toward sandwich ingredients can pay off with a great new treat in your next picnic basket.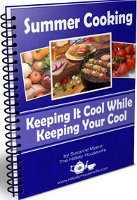 p.s. Summertime cooking calls for cool cooking. Whether you're grilling something scrumptious, tossing a tasty salad, or piling a sandwich high with goodies, you need recipes and ideas.
We've put together a nice collection of tips for cooking cool along with recipes for everything from grilled meats, vegetables, and desserts (yes, desserts!), to fruit salads, veggie salads, rice salads, and bean salads.
Put away your cast iron Dutch oven, your roasting pans, your soup pots… it's time to cook cool! Click on this link and order your copy of Summer Cooking – Keeping It Cool While Keeping Your Cool for ONLY $7 and start enjoying cool cooking today!
Disclosure: Some of the links below are affilate links, meaning, at no additional cost to you, I will earn a commission if you click through and make a purchase.