Icebox Pie
I don't have a lot of information on this dessert. It was one my MIL used to make circa 1965. My husband recalls it contained bananas (the riper the better), whipped cream and pulverized Nilla wafers that she would then freeze solid. Knowing my hubby, he's probably missing ingredients and or steps to the process. Can anyone help me reconstruct this recipe? Thanks
It sounds like banana cream pie to me with a crust made from Vanilla wafers instead of graham crackers. Here's my banana cream pie recipe. See if that's close.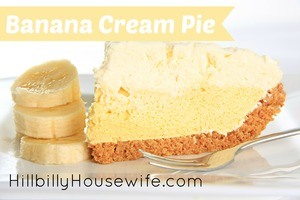 Check out the comments as well. Lots of great recipes and suggestions.
Disclosure: Some of the links below are affilate links, meaning, at no additional cost to you, I will earn a commission if you click through and make a purchase.