How To Thaw A Turkey – Frugal Tip
If you've been shopping for a turkey, you know that it's a lot cheaper to buy it frozen than fresh. There are also lots more options when you go frozen. Since it's the more frugal option, let's talk about some of the best ways to go about thawing a turkey.
If You Have Plenty Of Time To Thaw Your Turkey
The best and safest way to thaw a turkey is in the fridge. It will take about 3 to 4 days to thaw it in the fridge. A good rule of thumb is to plan on a day of thawing per 4 pounds of turkey. This is the safest way to thaw it. Just make sure you set the turkey into a container to catch any liquid that might seep out of the bag. This will prevent any raw poultry contamination. As always be careful when handling the raw turkey and scrub and wash everything.
If you don't have room in your fridge, consider sticking the turkey in a cooler. Add a layer of ice to the bottom of the cooler, then lay your frozen turkey on top. Close the cooler and check it once a day or so to see if the ice needs replacing. It should take about the same amount of time to thaw your turkey. I like to flip the turkey over once a day to make sure it thaws evenly. When you're done with the cooler, wash it with plenty of warm water and soap.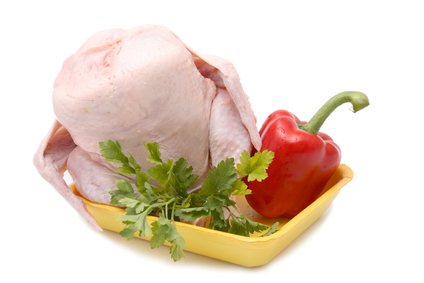 If You're In A Bit Of A Rush
Every few years I forget to pull the turkey out of the freezer in time, or it ends up still being mostly frozen the night before I plan on cooking it. In that case a bath in the kitchen sink is the only open. Fill your sink with cold water and put the turkey in there. I do this in the bag the frozen turkey came in and scrub out the sink really well once I'm done thawing. Change the water every couple of hours.
The turkey is thawed when I'm ready to stick it in the oven as soon as I get up Thanksgiving morning.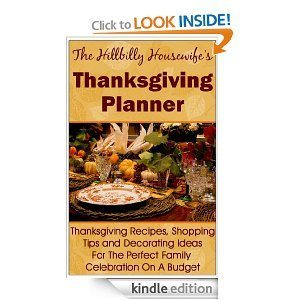 The Hillbilly Housewife Thanksgiving Planner
Don't run around like a chicken (or should that be turkey?) with its head cut off on Thanksgiving morning. The Hillbilly Housewife's Thanksgiving Planner will help you plan ahead and stay on top of things so you can actually enjoy Thanksgiving with your family & friends.
If you take a quick minute to read the first chapter you'll realize how easy your Thanksgiving celebration will be. There are plenty of tips and ideas to make sure this year's feast doesn't stretch your budget to the breaking point, too.
There are also 2 bonuses tucked inside: A printable planner & checklist and all of the recipes in a printable pdf file.
http://www.amazon.com/The-Hillbilly-Housewifes-Thanksgiving-Planner-ebook/dp/B00A81OQ56
Disclosure: Some of the links below are affilate links, meaning, at no additional cost to you, I will earn a commission if you click through and make a purchase.