Planning Holiday Fun And Festivities With Less Stress
This is a Frugal Tip posted by a Hillbilly Housewife reader.  I always value tips shared by our readers.  Sometimes those tips are so detailed they need a little extra attention, and this is one of those times.  I have posted this tip in the article section as well as the Frugal Tips section so it would become a more permanent part of this site.  Thank you so much for sharing these wonderful ideas for planning festivities for a less stressful holiday season. 
Please continue reading and enjoy!
Susanne – The Hillbilly Housewife
Holidays are the most wonderful time of the year, but they can also be the most stressful. Spending quality time together is the most important part of the celebration.
Here are a couple tips for organizing:
I schedule various activities for my family and each person decides if they want to go with the group or to do something else.
I have a dry erase calender where I write down each day's activities and the time it starts.
If someone needs time to go shopping, get their hair done or whatever, it goes on the schedule.
I have a place for notes at the bottom of the calendar where I can write more details. I just erase the old notes at the end of the day and write down the new ones.
Here are some of the things we do:
1. Get Ready Night. It is easier to make most of the holiday preparations ahead of time, but it is important to have all of your family participate. We put up decorations and cook together, making cookies, doughnuts, and latkes. Your family could go cut down or buy a Christmas Tree, or set up the faux tree together. If your tree takes a long time to set up, you could put on the lights and most of the decorations, saving a few special decorations for each person to put on the tree. Sing carols together around the tree, or with a group of friends from house to house! This would also be a great time to read a holiday book aloud. This is a lovely pastime that is rarely enjoyed.
2. Museum Day/Parade or Festival Night. We have several museums in our area. Check to see if there are any Holiday Exhibits. We also have parades and tree lighting ceremonies that are free to attend. I like to go to pick out the most appealing exhibits for the group and go to the museum in the afternoon. You could bring a picnic dinner or go out to eat, and then go see the parade or celebration. Smaller children would not be able to do so much at one time. You could split the activities into 2 or more days.
3. Movie night. The right movies can get people in the mood to relax and have fun. Pick out a few movies that have seasonal themes for everyone to watch. I have popcorn, sodas, and candy for everyone to enjoy. I make my own popcorn. I either get the candy on sale or I buy it in bulk and put it in season plastic bags.
4. Card Night. My family had a Gin Rummy game that we played with on holidays. It was a lot of fun. You could play any type of card game. Spades, Hearts, Crazy Eights, or even Go Fish. The important thing is having all of your family and friends together. Some people may choose to sit on the sidelines and talk. That's okay.
5. Board Game Night/Nights. Monopoly is our big family favorite. Trivial Pursuit is another great game, We usually have 3 or 4 game nights and play 1 game per night. Sometimes we have so many people playing that we have multiple games running simultaneously. I always plan a break after 2 hours for dessert and coffee.
6. Christmas Light Tour Night. I love to drive around and look at lights. We make or buy eggnog shakes and drive around to see the different yard decorations. If you check online, you may be able to find specific yards to go see. In my area, there is a lady who puts out a book with pictures, maps, addresses and yes, in some cases, phone numbers of the people with awesome yard decorations. Many of the stores and businesses put up special holiday windows that warrant having a night of their own. The large professional displays are fantastic, but I love the family displays best.
7. Old Traditional Games. By Christmas Eve or Christmas Day (during Hanukkah for my family) everyone is feeling very happy and relaxed. We have an early dinner that starts out with everyone pulling Christmas Crackers (Many manufacturers of crackers make styles for Hanukkah and other holidays.) The crackers "pop" when they are pulled and a paper party hat, a small toy and a motto or joke falls out. Everyone puts on their paper hat and becomes a child again. It is wonderful! We clear away the torn paper and serve dinner. After dinner, we exchange presents. Then it is time to play old fashioned games like Charades (my favourite), Blind Man's Bluff, and Similes. I usually have an extra special dessert for the big night.
Remember, the schedule you make will change as you go. Use it as a guideline and keep track of what works for your family and what doesn't. Christmas Light Tour Night is one of my favourite things that I look forward to all year. One of my friends doesn't understand why anyone would drive around to look at lights. Her family is very serious about Game Day, however, and they play a lot of games; Monopoly, Risk, Yahtzee, Clue, and many more. The point is, they have fun together. I hope you and your family enjoy the holidays, too.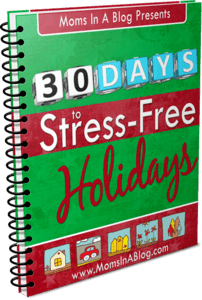 p.s.  These are fabulous ideas.  Thank you so much for sharing, Lael.  I can really see putting many of these ideas to work in my family.  Thanks again.  Sincerely, Susanne
My friend Tracy Roberts from MomsInABlog.com has put together a day-by-day plan for the approaching holiday season called 30 Days to Stress-Free Holidays and is offering it for an incredibly low price.
The plan Tracy lays out for you is easy to follow and simple to do, and is meant for REAL homemakers, not super-moms!
And, when you order you'll also receive these fun bonuses absolutely FREE:
15 page Thanksgiving Planner
35 page Christmas Planner
Creative Ways to Eliminate Holiday Debt – Courtesy of HillbillyHousewife.com
The ABC's of Christmas Gift Giving – Courtesy of HillbillyHousewife.com
Creating Cherished Christmas Memories ebook
Click on this link to check out 30 Days to Stress-Free Holidays and order your copy today!
Disclosure: Some of the links below are affilate links, meaning, at no additional cost to you, I will earn a commission if you click through and make a purchase.