How To Organize Magazines and Magazine Clippings
I enjoy reading magazines. I subscribe to some on occasion, but also get them from the library and my mother-in-law. Keeping them from cluttering up my house has always been a bit of an issue which is why I enjoyed reading this article about how to organize magazines and magazine clippings.
Enjoy – Susanne, The Hillbilly Housewife
How To Organize and Use Magazines
by Jill Cooper
http://www.hillbillyhousewife.com/livingonadime.htm

I love to read magazines. If you like them, too, you have probably noticed that it can be hard to keep them under control. Here are some tips to help you organize your magazines and use them more efficiently:
Limit how many magazines you subscribe to. Not only will it save you money but also time and clutter. I know what it is like to love reading magazines but you have to be honest. If you don't have time to read them or can't find them when you want them, what good are they?
One thing I learned as a young mom was to use my library. On those days when I just had to "get away from it all" I would go to the library and sit in the peace and quiet reading magazines. If there was an article I needed I would copy it and, on rare occasions when there were several things I liked in it, I would buy the magazine at the stands. (I did this just once.)
It is hard for me to pay full price for a magazine because every place I live the public library sells or gives away their extras. I can often go to my library and get this month's Woman's Day or Better Homes and Gardens for a dime. Even if they are a few months older it doesn't matter. Many people don't get around to reading their subscription magazines until they are a month or two old anyway.
For the magazines I do have, here's how I deal with them: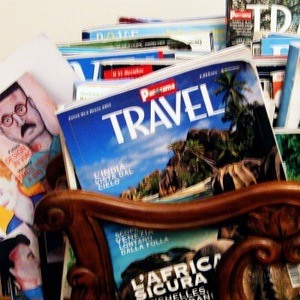 I try to read them right away, preferably within the week I receive them. Take them with you while waiting to pick up the kids from school or waiting at the doctors office. Keep a magazine in the car to read while waiting for a train or between appointments.
I tear out the article I want to keep, which I put into a file folder that is kept on my desk.
When the folder is full, I have a small file box divided into categories. At night, when I'm watching TV or sitting with the kids doing homework I file everything away. I do this every time the folder gets full. If I don't, I become overwhelmed. Control yourself. If the folder is full you can't add more articles. You have to throw them away! So file the things away regularly.
Though I limit my magazine articles to one file box, I realize some of you may need more room. You can use a filing cabinet or a small filing box for each category. Then the filing boxes can be placed on some shelving.
Be sure to label them clearly.
The list of categories you choose to divide your articles into when organizing them depends on your own interests and tastes. Here are some of the categories I divide my magazines into:
Decorating
Gardening
Sewing
Home remodeling
Children
Cooking
Crafts
Scrapbooking
Cleaning
I then sub-divide those categories again when I get a lot of magazine articles to organize.
For example:
Decorating
Sewing
quilting
crocheting
knitting
Gardening
trees
flowers
compost
bugs
Once again, adjust it to your own needs.
Last but most important is to throw the magazine out, give it to someone else to read or give to the thrift store. If you have a friend or relative that enjoys the same types of magazines you do, share the subscriptions.
One person can subscribe to one magazine and the other person to another magazine. Then swap with each other. If there is something you want to keep from your friend's magazine, ask if they want it and, if they do, just make a copy of the one article.
Magazines are taking over our homes. If you don't have time to read them, stop buying them. I don't care what a good deal they were. Why pay even a small amount of money for something to sit in a corner collecting dust?
-Jill
P.S. If you are afraid you are going to miss something important in a magazine, think again. I found a ladies magazine from 1917 in my home and compared it to a new magazine in 1975. The articles and things they talked about were the same, even the ideas. A year ago I pulled out that same 1917 magazine and it was still true for today. It included articles on how to cook well balanced healthy meals (oatmeal was good for you), how to get the cleanest clothes, gardening tips and most of the tips were the same tips as we find in today's magazines.
Jill Cooper and Tawra Kellam are frugal living experts and the authors of the Dining On A Dime Cookbook. Dining On A Dime will help you save money on groceries and get out of debt by cooking quick and simple homemade meals.
http://www.hillbillyhousewife.com/dime
Disclosure: Some of the links below are affilate links, meaning, at no additional cost to you, I will earn a commission if you click through and make a purchase.