How To Make Pumpkin Puree
Have you tried making your own pumpkin puree? It's a little bit of work, but well worth it. Use it to make a pie and you won't believe the difference it makes. One of my favorite things about homemade pumpkin puree (aside from the taste), is that you can make and freeze a big batch of it and then use it all throughout fall and winter.
Homemade Pumpkin Puree
Preheat the oven to 350F.
Start by cutting your pumpkins in half. Scoop out the seeds and pulp. Discard the pulp and save the seeds to roast later. They make a great snack.
Cut the pumpkin halves into quarters and arrange them on a baking sheet. Roast them in the oven for 40 to 50 minutes. The pumpkin will soften up. Allow them to cool until they are comfortable to handle. You can peel the peel right off and are left with the cooked pumpkin flesh.
Throw it in a food processor or blender and blend until smooth. Allow the pumpkin puree to cool completely, then scoop it out in 1 cup measurements and pour it into small freezer bags. Close the bags, squeezing out as much air as you can. Store in the freezer for up to a year.
Of course you can also use the pumpkin puree right away to make pumpkin pie, pumpkin soup or pumpkin dip. By the way, making butternut squash puree is a very similar process.
Frozen puree should be thawed overnight in the fridge. Once it's thawed, just use as you would canned pumpkin in all your favorite recipes.
Speaking of which… What's your favorite pumpkin dish?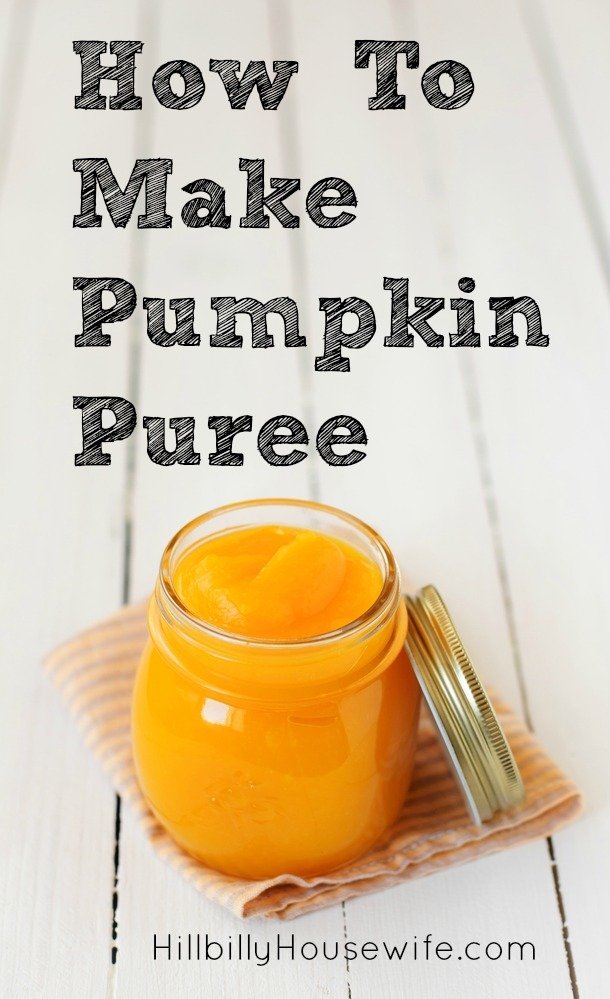 Disclosure: Some of the links below are affilate links, meaning, at no additional cost to you, I will earn a commission if you click through and make a purchase.