How To Make Candy On A Dime – Frugal Tip
I love baking and making sweet treats, especially around the holidays. They make great inexpensive gifts and candy making is actually a lot of fun. If you haven't tried it, here are some great frugal tips from my friends Tawra and Jill at LivingonaDime.com. The tips can also be found (along with all sorts of other frugal tips and recipes) in their Dining On A Dime cookbook.
Candy Tips
Use the leftover syrup from the candied orange peels on your pancakes, waffles or French toast for a gourmet taste.
If you over cook chocolate, it becomes dull looking. To save it, put the pan on low heat and beat in 1 teaspoon shortening or oil at a time until you have restored the shiny, smooth consistency.
When you are melting chocolate, make sure that all utensils are completely dry. Even a little bit of water will make chocolate grainy and lumpy.
Buy fortune cookies in large bags from Chinese restaurants. They cost about five cents each when purchased in bulk. They also make great treats for lunch boxes.
When making candies like peanut brittle or truffles, you can set them outside on the patio table to cool if you've run out of room in the refrigerator. Remember, for most of the country there are no bugs this time of year!
Save chocolate bunnies and chocolates from Halloween to use for making Christmas candy or buy it on clearance after Halloween.
Candy cooking tests to use if you don't have a candy thermometer:
When placed in a cold cup of water, candy will:
Soft Ball 234°?240°
form a soft ball that can be flattened
Firm Ball 242°?248°
form a firm ball that holds its shape until pressed
Hard Ball 250°?268°
form a ball that is pliable and holds its shape
Soft Crack 270°?290°
separates into hard but not brittle threads
Hard Crack 300°?310°
cracks easily
Caramel 320°?350°
mixture coats metal spoon and forms light caramel colored mass when poured onto a plate
For High Altitude? lower candy temperature 2° for each 1,000 feet of elevation.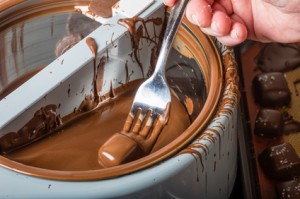 Would you like to serve food that will lower your grocery bill and your family will love to eat?
Click here to get the Dining On A Dime Cookbook, with tasty recipes and great tips to make your life easier and save you money!
Disclosure: Some of the links below are affilate links, meaning, at no additional cost to you, I will earn a commission if you click through and make a purchase.