How To Keep Sliced Apples From Turning Brown – Frugal Tip
I almost always have apples and we love them for snack. I usually slice apples and serve them either plain, with peanut butter, vanilla yogurt or cheese. Every once in a while we'll splurge and get a tub of caramel dip (or even better, make it).
One of the biggest challenges is to keep the apples from turning before I can get everyone to the table to eat them. In the past I've soaked them in lemon juice, but it turned the apples too sour.
The solution is soda. You can use either ginger ale or a lemon lime soda like sprite. We don't drink a lot of soda around here, but I keep a bottle of the cheapest store brand I can find to soak the apples in. Just soak them for 10 to 15 minutes, take them out of the soda and pat them dry and they are ready to be put on the table to be eaten or packed in the lunch box.
I'm sure that's not the only way to keep your apples nice and fresh. If you know of another great way to accomplish the same thing, leave me a comment below.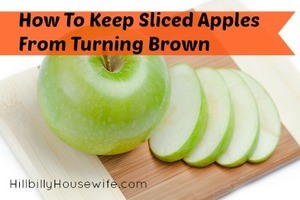 Of course there's a lot more you can do with apples. Take a look at my latest cookbook:
The Apple Cookbook: Recipes From Sweet To Savory

"An Apple A Day Keeps The Doctor Away"
I'm sure you've heard that saying a time or two. Apples are a great fruit that's not only healthy, but also very versatile and frugal.

I can almost always find some great apples on sale at the store. Occasionally we'll also buy a big box of apples from a local orchard and store them for use in the winter. Apples keep well in a dry, cool place, but with all the cooking and baking, the never last very long at our house.

Get your copy of the Apple Cookbook at:
Disclosure: Some of the links below are affilate links, meaning, at no additional cost to you, I will earn a commission if you click through and make a purchase.