How To Hold An Online Yard Sale
Last year, I discovered how to hold an online yard sale. The weather was not cooperating with me for two solid weeks and I had already placed two separate ads in the local newspaper—only to turn around and have to cancel them because of the rain. I began to think, there has to be something I can do to sell my stuff without having to go through this again. It was then that someone turned me on to Craiglist.
Did you know that you can have an online yard sale and still make an armload of cash? I've put together some of my strategies and ideas for making the most of an online sale while using Craiglist as the main catalyst for selling my items. So how do I do it you ask? Well the good thing about Craiglist is that it is absolutely free to use! No hidden fees or charges for loading pictures.  No added fees.  It is totally and one hundred percent free!

For starters, you have to go through your home and decide what you want to sell. Don't leave anything out! What can be junk on your end is another person's treasure. Pick one central location and put everything there for easy access.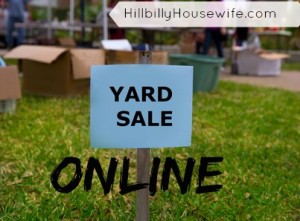 The next step is to take lots of pictures and make a list of the items. I usually number mine if I have quite a few items and if some of them are similar. This will cut down on the probability of selling the wrong item to the customer. I take a picture of the item with the number on it, write it on my list along with a short description, and the price I will be asking for it.
The most important part of the description is the title! You want to grab your customer quickly and draw them in. Just saying "Blue Couch $50" is not going to grab the attention you are wanting. Try to be a bit more descriptive like this~ "Victorian Style Couple's Sofa Beautiful Blue Color $50". You have now given the couch a personality and if you have lookers who are searching for that perfect piece of furniture for their Victorian style living room, you will draw them in to take a closer look at the title.
Another thing to think about is the descriptions of your items. Include any discrepancies in the item(s) you are selling. Don't mislead someone making them think it is in perfect condition, when in fact, it might have a small rip that needs to be repaired.
While shipping is not encouraged on Craiglist (because of some possible scam situations), you can ship if you know that the person can be trusted. This is where Paypal comes in and can be a big help for collecting your money. Be sure to include in your shipping price the cost of shipping materials so that you are not cutting into your profit.
There will be times when you post items that you get numerous responses for people wanting to purchase. If you only have one of item, I encourage you to follow "first come first serve" process. Keep a list of all the people that contacted you in order. This way if the first person who contacted you decides that they do not want the item, then you can contact the next person on the list. This keeps feelings from getting hurt and you might get some repeat customers because you chose to follow an honor code!
Last but not least, always include a phone number and email address so that your customers can contact you right away. I love to let my customers know that they can also text me. This is an immediate response and has helped me sell my items much more quickly this way.  You just may find holding a yard sale online is a much easier, and more profitable, venture than you imagined.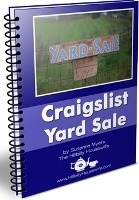 p.s.  Does this sound a lot better than hauling tons of stuff out to your front lawn, then sitting out there in the hot sun for hours, and hours, and hours…?
It sure sounds better to me!  That's why I want to help you discover the joys of holding a yard sale online with my new ebook Craigslist Yard Sale.
This guide gives you everything you need to know so you can avoid all the headaches of a traditional yard sale. You'll find the tools to help you plan your sale in the right way – whether you're selling one item or one hundred.
Here's a glimpse of what you'll learn in this comprehensive guide:
How to sign up for a Craigslist account and create your first listing.
Where to find all sorts of treasures that you can sell on Craigslist.
Important safety tips to keep yourself and your loved ones safe while selling online.
Learn about some great tips to improve your listings, picking the right price and placing it in the category that will get you the best results.
How to tweak your listings to sell items fast and for a good price.
Along with this you'll get these two bonuses absolutely free:
Bonus #1 – Home Inventory Checklists
Bonus #2 – Ebay Shopping Guide
Click on and order now to learn how you can turn your clutter into cash the easy way – on Craigslist.
Disclosure: Some of the links below are affilate links, meaning, at no additional cost to you, I will earn a commission if you click through and make a purchase.