How To Freeze Eggs – Frugal Tip
We go through a lot of eggs around here. They are cheap, full of protein and you can fix them into all sorts of different dishes for any meal of the day. Every once in a while I find myself with too many eggs in the fridge or I come across a sale that's too good to pass up. If there are more eggs than I can use up, I freeze them. Here's how:
Freezing Eggs:
Scramble up your eggs and pour them into ice cube trays. Freeze them until solid, then pop them out of the trays and store them in freezer bags.
The first time you do this, keep track of how many eggs your using and how many ice cube trays you fill up. For me it comes out to about 2 ice cubes per egg. This helps in baking. Just grab two ice cubes, thaw them and then use them to make your cake or cornbread. Of course this isn't all that important if you use the frozen (and thawed) eggs to make scrambled eggs.
To use the eggs, just thaw them in the fridge and use them in place of fresh eggs. They work well for scrambled eggs, omelets and in breakfast casseroles. You can also use them in baking or any recipe that calls for a scrambled up egg.
This also works out great if you don't eat a lot of eggs and just  need the occasional egg for making a cake.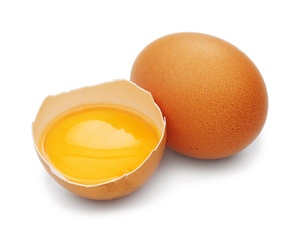 Disclosure: Some of the links below are affilate links, meaning, at no additional cost to you, I will earn a commission if you click through and make a purchase.